Ofsted inspections will go ahead as normal despite the discovery of the new Omicron Covid variant, the watchdog has confirmed.
The inspectorate said it is following public health guidance but will be "carefully" considering requests from schools to defer inspections.
Eleven cases of the new Omicron variant have so far been found in the UK, including cases in Essex, Nottingham and London.
An Ofsted spokesperson told Schools Week: "Currently our inspections are carrying on as usual and in line with public health guidance.
"We appreciate what schools are up against, and we are considering requests to defer carefully, on a case by case basis, based on the issues that individual schools are facing.
Full, graded Ofsted inspections restarted in September. They had been suspended since March 2020 due to the pandemic but the watchdog did conduct virtual 'visits' during this period.
However fears have been raised by some schools this term that the watchdog has not been taking account of the impact Covid continues to have.
Schools Week analysis previously found that 40 per cent of section 5 reports this term made no mention of the pandemic aside from a standard line stating Covid was discussed with leaders and "taken into account".
And there have been calls from the headteachers' wellbeing helpline Headrest to pause inspections due to the pressure it is placing on school leaders.
Schools can request deferrals because of Covid. But Ofsted told TES that it has rejected around a third of such requests.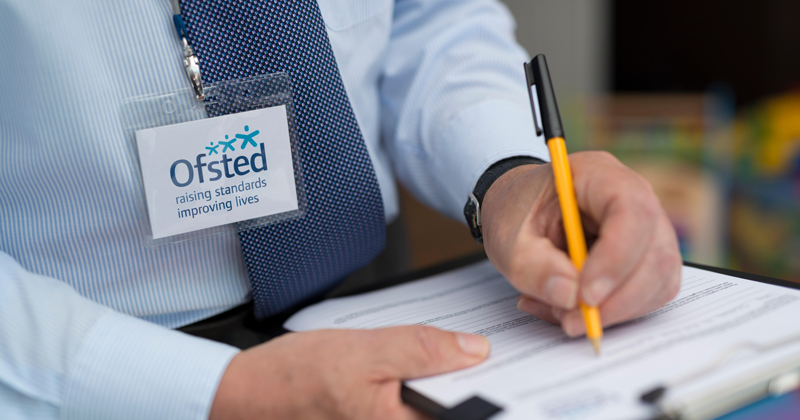 Fresh mask guidance for schools
The Department for Education updated its guidance for schools yesterday.
From today, staff in all schools and pupils in Year 7 and above should wear face coverings in communal areas and corridors.
However face coverings are not required in classrooms or outdoors.
In addition any "suspected or confirmed close contacts of the Omicron variant will be asked to isolate for 10 days regardless of vaccination status or age".
Close contacts will also be asked to book a PCR test.
New variant 'linked' to school
An Essex primary school has been linked to one of the first cases of the Omicron variant in England.
Specialist testing has been rolled out to Larchwood Primary School in Pilgrims Hatch after Essex County Council confirmed a "link" following further contact tracing.
One class has also moved to remote learning.
Elsewhere an investigation into the spread of the newly identified variant is taking place at a school in West Bridgford, Nottinghamshire County Council has revealed.