Want to stay ahead of the crowd on schools news? Like to know what the education secretary is planning, or which school just got the best Ofsted ever?
Or may be you just really like in-depth, investigative education journalism, determined to get past the bluster and explain the facts?
If so, Schools Week is for you. (And anyone else like you!)
For £50 a year, subscribers to Schools Week receive a printed newspaper every Friday during term-time (37 edition per annum), and an emailed PDF digital edition on Thursday evening.
Advertising with us:
Our specialist readership means your print and online adverts will be seen by the decision-makers in the world of education.
Schools Week offers cost-effective approaches through tailor-made campaigns and solutions that work in line with your budget and exposure timeline.
We understand  each vacancy and advertising opportunity is unique, which is why we are here to discuss your needs and create a bespoke offer.
To discuss, contact Shane Mann on:
Tel: 0203 432 1394
Email: shane.mann@lsect.com
Editorial team
If you are looking to speak to someone about…
A press release?  Samantha.King@schoolsweek.co.uk
A news story or tip-off?  John.Dickens@schoolsweek.co.uk
A features idea, opinion column, or book review? Catherine.Murray@schoolsweek.co.uk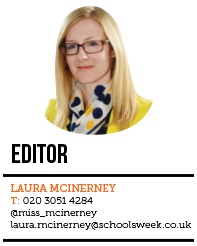 Laura McInerney took over as editor in January 2015. Prior to that she taught in East London for six years, wrote a book in 2011, The 6 Predictable Failures of Free Schools…and How To Avoid Them, and became a regular columnist for The Guardian.
Laura's superpowers include encyclopedic knowledge of past education secretaries and the ability to stop a year 9 boy in his tracks with just a stare.
She tweets as @miss_mcinerney, prolifically.
laura.mcinerney@schoolsweek.co.uk
---
Cath Murray is features editor and head of digital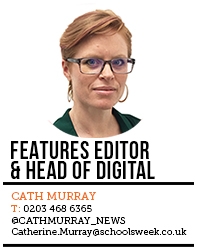 Cath has worked her way around the globe, initially running a translation and editing business in Spain, before spending several years designing and teaching study-abroad programmes in Central America, through Monteverde Institute, Costa Rica.
On returning to the UK, Cath retrained in journalism and joined parenting website Netmums, where she worked her way up to Managing Editor. She joined Schools Week in March 2016 as Deputy Editor but was soon moved into a new role as Features Editor and Head of Digital across Schools Week and our sister publication, FE Week.
Her special skill is to take on an entirely different personality whenever she speaks a foreign language.
catherine.murray@schoolsweek.co.uk
---
John Dickens is chief reporter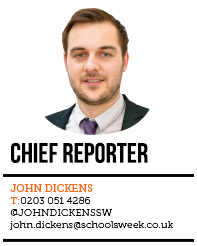 John started his journalism career at the Slough Observer, where he discovered a love for investigative reporting.
His freelance investigations have been published in the Mail on Sunday, Sunday Mirror and Private Eye and he has received the CIPR National Award for Outstanding Education Journalism and a was shortlisted for a British Press Award for his investigation into the crippling PFI contracts schools are paying back.
John is a keen cricketer and, for his sins, a Blackpool FC fan. He can regularly be seen in luminous-Lycra cycling between Chiswick to Greenwich.
His special skill is being able to whistle with his mouth closed.
john.dickens@schoolsweek.co.uk
---
Freddie Whittaker is political reporter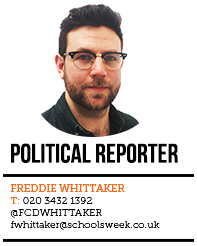 Freddie has been writing about public policy for most of his career, initially as a senior reporter for the Gloucester Citizen and Gloucestershire Echo, and then as the Oxford Mail's political and local government reporter.
He joined sister paper FE Week in January 2014 and became a full-time Schools Week reporter in August 2015.
He has also written for the New Statesman and was once described as "annoyingly thorough".
Freddie lives in south east London but retains strong ties with his home town of Stroud, Gloucestershire.
---
Jess Staufenberg is senior reporter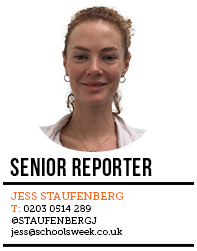 Jess got a relentless bug to do journalism and trained as a news reporter after working for National Citizen Service, returning to her childhood home of Norfolk as a business journalist for the Eastern Daily Press.
Lovesick for London, she trained across the paper and local station MustardTV before returning to the city and forcing her way into The Independent via work experience and then freelance shifts. She wrote pieces for Al Jazeera, Times Educational Supplement, the Daily Telegraph – and Schools Week! – before taking a role at The Independent and then eventually leaving for Schools Week.
She thinks this is one of the best jobs ever. Outside of the newsroom, she surfs in Devon, hikes and tries to leave the country to remember the rest of the world also exists.
Her special skill is taking you completely literally by accident because she's a bit German.
jess.staufenberg@schoolsweek.co.uk
---
Billy Camden is a reporter
Billy completed a degree in journalism at Anglia Ruskin University alongside his NCTJ Diploma at Harlow College.
He then spent two weeks as an intern at FE Week newspaper in February 2014, leading to his role at Schools Week when the paper started.
He has now moved from being head commander of the Bulletin and Movers & Shakers section to become a reporter on both FE Week and Schools Week.
Billy lives with his parents, four brothers and one sister in Romford, Essex. His special skill is being able to give commands to his dog using only his eyes.
billy.camden@schoolsweek.co.uk
---
Samantha King is junior reporter
Samantha recently graduated with a first class journalism degree from the University of Central Lancashire.
She has always had a passion for journalism and used to make magazines about school life when she was a pupil.
Before joining the Schools Week and FE Week team, she spent time interning at Women's Weekly, Sky News, Business Insider and a number of local papers and radio stations.
Samantha is a keen musician and was once a magician's assistant.
Now in charge of the Bulletin and movers and shakers section, she is the best point of contact for anyone with good news.