Full graded Ofsted inspections will not return until the new academic year, with the watchdog instead looking at bringing in a "sensible and proportionate next step" as part of its phased return in the summer term.
Department for Education guidance states routine, graded Ofsted inspections "will resume in the summer term", with the inspectorate "discussing the form and timing of inspections in the summer term".
However chief inspector Amanda Spielman today confirmed that full inspections will not be returning this academic year.
Addressing the Association of School and College Leaders (ASCL) virtual conference, she added: "But I can tell you that what we're discussing is a sensible and proportionate next step before returning to our normal inspection programme in the autumn."
Ofsted has been conducting a new form of remote monitoring inspections of schools graded "inadequate" or "requires improvement" since January 25, after U-turning on plans to conduct inspections in-person.
As more normal service resumes within education, Spielman said she wants Ofsted to "play its part in helping schools and colleges get back on track through inspections".
But she warned schools against conducting 'mocksteds' or using inspection consultants in a bid to prepare.
"I want us to help not hinder and I certainly don't want hard-pressed teachers spending time on fruitless exercises to prepare for Ofsted… just do the best for your pupils and students, in other words what you always do", she added.
Inspection framework still 'fit for purpose'
Elsewhere, the chief inspector insisted Ofsted's current inspection framework is "definitely fit for purpose" despite the new challenges introduced during the pandemic.
The education inspection framework (EIF) was introduced in 2019 and Spielman said the "principles on which the EIF was built still very much stand", as it focuses more on curriculum and has "less emphasis on measured results".
"I think that makes the EIF quite flexible for the situation we are now in with exams cancelled", she added.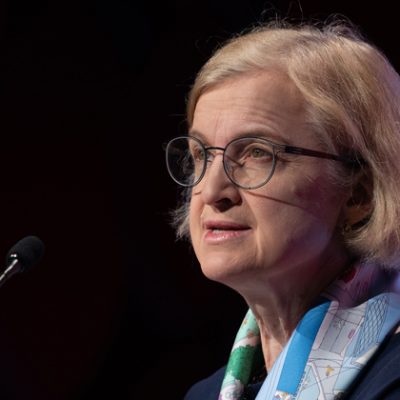 But Spielman admitted there will be the need for flexibility and transitional arrangements when inspections return.
She added the inspectorate needs to do more to "make clear what isn't locked into the EIF" in order to assure leaders what is expected from them.
"We need to make sure it's shaped in a way that makes sure we're really listening to people and understanding the context and the challenges they have at the moment and are facing for the future."
School closures have led to 'epidemic of demotivated children'
During her address Spielman acknowledged the "mammoth effort" schools had undertaken to deliver remote learning but warned it had created an "epidemic of demotivated children".
"Heads have told us that even the hardest-working pupils lost enthusiasm as time went on. Remote education requires great self-discipline – and that's something that home-working adults struggle with, let alone children", she added.
She also touched on the proposed catch-up effort schools will undertake as they attempt to make up for the lost-learning brought about by Covid-19.
Spielman advised that any extensions of schooling "will work well only if they are supported by families – so they don't feel like a punishment, for children or their parents."