To see how your students have done in their A-levels compared to other students nationwide, Education Datalab has produced a handy set of graphs with accompanying analysis.
The proportion of A-level entries in England awarded a C or above has decreased to its lowest level since 2015, reaching 75.5 per cent.
However, the overall pass rate has remained stable in England this year, with 97.5 per cent achieving a grade E or above, down only slightly from 97.6 per cent last year.
The number of entries overall in the UK fell by 1.3 per cent this year, but this actually represented an increase as the 18-year-old population declined 2.9 per cent.
For our own analysis, you can read about the 5 key trends in England's data, to find out which subjects are increasing or declining in popularity, or our stories on girls overtaking boys in science and Spanish becoming the most popular language.
You can also read our headline story on the slump in top grades, with the proportion of pupils getting A or A* reaching its lowest level in 12 years.
Here are the tables for all subjects combined. You can click through to individuals subjects below.
A-level results: All subjects, England

A-level entries: All subjects, England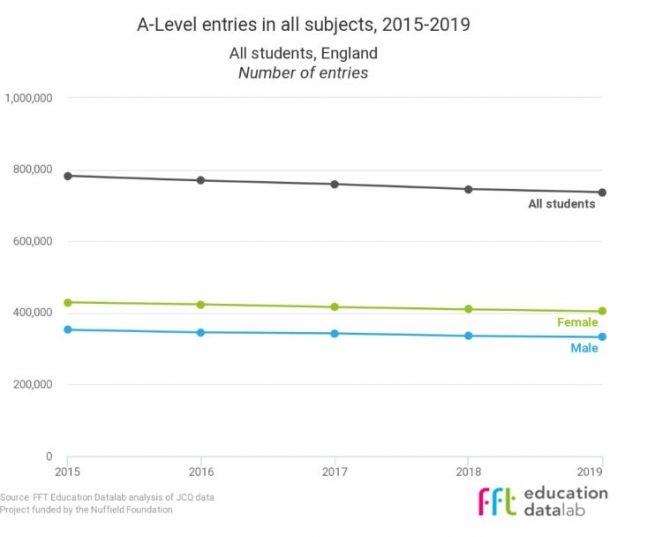 A-level results 2019: subject tables
We will be updating this page with links to specific subject tables throughout the day