Government is set to miss its targets again for recruiting secondary teachers, with subjects that used to be oversubscribed even facing challenges.
The National Foundation for Educational Research says "significant" teacher supply challenges are "re-emerging" after two years of a Covid-related boom in applications.
The Teacher Labour Market in England annual report also reveals the number of teachers leaving the profession is also rising back to pre-pandemic rates.
Jack Worth, NFER's school workforce lead, said: "Tackling this effectively requires policy action to improve the financial and non-financial attractiveness of teaching."
Here's what you need to know…
1. 'Substantial risk' of missing targets …
Researchers say there is a "substantial" risk that a range of secondary subjects will not meet targets for the 2022 recruitment cycle.
The rate of new ITT applications dropped off during summer last year as the wider labour market "recovered" after the easing of Covid restrictions. It is now similar to pre-Covid levels. As of February, the number of applications is 23 per cent lower than in February 2021.
Out of 19 subjects, the NFER estimates 14 are at risk of falling below target (see graph below). This is based on last year's targets, as DfE has yet to publish this year's.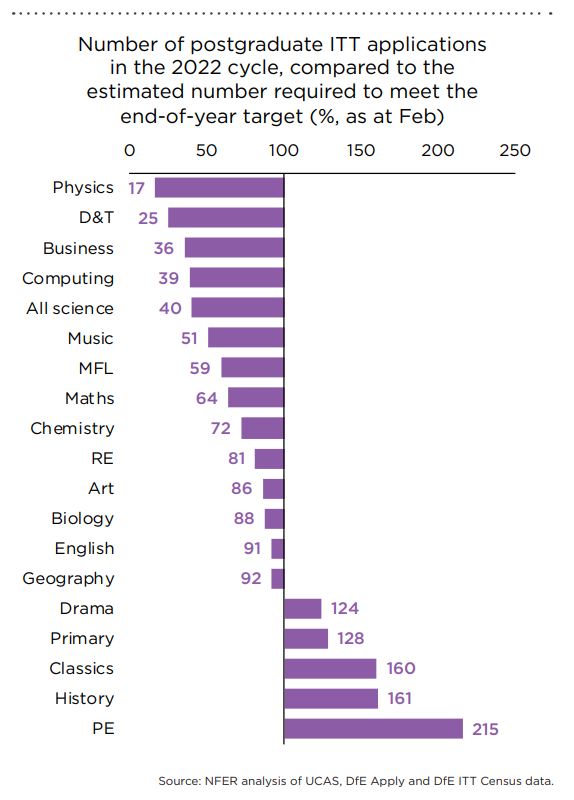 Subjects that had shortages pre-pandemic, such as physics, modern foreign languages and computing, are likely to be those hardest hit.
Government recruited under a quarter of the required physics teachers last year, although it substantially upped its target.
However NFER says that subjects that usually recruit well, such as biology, English, geography, art and religious education, are now also likely to finish the year below target. 
Ministers were widely criticised for slashing bursaries after the Covid surge in applications.
While the economic recovery is the main reason overall application figures have fallen, bursary cuts "play a small role", researchers added.
2. … and teacher exit rates creeping up
The government's school workforce census shows retention rates in 2020 were "significantly improved" compared to pre-pandemic.
But data from NFER's autumn survey of school leaders suggests they may be "returning towards" pre-Covid levels.
Around a fifth of primary leaders said teacher turnover was higher than before the pandemic, but another fifth said turnover was lower.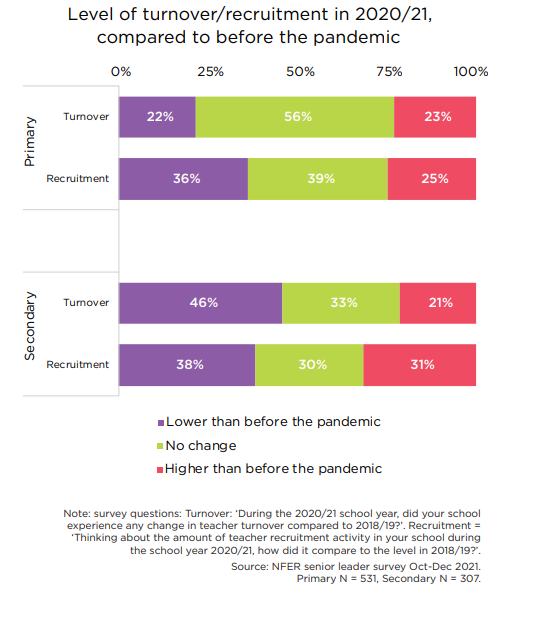 More secondary leaders said turnover was lower (46 per cent), rather than higher (21 per cent). But these proportions are "less stark" than the same numbers in NFER's report last year (50 per cent for lower turnover and seven per cent for higher).
NFER says this "may suggest that secondary leaving rates are increasing, but not fully to pre-pandemic levels".
3. Teachers' 'real' pay lower than 2010
NFER says despite some above-inflation rises in teacher pay, the median rate in 2020-21 remained about seven to nine per cent below the 2010-11 rate in real-terms.
The median earnings of similar professionals are only one per cent lower, meaning teacher pay has "lost competitiveness". NFER concludes this "is likely to contribute to additional recruitment and retention challenges".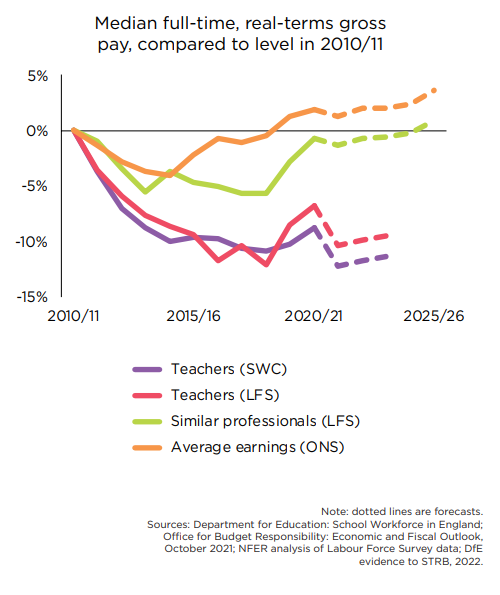 Ministers are proposing hiking the minimum pay by more than 16 per cent over the next two years to reach a pledge of £30,000 starting salaries by 2023.
But researchers say this "flattens" the pay structure, with fewer big rises between pay scales, which could result in more experienced teachers deciding to leave.
The proposed reductions to London weighting could also "exacerbate" supply changes faced by the capital's schools, they add, warning the government to keep this premium.
4. Working hours back to pre-pandemic
Before the pandemic, teachers were working longer hours in term time than similar professionals were in a usual week, NFER says.
Data shows workload had fallen before the pandemic after a big government focus, and then plunged from 47 hours to about 40 hours during the first lockdown. But it rose back to 46 hours last academic year.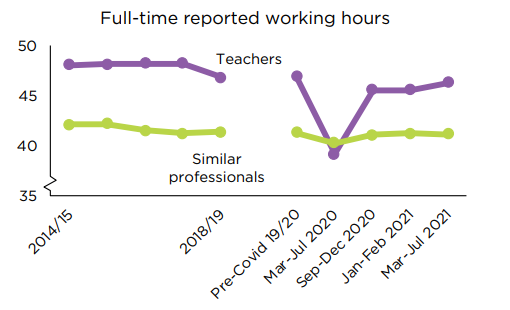 Similar professionals worked about 41 hours a week last year.
Worth said ensuring workloads are manageable "could be an important part of a strategy to improve supply by reducing the numbers of teachers leaving, but our analysis indicates that teacher workload remains a significant issue as more than half of full-time teachers perceive that they work too many hours".
5. Placement capacity improves
The proportion of primary schools offering at least one placement to trainee teachers rose from 65 per cent in 2020-21 to 72 per cent this academic year, a NFER survey found.
This rose from 88 per cent to 95 per cent of secondary schools.
But the average number of placements offered per school has only grown slightly, from 2.1 to 2.2 for primary and 6 to 6.1 for secondary.
The most significant factor influencing placement plans for primary senior leaders was the burden on staff to support trainees.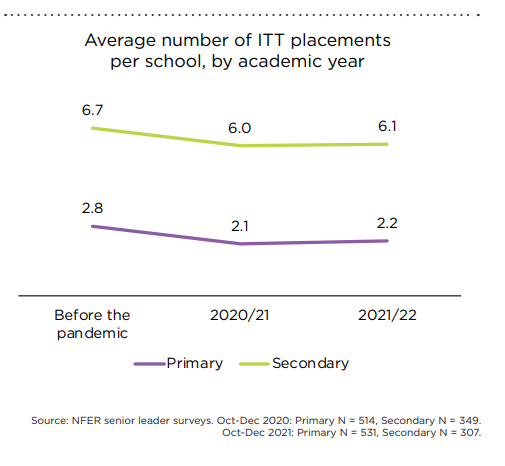 Concerns about having too many people in school fell from 39 per cent to 17 per cent.
Increased worries about the burden on staff could be linked to demands of early career framework mentoring, which was rolled out nationwide in September, researchers say.
NFER says ministers should "take action" to ensure schools "have sufficient long-term mentoring capacity".