The government has slashed some teacher training bursaries by as much as 73 per cent, with others scrapped altogether, as the supply of people wanting to be teachers rises because of the coronavirus.
New guidance on initial teacher training funding for the 2021-22 academic year shows all bursaries previously offered by the government to trainees in shortage subjects have either been reduced or scrapped. Education economist Jack Worth described the changes as "really quite radical cuts".
The government said the financial incentives announced today for 2021-22 add up to £130 million, which is almost half of the £250 million pledged by the government last year.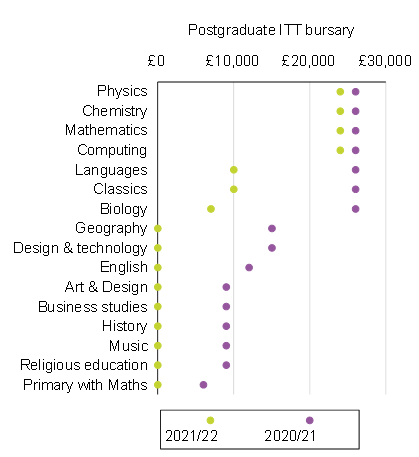 It comes after research showed that the Covid-19 pandemic and ensuing recession could eradicate shortfalls in almost all subjects. The government has also reported a 30 per cent increase in teacher training applications between February and August compared to the same time last year.
This year, bursaries of £26,000 were offered for chemistry, computing, languages, maths, physics, biology and classics trainees with degrees in their subjects.
But for 2021-22, the bursary for chemistry, computing, maths and physics has been reduced to £24,000, while for languages and classics it has been slashed to £10,000 and in biology to £7,000.
Emma Hollis, chief executive of the National Association of School-Based Teacher Trainers, said she was "disappointed that a short-term view has been taken on financial incentives designed to attract the best quality candidates into our classrooms".
"The immediate increase that we have seen in teacher recruitment does not solve the longer term recruitment crisis, it only disguises it, and failing to take a long term view will only store up issues for the future."
The DfE has also confirmed it has scrapped its relatively new system of early-career payments in chemistry, languages, maths and physics. The additional payments of between £2,000 and £3,000 were made on top of bursaries to new teachers in their second, third and fourth years of teaching. They were introduced to try to aid teacher retention.
Bursaries offered this year in geography, design and technology, English, art and design, business studies, history, music, religious education and primary maths have been scrapped altogether for 2021-22.
The scholarship offered to trainees in chemistry, computing, maths and physics has also been reduced – from £28,000 to £26,000 – while the scholarship in languages and geography will no longer be available.
A report from the National Foundation for Educational Research last month predicted that increased recruitment during the pandemic, coupled with higher retention rates, could close gaps in shortage subjects such as maths, modern foreign languages and chemistry, which have all seen a "substantial increase" in offers.
When the boost to retention rates is taken into account, the organisation estimated that recruitment in some subjects could be as much as 240 per cent of what is needed.
The government has been criticised for allowing "bursary tourism", with the National Audit Office finding £1 billion had been spent on bursaries without any proper evaluation of whether they were working.
The move to make bursaries less attractive also comes as the DfE prepares to raise the starting salary for new teachers to at least £30,000.
Some initiatives have survived the cull, however. The undergraduate bursary of £9,000 for those studying a qualified teacher status course in secondary maths or physics, or those studying an opt-in QTS course in secondary undergraduate computing, languages, mathematics or physics, will remain in place in 2021-22.
The troops to teachers undergraduate bursary, worth £40,000 to those who have left employment in the British Army, Royal Air Force or Royal Navy and enrol on certain eligible QTS courses within five years, will also continue.
The DfE has also changed the way its grants for schools to help cover the salaries and training costs of trainees on school-direct salaried routes will work.
The grants were previously available for trainees in chemistry, classics, computing, maths, languages, physics, biology, design and technology, English, geography, history, music, RE and primary teachers, and ranged from £9,000 to £23,900 depending on the subject and location of the school.
The new grants will be £24,000 for chemistry, computing, maths and physics, £10,000 for languages and classics and £7,000 for biology, and will be at the same level regardless of where a school is. Other subjects will no longer be covered.
Grants to help schools pay postgraduate teaching apprentices have also been simplified. From 2021-22, the DfE will pay schools £15,000 for apprentice teachers of chemistry, computing, maths and physics, and £1,000 for those in classics and languages. Grants in other subjects will be scrapped.
But schools minister Nick Gibb said: "Teaching remains an attractive proposition, which is evidenced by the significant increase in applications over the last few months, and these financial incentives are set to attract those to the hardest to recruit subjects."