Teaching's increasingly young and diverse workforce continued to grow last year as staff departures slumped during Covid, new figures show.
The Department for Education published its annual 'school worforce in England' data on Thursday, based on the November 2020 school workforce census.
Here are the key findings.
1. Teacher numbers rise as staff stay put during Covid
Overall teacher headcount increased by 7,000 on 2019, rising to 461,088 last year.
The number of teachers leaving the profession slumped by 17 per cent to 34,116.
A National Foundation for Educational Research survey last July found the proportion of teachers considering leaving had dropped 15 percentage points in a year as the pandemic boosted retention.
Meanwhile the number of teaching assistants, technicians, administrative, auxiliary, and other school support staff also rose, taking the overall state school workforce from 945,802 to to 963,000.
2. Pupil:teacher ratios falls over birthrates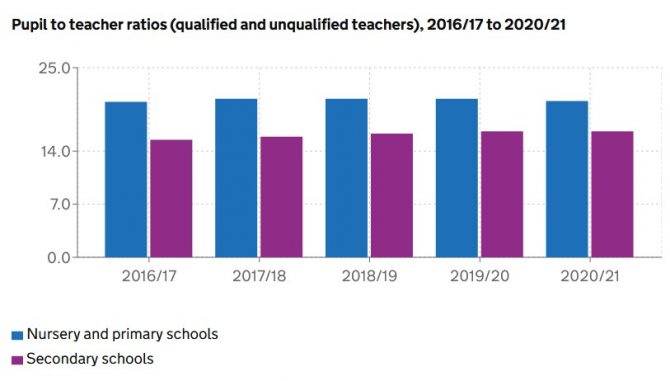 The average number of pupils per teacher dropped from 20.9 to 20.6 in primaries, and was unchanged at 16.6 in secondaries.
Statisticians said it reflected rising teacher numbers and primary pupil numbers levelling off after almost a decade of increases.
By contrast, secondary pupil numbers are expected to keep rising until 2024, but this was offset last year by increased staffing.
3. Teacher pay rises
Average classroom teacher pay rose 3.4 per cent to £38,400, while average heads' salaries rose 2.6 per cent to £73,500.
Salaries remained higher on average for classroom and leadership teachers in maintained schools than academies.
Statisticians noted figures should not be taken to indicate average pay rises. Average salaries may be more affected by fluctuations in the levels of younger or older teachers remaining in or leaving the profession.
4. Academy head pay gap narrows
In past years academies have had higher headteacher salaries, and the best-paid head and trust CEO earnings have sparked controversy.
But the gap has shrunk in recent years and at secondary level been reversed altogether.
Secondary heads at local authority schools now earn £96,075 on average, narrowly overtaking their academy counterparts who average £95,679.
5. Teachers younger and more diverse
Demographic data shows the proportion of teachers aged 50 and over continuing to fall, with the number aged 30 to 49 increasing.
The proportion describing themselves as ethnic minorities continued to rise to 15 per cent, up from 11 per cent in 2010 and 14.3 per cent the previous year.
Meanwhile statisticians said the proportion of male and female teachers had been "consistent over time", with 75 per cent of classroom teachers but only 67 per cent of heads female.