The new teacher and school leadership pay scales for 2021-22 have been confirmed by the Department for Education.
It follows the announcement at last year's spending review of a pay freeze for all public sector workers earning more than £24,000 a year. Those earning less are supposed to get a pay rise of at least £250, though this applies to very few teachers.
As a result, only the salary ranges below that threshold have changed, and most teacher and all leadership pay scales remain the same as they were in 2020-21.
While local authority-maintained schools are required to follow these pay scales, academies and free schools are allowed to set their own scales.
Here are the new pay rates, effective from September 1 2021.
Classroom teachers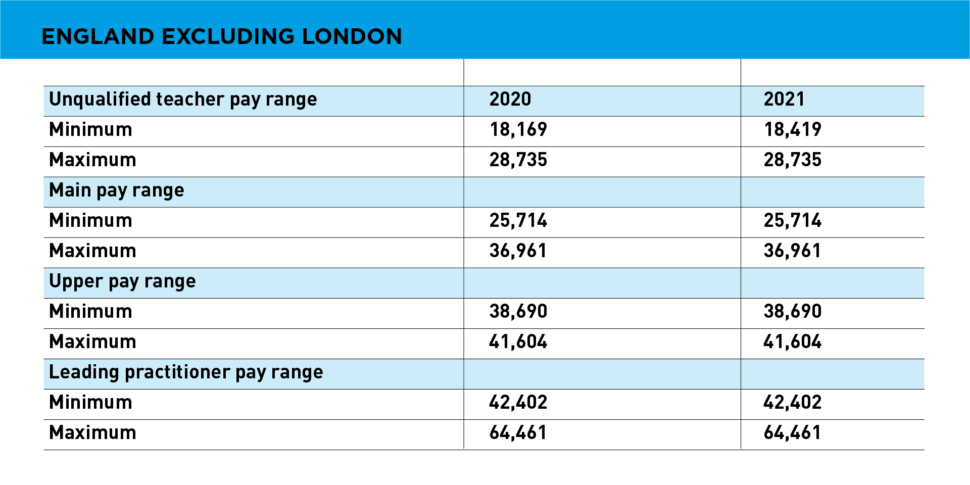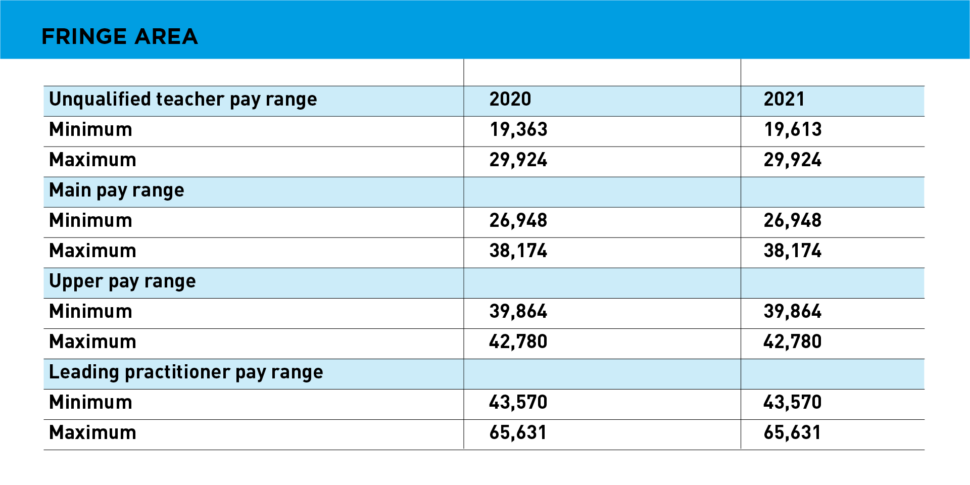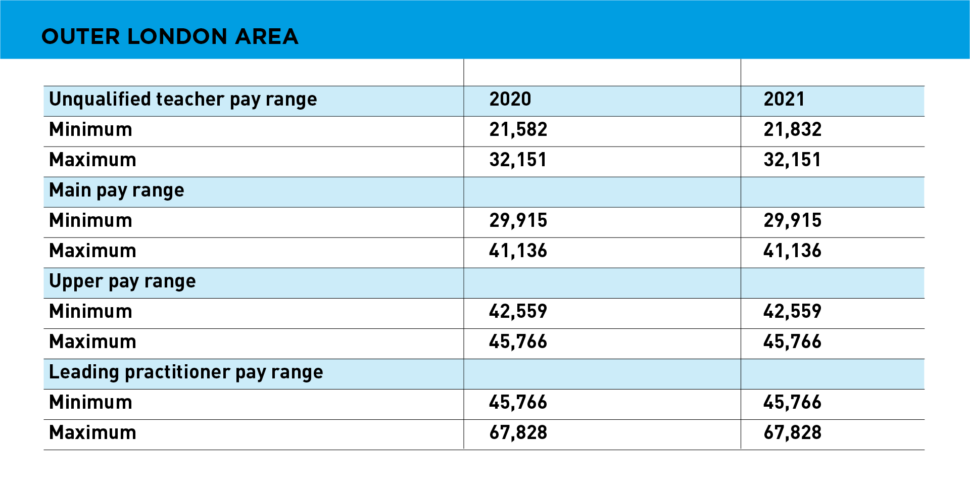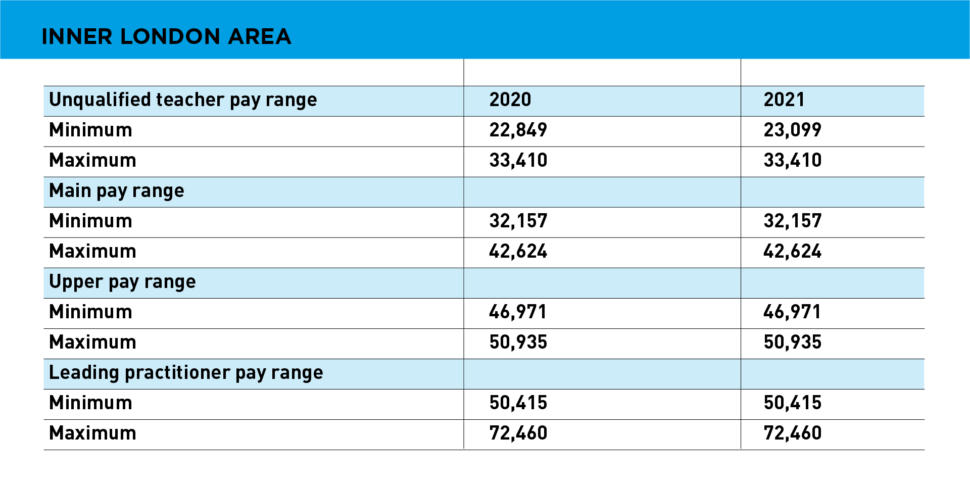 Leadership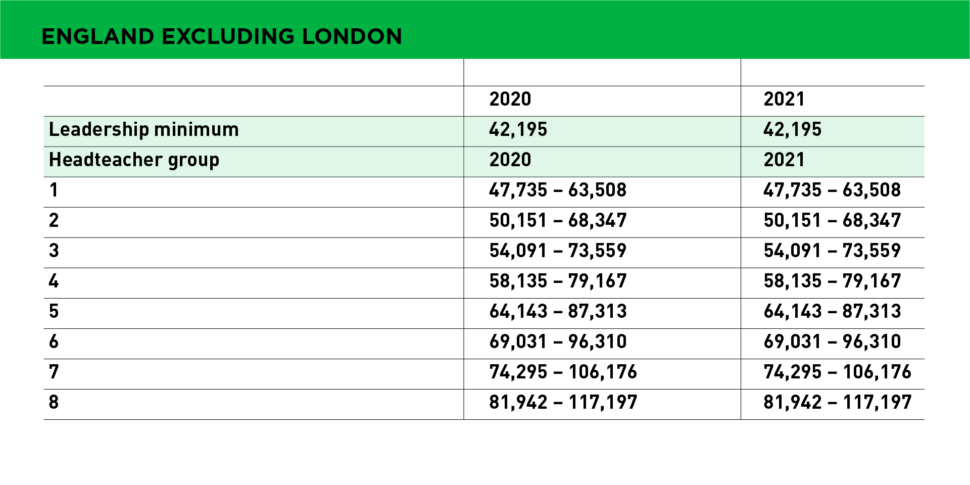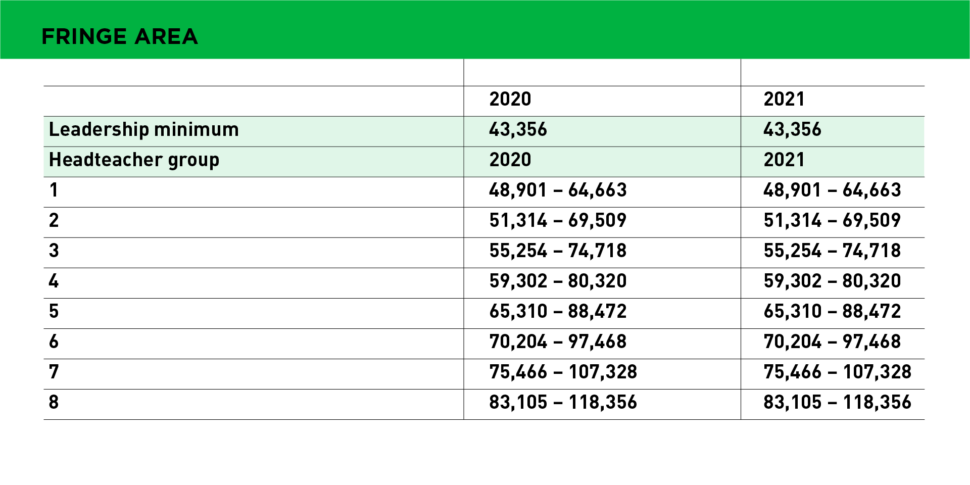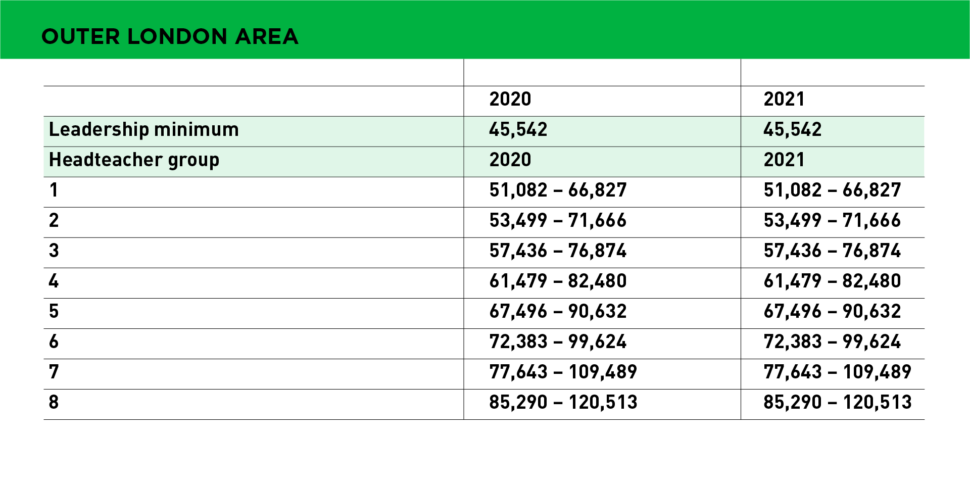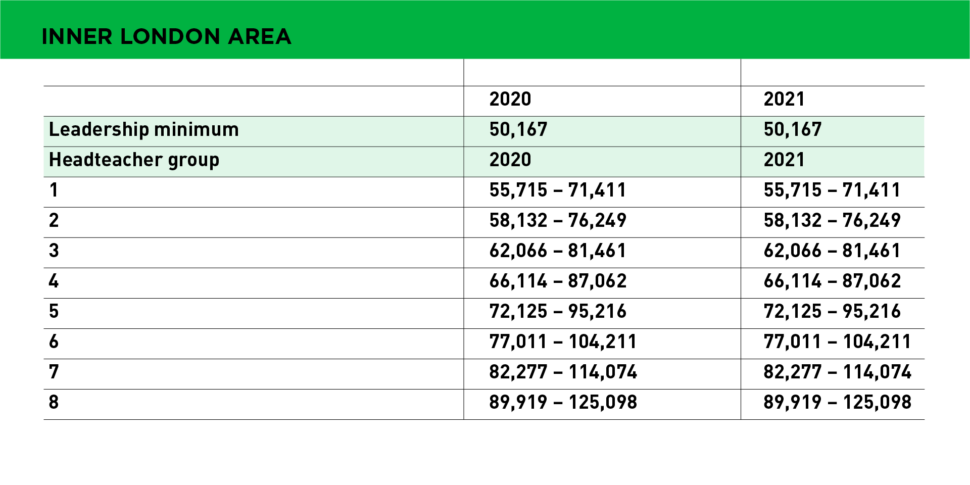 Here's the text version in case you need to copy and paste…
Classroom teachers
| | | |
| --- | --- | --- |
| England excluding London | | |
| | | |
| Unqualified teacher pay range | 2020 | 2021 |
| Minimum | 18,169 | 18,419 |
| Maximum | 28,735 | 28,735 |
| Main pay range | | |
| Minimum | 25,714 | 25,714 |
| Maximum | 36,961 | 36,961 |
| Upper pay range | | |
| Minimum | 38,690 | 38,690 |
| Maximum | 41,604 | 41,604 |
| Leading practitioner pay range | | |
| Minimum | 42,402 | 42,402 |
| Maximum | 64,461 | 64,461 |
| | | |
| Fringe area | | |
| | | |
| Unqualified teacher pay range | 2020 | 2021 |
| Minimum | 19,363 | 19,613 |
| Maximum | 29,924 | 29,924 |
| Main pay range | | |
| Minimum | 26,948 | 26,948 |
| Maximum | 38,174 | 38,174 |
| Upper pay range | | |
| Minimum | 39,864 | 39,864 |
| Maximum | 42,780 | 42,780 |
| Leading practitioner pay range | | |
| Minimum | 43,570 | 43,570 |
| Maximum | 65,631 | 65,631 |
| | | |
| Outer London area | | |
| | | |
| Unqualified teacher pay range | 2020 | 2021 |
| Minimum | 21,582 | 21,832 |
| Maximum | 32,151 | 32,151 |
| Main pay range | | |
| Minimum | 29,915 | 29,915 |
| Maximum | 41,136 | 41,136 |
| Upper pay range | | |
| Minimum | 42,559 | 42,559 |
| Maximum | 45,766 | 45,766 |
| Leading practitioner pay range | | |
| Minimum | 45,766 | 45,766 |
| Maximum | 67,828 | 67,828 |
| | | |
| Inner London area | | |
| | | |
| Unqualified teacher pay range | 2020 | 2021 |
| Minimum | 22,849 | 23,099 |
| Maximum | 33,410 | 33,410 |
| Main pay range | | |
| Minimum | 32,157 | 32,157 |
| Maximum | 42,624 | 42,624 |
| Upper pay range | | |
| Minimum | 46,971 | 46,971 |
| Maximum | 50,935 | 50,935 |
| Leading practitioner pay range | | |
| Minimum | 50,415 | 50,415 |
| Maximum | 72,460 | 72,460 |
Leadership
| | | |
| --- | --- | --- |
| England excluding London | | |
| | | |
| | 2020 | 2021 |
| Leadership minimum | 42,195 | 42,195 |
| Headteacher group | 2020 | 2021 |
| 1 | 47,735 – 63,508 | 47,735 – 63,508 |
| 2 | 50,151 – 68,347 | 50,151 – 68,347 |
| 3 | 54,091 – 73,559 | 54,091 – 73,559 |
| 4 | 58,135 – 79,167 | 58,135 – 79,167 |
| 5 | 64,143 – 87,313 | 64,143 – 87,313 |
| 6 | 69,031 – 96,310 | 69,031 – 96,310 |
| 7 | 74,295 – 106,176 | 74,295 – 106,176 |
| 8 | 81,942 – 117,197 | 81,942 – 117,197 |
| | | |
| Fringe area | | |
| | | |
| | 2020 | 2021 |
| Leadership minimum | 43,356 | 43,356 |
| Headteacher group | 2020 | 2021 |
| 1 | 48,901 – 64,663 | 48,901 – 64,663 |
| 2 | 51,314 – 69,509 | 51,314 – 69,509 |
| 3 | 55,254 – 74,718 | 55,254 – 74,718 |
| 4 | 59,302 – 80,320 | 59,302 – 80,320 |
| 5 | 65,310 – 88,472 | 65,310 – 88,472 |
| 6 | 70,204 – 97,468 | 70,204 – 97,468 |
| 7 | 75,466 – 107,328 | 75,466 – 107,328 |
| 8 | 83,105 – 118,356 | 83,105 – 118,356 |
| | | |
| Outer London area | | |
| | | |
| | 2020 | 2021 |
| Leadership minimum | 45,542 | 45,542 |
| Headteacher group | 2020 | 2021 |
| 1 | 51,082 – 66,827 | 51,082 – 66,827 |
| 2 | 53,499 – 71,666 | 53,499 – 71,666 |
| 3 | 57,436 – 76,874 | 57,436 – 76,874 |
| 4 | 61,479 – 82,480 | 61,479 – 82,480 |
| 5 | 67,496 – 90,632 | 67,496 – 90,632 |
| 6 | 72,383 – 99,624 | 72,383 – 99,624 |
| 7 | 77,643 – 109,489 | 77,643 – 109,489 |
| 8 | 85,290 – 120,513 | 85,290 – 120,513 |
| | | |
| Inner London area | | |
| | | |
| | 2020 | 2021 |
| Leadership minimum | 50,167 | 50,167 |
| Headteacher group | 2020 | 2021 |
| 1 | 55,715 – 71,411 | 55,715 – 71,411 |
| 2 | 58,132 – 76,249 | 58,132 – 76,249 |
| 3 | 62,066 – 81,461 | 62,066 – 81,461 |
| 4 | 66,114 – 87,062 | 66,114 – 87,062 |
| 5 | 72,125 – 95,216 | 72,125 – 95,216 |
| 6 | 77,011 – 104,211 | 77,011 – 104,211 |
| 7 | 82,277 – 114,074 | 82,277 – 114,074 |
| 8 | 89,919 – 125,098 | 89,919 – 125,098 |