A recruitment programme aimed at persuading high-flying professionals to change career and retrain as teachers has secured £3 million government funding to expand nationwide.
Founded in 2016 by Financial Times journalist Lucy Kellaway (pictured above) and former teacher Katie Waldegrave, Now Teach has so far recruited more than 500 teachers across the four regions it formerly covered.
Their aim is to see a "Now Teacher" in every staffroom across the country. But what is the plan? Schools Week investigates
Is £6k per recruit value for money?
First set up under Ark Ventures, an offshoot of the Ark academy trust that "incubates" new organisations, Now Teach became a non-for-profit charity last year.
The new funding means it has secured £6.3 million in government funding since launching five years ago. Recruits for the programme this year were from four regions: the West Midlands, the South East, London and East of England.
Applicants must show "career success", which translates to holding a management role or a leadership position.
The 2020 cohort had 3,700 years of work experience in 23 different industry sectors between them. They averaged 25 years' career experience each.
The new government funding totals £1.5 million per cohort, which equates to about £6,600 per trainee.
Now Teach does not provide the initial teacher training (it partners with 58 ITT providers and 113 schools who do). Instead, it helps to find training courses and support career changers along the way.
Contract documents show this includes a virtual staffroom, access to a mental health counsellor and a WhatsApp group for trainees.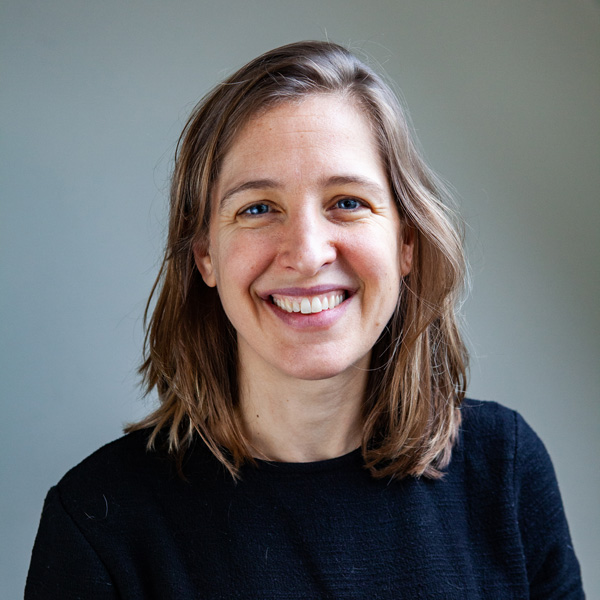 Now Teach reports that 93.1 per cent of its recruits are still teaching one year after achieving qualified teacher status in 2019, compared to 84.5 per cent of all teacher trainees in England.
While they missed a 2018 target to recruit 100 career changers (securing 83 in the first year under a national government contract), they overachieved with 140 recruits last year and 170 this year (see table).
The organisation is now expected to recruit 200 career changers next year and 250 in 2023. The government also has an option to extend the funding for a third year.
Kellaway, who quit her FT job aged 58 to become a teacher, said she would be "amazed and very disappointed" if Now Teach does not hit those numbers.
But, while Now Teach is expanding, other schemes have ended. The Brilliant Club was awarded £4.7 million in 2018 to run a two year Researchers in School programme for PhD graduates.
But earlier this year, the charity decided to made 2021 its final cohort due to "significant changes to education funding priorities and the direction of our new five-year strategy".
Sluggish flexible working progress a barrier
One hurdle could be the sector's struggle to offer flexible working opportunities – something Kellaway says is attractive for career changers.
The Department for Education's 2019 Teacher Recruitment and Retention Strategy promised to support headteachers to "transform approaches" to flexible working. The plan is to "establish a culture that values … flexible working at all career stages".
But while 6 per cent of qualified teachers decreased their working hours last year, another 5 per cent increased their time in school.
Seven per cent of Now Teach trainees, and 20 per cent of their qualified teachers, are working part-time.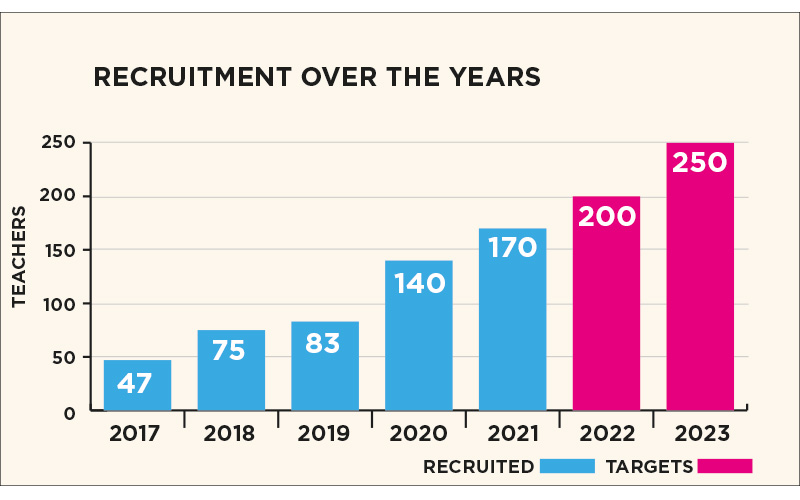 "I think that teaching, for some good reasons, has been very slow to adopt flexible working. It's a shame, because part-time teachers have so much to offer," Kellaway added.
Another challenge is around pay. According to the government's Get Into Teaching website, a new teacher could earn between £25,714 and £32,157. While attractive for graduates, this would be a considerable pay cut for many career changers.
Clare Geldard, executive director at Now Teach, said that while pay questions "often come up", the bigger driver is "giving something back" or "having a life with more purpose".
She added: "I think the difference with our career changers is that it is, 'I can't afford to do that yet'. Or it could be a family situation. So, we keep them in the loop for when they are ready to make that decision."
Push for more middle-aged men teachers
Part of the new contract is to attract more diverse candidates – including more men aged over 50. The profession is currently 75% female.
The charity will also target more black and ethnic minority recruits, and is "trailing and testing" methodology to reach under-represented groups.
Of Now Teach's 2021 cohort, 51 per cent are male – compared with 30 per cent of overall postgraduate ITT entrants.
Four per cent have a declared disability, compared with 12 per cent overall and 29 per cent are minority ethnic, compared with 19 nationwide.
The average age is 47 – with the oldest recruit aged 65.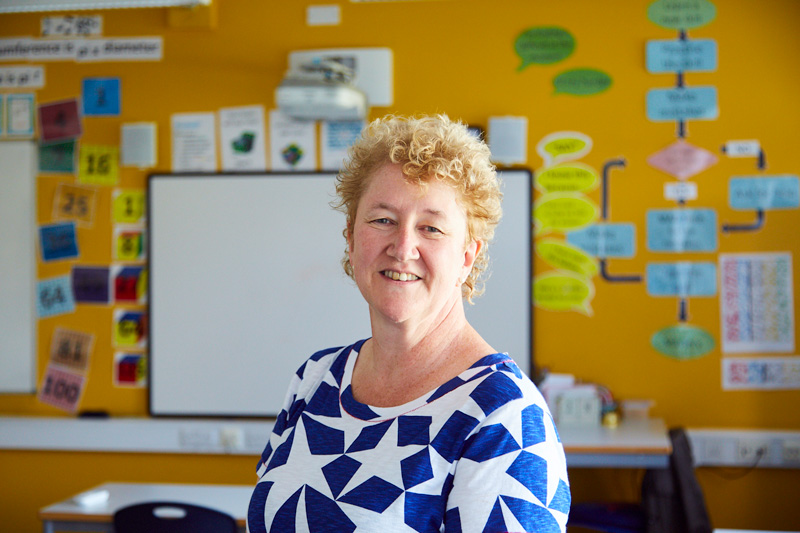 Contract documents show that communications is also a big part of the plan – with targets to increase the number of PR pieces published from 43 this year to more than 55 in 2022-23.
Covid has also helped, with a 70 per cent rise in Now Teach applications between March and May last year.
Kellaway describes the pandemic as "our biggest recruitment tool ever. All of those people were in their meaningless desk jobs that became even more meaningless once they were having to do them permanently on Zoom in their bedrooms.
"If you had said to me that, in five years' time, you will have just landed a grant worth a total of £3 million from the government and you will be a national organisation, I would have been amazed really," she added.
"I am just delighted at how far we have come in five years."