Three organisations will receive around £10 million to bring more career changers and PhD graduates into teaching, the government has announced.
Schools Week has been told the cash is new funding from the treasury, and will focus on recruiting and supporting up to 600 teachers over the next two years.
Now Teach, which encourages high-flying professionals to switch to teaching, will receive £3 million over the next two academic years to expand into the south-east, East Anglia and Birmingham.
The extra cash is on top of the £350,000 in government funds given to the charity, founded in 2016 by Financial Times columnist Lucy Kellaway (pictured), to move out of London and into Hastings this year. So far, three in four teachers who join the scheme have gone on to qualify.
Meanwhile Cognition Education, a global organisation with experience recruiting teachers to the further education sector, will receive £3 million to target career changers in engineering and related industries in the north east, north west, east Midlands and Yorkshire.
Finally the Brilliant Club, which runs the Researchers in Schools teacher training programme for PhD graduates, will receive up to £4.7 million over the next two years.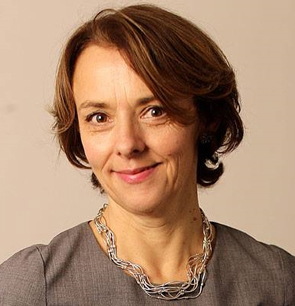 The group is aiming to recruit at least 100 teachers per academic year, with 70 per cent of those expected to be in maths and physics.
The government funding will "contribute to an uplift" to the salaries of maths and physics teachers, according to a Department for Education press release.
The new funding comes after the government's own scheme to encourage former teachers to return to the classroom turned out to be a flop.
The Return to Teaching pilot programme, which ran from 2015, missed its targets and was found to be "unlikely to represent good value for money" after large numbers of people without the right experience signed up.
It had aimed to support 650 former teachers to teach EBacc subjects at secondary schools, but an evaluation of the scheme found that it only recruited around 350, just eight per cent of whom started teaching.
It also comes as the government failed to hit any of its teacher training targets in EBacc subjects except for history last year.
Meanwhile, the government has extended bursaries in more subjects to graduates with 2:2 degrees, even though an experimental analysis of the impact of bursaries shows trainees on bursaries worth up to £26,000 were less likely to get jobs in schools than those without bursaries.
Nick Gibb, schools minister, said by "focusing on skilled professionals who want to change careers and PhD graduates, we can ensure pupils are benefiting from the broadest range of skills, expertise and life experience.
"This approach will help drive up education standards further so young people are acquiring the skills and knowledge they need to succeed."