Four in ten schools don't expect to use the government's National Tutoring Programme this year, according to a government survey.
The Department for Education has published responses to its Covid-19 school snapshot panel survey, which has been conducted regularly since July last year.
The latest survey, from July of this year, received responses from 846 school leaders and 934 classroom teachers.
Here's what you need to know…
1. 4 in 10 schools don't expect to use NTP this year
A key pillar of the government's education recovery policy is the National Tutoring Programme, and schools were asked in the July survey if they were planning to use it this academic year.
Just 29 per cent said they were planning to use the service, while 30 per cent were unsure and 41 per cent said they didn't expect to use it.
Secondary schools were more likely to be intending to use the programme than primary schools – 40 per cent compared to 26 per cent.
Schools with the highest proportion of free school meal eligible pupils were more likely to use it compared to those with the lowest proportion – 37 per cent compared to 24 per cent.
2. 12% of secondary schools finish before 3pm
Earlier this year, the government pledged a review of the time spent in school as part of its deliberations on whether to extend the school day.
At the time, former education secretary Gavin Williamson questioned "whether it is justifiable that some schools send their children home at 2.45 pm when others keep them in for much longer".
The DfE recently told Schools Week in a freedom of information response that Williamson partly relied on March snapshot survey data to support his statements.
In the March survey of just over 1,000 respondents, 12 per cent of secondary schools and just 1 per cent of primary schools reported that they finished before 3pm.
Secondary schools were also more likely to start the school day before 8.30am (17 per cent, compared to 1 per cent of primaries).
Ninety-two per cent reported the school day finished between 3pm and 3.30pm, and the same proportion said it started between 8.30am and 9am.
3. Schools most likely to use extended day for enrichment and teaching
In July, schools were asked how they would use the extra time if the government funded them to extend the school day by around 30 minutes to an hour per day.
Almost four in ten – 37 per cent – reported it would be solely for enrichment activities such as sport, arts or wellbeing support, while three per cent would use the extra time solely to teach a broader curriculum.
But most commonly, 41 per cent said it would be used for a mixture of both. Over half – 54 per cent – of schools said they would use a mixture of teachers and non-teachers to staff this time.
However, the government appears to have abandoned its pursuit of an extended school day, with no mention of the policy in this week's spending review.
4. Most schools didn't use Covid testing data
The DfE said that in June, it provided access to aggregated, school-level Covid-19 testing data to primary and secondary schools to help them increase participation in rapid asymptomatic testing.
But only 26 per cent of secondary schools and 10 per cent of primary schools reported using the data when asked in July.
Asked about their experience with testing, 46 per cent of leaders said answering parent queries took up too much time. This was followed by communications to maintain or increase engagement, an issue for 39 per cent, and reading DfE daily updates at 38 per cent.
5. Some schools unable to replace laptop security software
The DfE said some of the laptops and tablets provided to schools had safeguarding software installed that was due to expire on September 30 of this year. After this, schools had to install their own software.
Forty-four per cent of schools said they had received such devices, but of those that did only 51 per cent were aware before the survey that the existing settings would expire in September.
Sixty-six per cent said they would be able to replace this software on all devices. However, 2 per cent said they wouldn't be able to, and a further 26 per cent said they weren't sure.
The most commonly reported issues were a lack of resources, including not enough people or time available (34 per cent), being unable to retrieve the devices in question from families (30 per cent) and lacking the necessary IT skills within the school (21 per cent).
Schools with the highest proportion of pupils eligible for FSM were significantly more likely to report that they would not be able to add their own safeguarding software before September 30 – 9 per cent compared to 2 per cent of schools with the lowest proportions.
6. Most teachers concerned about disengagement
In July, 64 per cent of teachers said they were concerned to some extent about disengagement from learning, with 61 per cent worried about behaviour issues.
Secondary teachers were significantly more concerned than primary teachers about disengagement from learning "to a great extent" – 34 per cent compared to 10 per cent.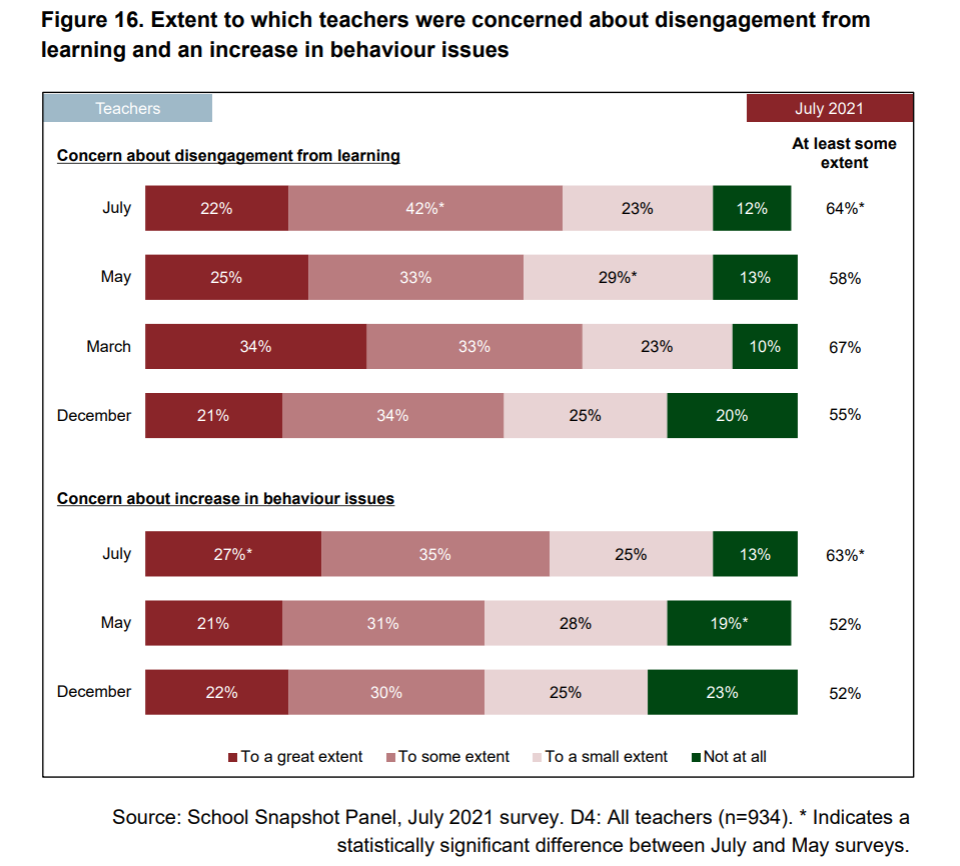 This was the same for teachers at schools with highest proportions of FSM eligible pupils compared to lowest proportions.
7. Teachers and heads differ on workload
In June, 92 per cent of leaders reported that their schools had taken some action to reduce workload in the last 12 months.
But a far lower proportion of teachers – 65 per cent – reported that this had happened.
8. 7% of teachers and leaders plan to leave
In June, 53 per cent of leaders and teachers expected to remain in their current position, a drop from 57 per cent in the late February survey.
One in five – 20 per cent – said they were going to seek promotion.
Seven percent of all leaders and teachers surveyed said they intended to leave the teaching profession entirely, an increase from five per cent in late February.
Leaders were more likely to say that the pandemic had contributed to them wanting to leave to a "great extent" – 21 per cent compared to 14 per cent of teachers.