The government has released its spending review for the next three years, with billions of pounds of extra funding going to schools. But, as usual, all is not as rosy as it seems…
Here's what schools need to know.
1. £4.7bn extra school funding …
Treasury documents confirm that the spending review is allocating an additional £4.7 billion for the core schools budget in England.
This is "over and above" the spending commitments made in 2019, and the Treasury said this would be "broadly equivalent to a cash increase of over £1,500 per pupil by 2024-25
compared to 2019-20″.
According to the documents, the core schools budget will increase from £49.8 billion this year to £56.8 billion in 2024-25. This equates to an average annual real-terms rise of 2.5 per cent from 2019 to 2024.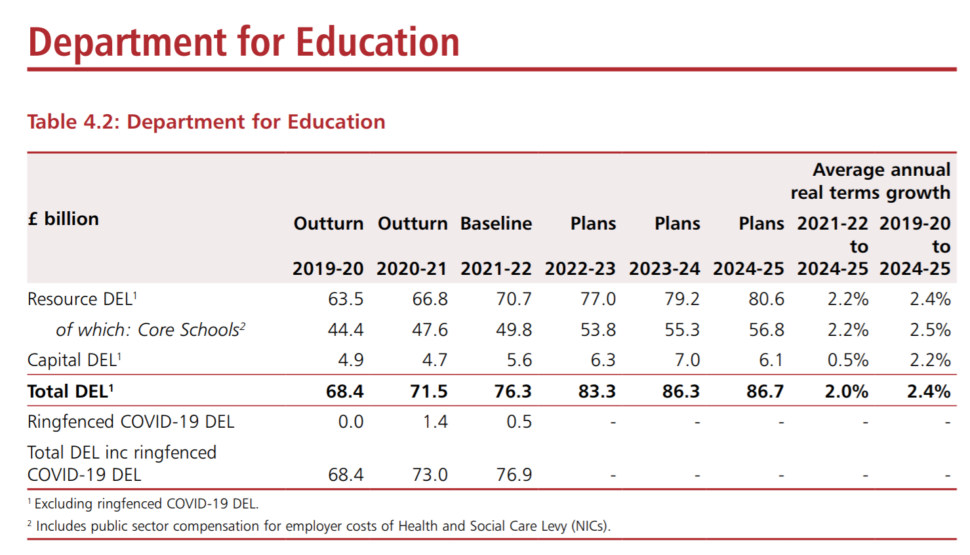 2. … but this will have to cover pay rises
Sunak confirmed the end of the public sector pay freeze.
But Treasury document states the extra funding today will go towards "supporting delivery" of its pledge to raise new teacher starting salaries to £30,000.
Treasury has been asked whether today's funding settlement is also expected to cover any future teacher pay rises. If so, it would mean a big chunk of the extra cash announced today will be wiped out by pay increases.
The government said public sector workers will see "pay rises over the next three years as the recovery in the economy and labour market allows a return to a normal pay setting process".
Last year's spending review froze pay for all public sector workers earning more than £24,000, affecting most teachers.
But to ensure the "fairness and the sustainability of the public finances", public sector pay growth over the next three years "should retain broad parity with the private sector and continue to be affordable".
3. Extra funding ALSO includes NI rise compensation
In the small print of the document, the government reveals the £4.7 billion funding increase "includes public sector compensation for employer costs of Health and Social Care Levy".
This follows the announcement earlier this year that national insurance contributions will rise to fund health and social care reforms.
The government said at the time it would "compensate" public sector employers for their rise in contributions.
4. £1bn more for schools catch-up
Also included in the spending review is an additional £1.8 billion for education recovery. This is on top of the £3.1 billion already announced.
The new commitment includes a £1 billion "recovery premium" for the next two academic years "to help schools to deliver evidence-based approaches to support the most disadvantaged pupils".
Under this premium, primary schools will "continue to benefit" from an additional £145 per eligible pupil, while the amount for secondary schools will "nearly double".
In "broad terms", this will mean an average secondary school "could attract up to £70,000 per year".
This seems to be an extension of the current school-led tutoring fund, but the DfE said she funding could also be used for after-school provision and summer schools.
5. £800m to fund extra hours for 16 to 19-year-olds
The remaining £800 million of the funding will be allocated across the spending review period to "ensure all 16-19 students will benefit from an additional 40 hours of education across the academic year – the equivalent of one additional hour a week in school or college".
The DfE said this time would be used for extra teaching and learning "including in English, maths and other subjects – depending on students' individual needs".
6. £2.6bn for SEND places
As briefed over the weekend, the spending review includes £2.6 billion over the next three years to create school places for pupils with special educational needs and disabilities.
This amounts to a tripling of current capital funding levels to over £900 million a year by 2024-25, the Treasury states.
7. £200m a year for holiday activities and food programme
Today the chancellor confirmed the holiday activities and food programme, which was extended to all areas and to the Easter and Christmas holidays this year, will continue to be funded at "over £200 million a year".
However, it is not known how long the funding will continue for.
8. £560m for youth services
The Treasury announced today that £560 million will be invested in youth services over the next three years.
This will provide "up to 300 youth facilities – targeted at areas most in need – through the Youth Investment Fund, and support young people to develop skills and confidence outside school through the National Citizen Service".
9. But no mention of extended school day
When it released its catch-up package in June, the government committed to a review of the time spent in school, amid calls for an extended school day to aid with recovery.
Ministers said at the time that the findings would be set out "later in the year to inform the spending review".
But no findings have been released, and there was no mention of any plans for an extended school day in Sunak's speech or the Treasury documents.
It comes after the chancellor told Times Radio at the weekend that there "isn't as strong an evidence base for [this], compared to tutoring and improving the quality and support we give to teachers".