The Department for Education has publicised more details on how much schools will receive for school-led tutoring next year.
As part of the widely criticised June £1.4 billion recovery package, the DfE announced £579 million for schools to develop local tutoring provision with new or existing school staff.
The funding runs alongside the National Tutoring Programme, which will be funded with £433 million for next academic year.
Here's what you need to know…
1. Schools will get funding for only 60% of eligible pupils
From September, the amount of tuition available through the NTP will reach about 40 per cent of pupil premium students in state-schools, the DfE has promised.
Based on this, they will only give schools funding under the school-led tutoring grant for 60 per cent of their pupil premium cohort.
All state-funded primary, middle and secondary schools will receive £203 for pupil premium students from year 1 to 11 (again, it's capped at 60 per cent of the cohort – see image below)
Special schools, special units in mainstream schools, alternative provision, pupil referral units and hospital schools will receive £529 for 60 per cent of their places for next academic year.
This means a typical primary school of 200 pupils will receive £6,000, while a typical secondary school of 1,000 pupils will receive £35,000.
Final allocations will be confirmed at the beginning of the autumn term.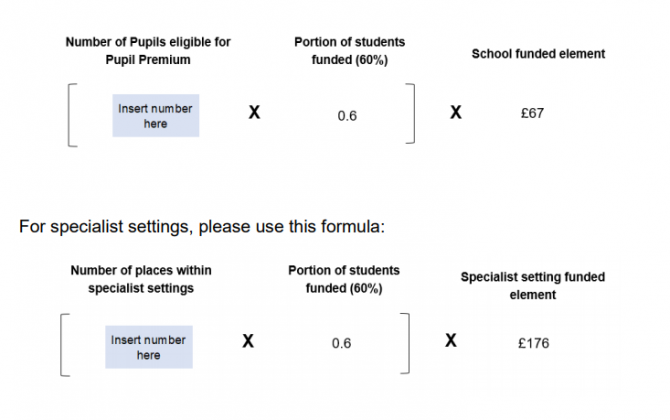 2. Schools expected to pay for 25% of tutoring …
The DfE tutor cash will cover 75 per cent of the "expected cost" for locally sourced tutoring, based on "average costs of tutoring".
Schools are expected to cover the 25 per cent from the £280 million recovery funding (a separate pot of cash announced earlier this year), or their pupil premium funds.
DfE says has worked out the "average cost of tutoring" as £270 per pupil to deliver a 15-hour course (so the DfE provides £203 while schools provide a further £67).
For specialist schools, "additional weighting" has been applied to "recognise the significantly higher per pupil costs they face". The DfE's average cost for a 15-hour tutoring course for specialist school pupils is £705 (meaning DfE funding will cover £529, while specialist schools will have to stump up £176).
3. … and they will have to contribute more over the next few years
In the original announcement last month, DfE said schools will be "expected to increase their financial contribution over time, such that they are meeting the majority of costs" in three years' time.
This is likely to be similar to the tapering of government subsidies under the NTP.
As Schools Week first revealed, the DfE subsidy for both the tuition partners and academic mentors part of the NTP will drop slightly this year, from 75 and 100 per cent respectively to 70 and 95 per cent.
This will continue to fall over the next few years until schools are left paying 90 per cent of NTP tutoring costs.
4. You don't have to spend cash on pupil premium kids
DfE has given schools a "high degree of discretion" to support the pupils they believe are most in need – meaning the cash doesn't have to be spent solely on pupil premium children.
The funding also doesn't have to spent on one-to-one tuition: schools have flexibility to use small group tuition instead, such as groups of two or three pupils.
But the school-led tutoring grant should not be used to subsidise the tuition partner and academic mentors strands.
5. DfE 'confident' first payments will arrive in September
The grant will be funded in "several instalments" over the next academic year, and dates are still to be confirmed.
But DfE is "confident" it will make the first payment to local authority schools in September and early October for academies.
Further information, including the grant conditions, are to be released "over the coming months".
6. 'Complete flexibility' for who schools pay to do tutoring
DfE says the locally-sourced tuition could include using teaching assistants, existing teaching staff or local tutoring resources that are familiar to the needs of schools and pupils.
"You have complete flexibility to use this payment in the best way to suit your school tutoring needs," a DfE advice document states.