Schools Week's features editor Cath Murray looks back on some of the memorable profile interviews from this year
Why would any school leader invite a journalist into their school?
I would posit four main motivations, co-existing in varying proportions.
First, there's the desire to get the school on the map. Some might be contemplating forming a multi-academy trust and want to raise their profile. Others, like Christine Counsell at Inspiration Trust, or Michael Merrick at Carlisle's St Ninian Catholic Federation, see that their trust is doing something well and want to signal it as a beacon of good practice. Yet others might be in financial trouble – like Harrop Fold, with its crippling PFI contract – and see positive publicity as a way to attract funds.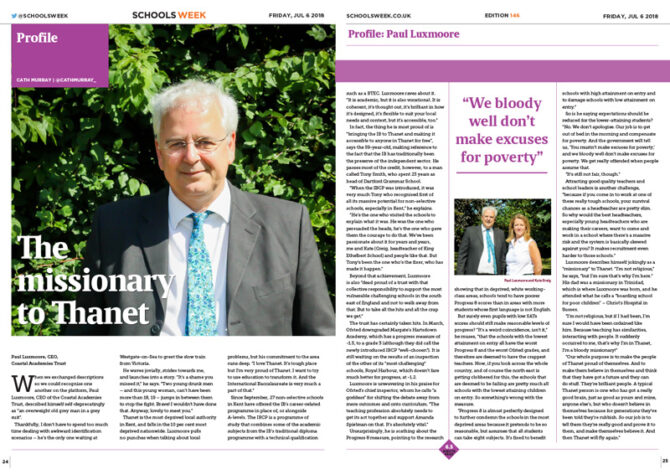 Second, there are those who are keen to address a wider sector issue, whether it's the unfairness of the Progress 8 measure for white working-class communities, which gets Paul Luxmoore really riled; the need to invest in early-years literacy to help narrow the vocabulary gap, which is Zoe Carr's passion in Sunderland; the problems with special-needs funding and mental-health provision in Shropshire, in the case of Sabrina Hobbs; or the narrative on alternative provision, which Debra Rutley has so successfully flipped on its head in Buckinghamshire.
Third, there are surely those for whom personal ambition comes into play – whether consciously or not. They might be building a public profile as part of their longer term career plans – or wish to step up and become a more prominent voice in the sector. I'm not saying these are unworthy motivations: a healthy dose of self-promotion is often necessary, in my book, to strike the right balance between self-abnegation and pomposity.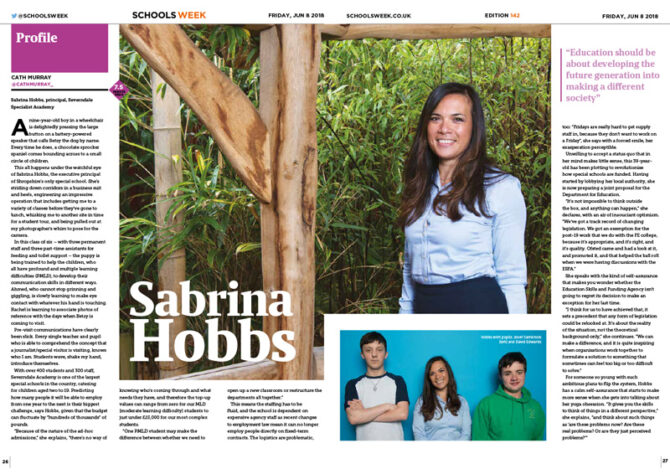 The final reason is less cerebral, perhaps. One headteacher pointed out to me, as I proudly listed my theory of motivations, that there is also a fourth: people working in schools are often just chuffed to be asked. To be fair, almost all the headteachers I visited were approached by me – they didn't ask for me to come snooping.
The reason I hadn't thought of the latter motivation, of course, is that it puts us journalists in a delicate situation, in which the headteacher is not the savvy self-promoter, but the vulnerable ingénue.
So here's the flip side: it must be terrifying to invite a journalist in to scrutinise your school, then watch as they apply all the tools of their trade to spin their subjective judgement as truth. There has to be trust.
Union leaders Mary Bousted and Kevin Courtney lacked the trust (or is it naivety?) of most of the headteachers who hosted me. I shouldn't be surprised. With examples such as ex-Bedford Free School headteacher Mark Lehain's PE-cupboard portrait out there for TES to trot out at any opportunity (don't get me wrong – I would do the same), perhaps the joint general secretaries were determined not to make a similar mistake. So despite the fact that I'd put a deposit on a strikingly NEU-blue tandem, which I was prepared to ride solo, four miles across London, just for their photoshoot, their press officer curtly turned down my (possibly overly enthusiastic) presentation of the plan. Ho hum.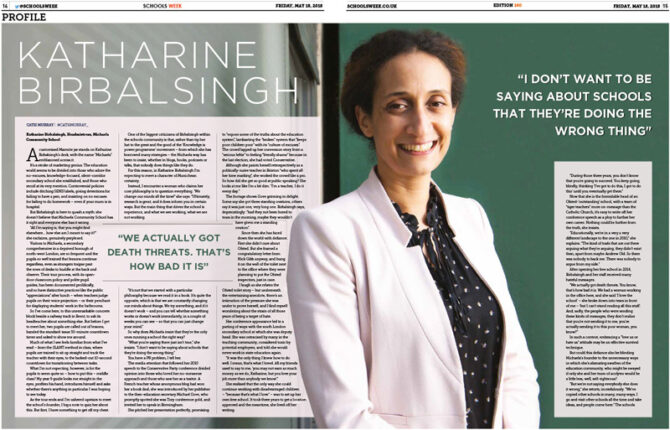 So, to all those who've opened up their schools to us this year, and in the process, generously taught me so much – from the thoughtful, articulate International Baccalaureate students at King Ethelbert secondary modern school explaining their career-related studies, to the teachers leading their expertly orchestrated, knowledge-packed lessons at Michaela Community School, which provided my 'ah-ha' moment for direct instruction – here's sending huge respect.