A nine-year-old boy in a wheelchair is delightedly pressing the large button on a battery-powered speaker that calls Betsy the dog by name. Every time he does, a chocolate sprocker spaniel comes bounding across to a small circle of children.
This all happens under the watchful eye of Sabrina Hobbs, the executive principal of Shropshire's only special school. She's striding down corridors in a business suit and heels, engineering an impressive operation that includes getting me to a variety of classes before they've gone to lunch, whisking me to another site in time for a student tour, and being pulled out at my photographer's whim to pose for the camera.
In this class of six – with three permanent staff and three part-time assistants for feeding and toilet support – the puppy is being trained to help the children, who all have profound and multiple learning difficulties (PMLD), to develop their communication skills in different ways. Ahmed, who cannot stop grinning and giggling, is slowly learning to make eye contact with whatever his hand is touching. Rachel is learning to associate photos of reference with the days when Betsy is coming to visit.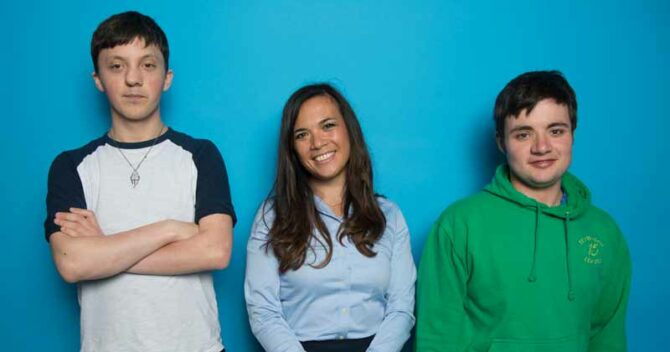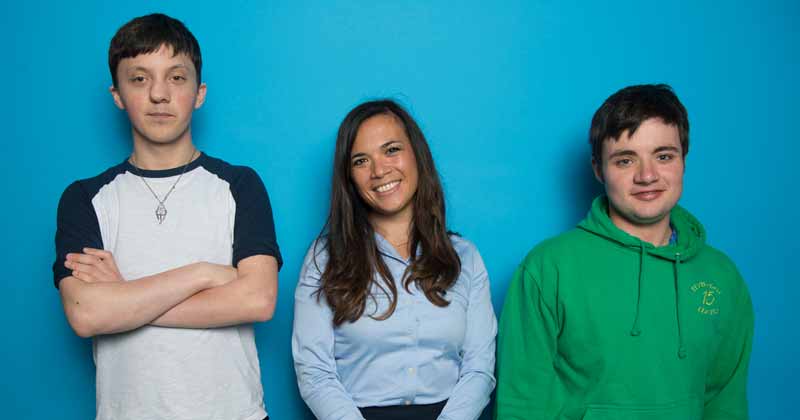 Pre-visit communications have clearly been slick. Every single teacher and pupil who is able to comprehend the concept that a journalist/special visitor is visiting, knows who I am. Students wave, shake my hand, introduce themselves.
With over 400 students and 300 staff, Severndale Academy is one of the largest special schools in the country, catering for children aged two to 19. Predicting how many people it will be able to employ from one year to the next is their biggest challenge, says Hobbs, given that the budget can fluctuate by "hundreds of thousands" of pounds.
"Because of the nature of the ad-hoc admissions," she explains, "there's no way of knowing who's coming through and what needs they have, and therefore the top-up values can range from zero for our MLD [moderate learning difficulty] students to just under £15,000 for our most complex students.
"One PMLD student may make the difference between whether we need to open up a new classroom or restructure the departments all together."
This means the staffing has to be fluid, and the school is dependent on expensive agency staff as recent changes to employment law mean it can no longer employ people directly on fixed-term contracts. The logistics are problematic, too: "Fridays are really hard to get supply staff in, because they don't want to work on a Friday", she says with a forced smile, her exasperation perceptible.
Unwilling to accept a status quo that in her mind makes little sense, this 39-year-old has been plotting to revolutionise how special schools are funded. Having started by lobbying her local authority, she is now preparing a joint proposal for the Department for Education.
"It's not impossible to think outside the box, and anything can happen," she declares, with an air of insouciant optimism. "We've got a track record of changing legislation. We got an exemption for the post-19 work that we do with the FE college, because it's appropriate, and it's right, and it's quality. Ofsted came and had a look at it, and promoted it, and that helped the ball roll when we were having discussions with the ESFA."
It's not impossible to think outside the box
She speaks with the kind of self-assurance that makes you wonder whether the Education Skills and Funding Agency isn't going to regret its decision to make an exception for her last time.
"I think for us to have achieved that, it sets a precedent that any form of legislation could be relooked at. It's about the reality of the situation, not the theoretical background only," she continues. "We can make a difference, and it is quite inspiring when organisations work together to formulate a solution to something that sometimes can feel too big or too difficult to solve."
For someone so young with such ambitious plans to flip the system, Hobbs has a calm self-assurance that starts to make more sense when she gets into talking about her yoga obsession. "It gives you the skills to think of things in a different perspective," she explains, "and think about such things as 'are these problems now? Are these real problems? Or are they just perceived?
She has a Dutch passport, she tells me with a certain pride, having been born to an Indonesian mother in a Dutch compound in Saudi Arabia, where her Indian father was working as an oil tanker engineer. She has a physiotherapist sister and another who's a fingerprint expert with the Manchester police – "a cool job. It's all like CSI," she jokes.
When she was seven, her father decided to join the family business in England and they relocated near Heathrow airport, where she did most of her schooling, before going on to Durham University to study environmental management with geography, followed by a PGCE in Newcastle.
She became interested in SEND in her first teaching job in a school in south-west London, where her tutor group had a high proportion of pupils with special educational needs: "I was very interested in how I would engage them in learning. Where was their motivation? Why do some children learn quicker than others? What are the approaches that work?"
She soon applied for a deputy SENCO position in another large comprehensive nearby. From there, she relocated to Shropshire to teach at Severndale, where she worked her way up to an assistant head position over the next six years, before securing a deputy headship at a Birmingham special school.
Although similar to Severndale in size and structure, working in an urban environment as one of 26 special schools was a "very different dynamic". For example, "for children with really complex health needs, they were well supported in Birmingham – and I believe they still are – in terms of getting one-to-one support for health needs for those critically ill children who have continuing health care plans".
This kind of support is not available in rural areas. Mental health services are also a growing concern. Her own CAHMS support has been "non-existent" now for about 10 months and she's not getting answers.
So Hobbs has been networking. She's recently joined the Headteachers Roundtable, as well as the West Midlands SEND Forum, coordinated by Wolverhampton University.
We hope that the next society would be more inclusive
She has also built new partnerships with local schools and organises regular pupil exchanges, aimed at social as well as academic inclusion. In addition to the main Severndale Academy, the trust also has two sites that allow for various levels of inclusion in mainstream: Futures, a site adjacent to the local FE college, and a 30-place SEND base on a local secondary school site.
"For our students to get jobs in the future, or to do something of worth, to be included in something within society, they need the help of mainstream students who will then grow up into adults, who have then had that experience of what's possible, and that people with special needs can achieve. And the hope is that new exciting opportunities will develop from that, that don't exist currently," she explains.
"Those young people growing up in mainstream schools are going to be our future leaders and policy-makers. They're going to be the future doctors, nurses, employers, social workers, teachers – they're the ones with the keys to the future.
"I think that's what the basis of education should be. It's about developing the future generation into making a different a different society. And we hope that the next society would be more inclusive."