The full scale of the capital's exodus of children has been revealed in a new study showing nearly 50,000 pupils left London's schools last year.
Ministers have now been told to get a grip on a situation that is threatening to derail London's successful schools, with some already announcing closure.
Analysis of school census data by Education Datalab shows 49,730 pupils left schools in the capital during the past academic year, while 38,591 joined.
That equates to a net change of -1.2 per cent across its secondaries, and -0.9 per cent within its primaries, following consecutive falls in pupil rolls since 2016.
The net change for secondaries across England was +0.7 per cent and -0.2 per cent for primaries.
"Soaring housing and childcare costs are driving families away from the capital, compounding schools' financial woes," said Munira Wilson, the education spokesperson for the Lib Dems.
"The government needs to get a grip on the issue before it's too late. London's schools must be fully funded and councils need new powers to plan school places … so that every child can go to a good, local school."
While the number of primary pupils enrolled in the state school system fell during 2020-21, it has otherwise grown in the past seven academic years.
Between 2015-16 and 2021-22, pupil numbers across both phases in England grew by 521,000 to 6.9 million.
During the same period, the number of pupils in London fell by 62,600 to 10.4 million.
Figures 'a stark warning' on potential closures
The Datalab study defines leavers as including those who go to school outside their borough, private school or home education.
London fared particularly badly during the pandemic, with 1.67 pupils leaving for every pupil who joined a school between 2020 and 2021.
While the situation improved post-Covid, the rate at which primary pupils left the capital for other regions also grew.
Schools receive funding based on the number of pupils they have, not their capacity, so surplus places create a huge financial strain.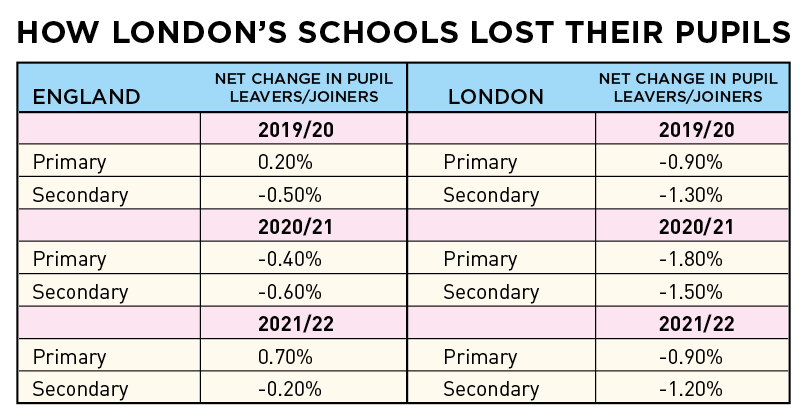 Several schools have now announced closure. Lambeth is among the boroughs to have experienced the steepest falls. This month it was announced that the 324-year-old St Martin-in-the-Field School for Girls would close.
In a letter to parents, its headteacher said despite exploring options to stay open "in detail, none was viable, nor could they overcome the fundamental issue of falling pupil numbers that we are facing in Lambeth".
It follows the announcement of the closure of Archbishop Tenison's secondary in Oval, which was also set up in the 1600s.
The council is considering merging up to 16 of its primaries, with government data showing that it will have the highest proportion – 29.2 per cent – of spare places of any area next year.
Cllr Ben Kind, Lambeth's cabinet member for children and young people, called the latest figures "a stark warning".
"Once a school is not there, if the population of young people increases, as we've seen before in Lambeth, we have to scrabble to build a new school."
London councils 'keen' to work with government
Earlier this year, Kingsdale Foundation School, in the London borough of Southwark, caused furore when it proposed plans to increase its pupil capacity.
Local headteachers argued it would "undermine" other schools because of declining pupil numbers, but councils have little power over academies – which are their own admission authorities.
Currently, 16 Southwark primary schools are at risk of closure due to funding issues caused by plummeting numbers. St Francesca Cabrini Primary has already closed.
In Camden, falling numbers have closed four primary schools, while Hackney has warned two of its primaries could fold next year.
In last year's GCSE exams, pupils in London achieved an average attainment 8 score of 52.7, compared with the national average of 48.9.
London Councils said it was "working closely" with regional education partners to "mitigate the impact" of the drop in demand.
"We remain keen to work with the government to respond to pressures surrounding primary school places, ensuring that that all London pupils have the best start in life."
The DfE was contacted for comment.