Teachers have always been key workers, helping to prepare the next generation for whatever lies ahead. But COVID-19 has meant schools have had to contend with the biggest tests the education sector has ever seen.
And although every school has been impacted in some way by the pandemic, it is those serving the most disadvantaged communities who have been affected most. According to the Education Endowment Foundation (EEF), school closures throughout the past year are likely to reverse ten years of progress made to close the attainment gap between these pupils and their wealthier peers. Teach First, a charity established in 2002 to tackle educational disadvantage, aims to support school communities as they rebuild.
For almost twenty years, Teach First's mission has been for all children to get a fair education, no matter their background or where they are from. Their resulting work has shown that when we get the foundations right for disadvantaged pupils – great teachers, brilliant leaders and thriving schools – every young person can have the opportunities they deserve. To help our poorest young people rebuild from over a year of disruption within education, establishing these foundations has become more urgent than ever before.
Teach First has placed more than 13,000 teachers in low-income areas through its teacher training programme, which has supported more than one million children. Their trainee teachers are selected through a rigorous recruitment process that not only considers academic achievement, but also the enthusiasm, resilience and resourcefulness needed to help young people from low-income backgrounds succeed.
Once selected, Teach First trainees are prepared through intense training in the summer, rated 'Outstanding' by Ofsted, so they can teach their own class from September. This means that, with support from a school-based mentor, Teach First Development Lead and a university tutor, trainees are equipped to increase capacity in schools from day one on a 60-80% teaching timetable.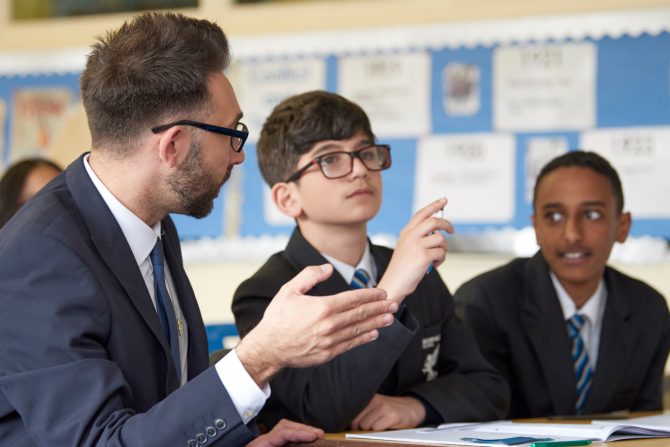 Sarah Hewitt-Clarkson, Headteacher at Anderton Park Primary School in Birmingham, said, "Teach First's streamlined recruitment process and the excellent calibre of trainees has brought a whole new dynamic to our school. In 2014 we had our first trainee, and since then we've had eleven more (including three in 2020, our highest intake so far). As a result, we've seen great impact.
"For example, Emily (2018 trainee) worked with one of our most experienced teaching assistants, who's been at Anderton Park for over 25 years. She went out of her way to tell me that Emily was an absolutely outstanding teacher who really cares about her pupils. When someone with that much experience and insight tells you that, it makes you take notice – this is a different kind of trainee teacher."
And Teach First is more affordable for schools than you might think. The government funds most of the training costs with a smaller percentage received from school fees. This covers the full range of extended support over two years, as well as Teach First's handling of the whole recruitment process, saving schools valuable time. In return, schools receive a grant of £2,500 per trainee for an existing member of staff to become their mentor, and they're offered specialist training and support to develop their mentoring skills. Cutting-edge training tools are also part of the package, including free IRIS Connect devices for trainees.
By partnering with Teach First, schools can also access a wide range of other support programmes. This includes life changing opportunities for pupils – such as the fully funded careers support and free work experience opportunities – as well as empowering schools to join useful networks, receive valuable coaching and make connections to business experts.
Deb Loveridge is headteacher at Robert Blake Science College in Somerset. She says Teach First programmes have been "an absolute lifeline" for her school over the past five years.
"We want to train wonderful teachers, whether they stay with us or not, but the fact that five of our trainees have remained with us and all 11 trainees have stayed in the profession is a credit to Teach First," she says.
One of the school's assistant headteachers joined the Teach First Careers Leader programme. "Often in education there's not enough networking or sharing of ideas," says Loveridge. "We're currently introducing an idea across our school that was passed on from another school through the Careers Leader programme sessions. It's a minor thing – linking every lesson to the workplace – but it's the little changes that combine to make a bigger difference."
Recruiting new teachers is an important step for schools as they rebuild from the challenges surrounding the pandemic, but what about existing members of staff?
The current retention figures are alarming – an analysis on government data shows the UK needs 47,000 new teachers by 2024, but this isn't simply due to a lack of committed graduates looking for a meaningful career. And it isn't just about initial training. It's also about what happens afterwards to keep teachers moving forward in the profession. With the breadth of challenges faced in the last 18 months, teachers and school leaders will need additional support to help them thrive in their roles going forward.
Bridget Clay, Director of School Leadership at Teach First, said, "Teachers do one of the most important jobs in the world. If we support and develop great teachers and leaders well, we will help all pupils succeed.
"During one of the most challenging years for schools, it's never been more important or exciting to see thinking about how best to support leaders. It's something we continue to think hard about at Teach First as we design our programmes and work alongside school leaders."
Teach First has a range of development programmes designed to offer ongoing support to staff as they progress through their teaching careers. The newest programmes include six NPQs – three leadership programmes to help current and aspiring leaders to improve in their role, and three specialist programmes for subject leads, behaviour and culture leads and teacher development leads.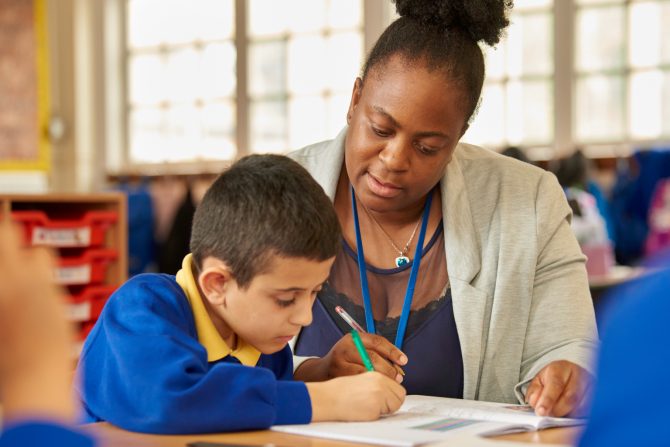 Three members of staff at Robert Blake have applied for Teach First's NPQ programmes, including Loveridge.
"The hardest thing about teaching is staying in it, because it's such a demanding job," says Loveridge. "That's why we invest so much time in Teach First training. Everything they do is infused with a little bit of magic."
And from NQTs on the Early Career Framework programme to entire senior leadership teams on Leading Together, Teach First is there for teachers at all levels of their career working in the schools that need them most.
Andreas Schleicher, Director for Education and Skills at the Organisation for Economic Co-operation and Development (OECD), said, "I don't think there is any other organisation [in England] that has had such a profound impact on raising teacher professionalism as Teach First."
If you're looking for comprehensive support for every aspect of your school, today, tomorrow and for years to come, find out more about Teach First's leadership programmes  or  recruiting new trainee teachers for your school on their website.