For the last 21 years Bitesize has provided educationally approved, curriculum relevant learning resources for 5-16 year olds across the UK helping them to achieve their full potential.
But over the last 12 months, more and more young people have turned to BBC Bitesize than ever before. When lockdown came – first in Spring 2020, and then again this January –  and schools were closed to the majority of pupils, the BBC launched the biggest education offer in its history bringing together some of the BBC's biggest platforms and hundreds of educational resources on TV, online and social media to help pupils of all ages learn at home.
Tim Davie, BBC Director General, said: "Ensuring children across the UK have the opportunity to continue to follow the appropriate core parts of their nation's school curriculum has been a key priority for the BBC throughout this past year.
"Education is absolutely vital – the BBC is here to play its part and I'm delighted that we have been able to bring this to audiences so swiftly."
The Lockdown Learning content included over 2000 online lessons on BBC Bitesize and almost 300 Bitesize Daily TV programmes – there were over 9 million requests for Bitesize Daily programmes on the BBC iPlayer while the online lessons helped over 70 million learners.
What was initially planned as a 14 week campaign in April 2020 became much bigger when schools were again closed in January 2021 and the BBC stepped in once again to provide a three hour block of educational content for primary learners on CBBC and two hours of secondary content on BBC Two every week day during term time.
Oliver Dowden, Secretary of State for Digital, Culture, Media and Sport, said at the time: "This is public service broadcasting at its best and will make a big difference to millions of children across the UK while schools are closed."
Whilst things are finally getting back to normal, BBC Bitesize's commitment to the nation's young people continues. Why not take a look at what BBC Bitesize can offer your students:
Online resources for use to support in class learning and practice content to back up what they've learnt in class.
And why not get the class together to watch brand new episodes of Bitesize Daily on CBBC this half term.
TV FOR PRIMARY LEARNERS
Worrying about how to find an exciting, entertaining way to inject life into the school day this half-term? We've got you!
Bitesize Daily is back on TV! Every weekday morning for the rest of the school term, the Bitesize Learning Zone has three hours of programming for Primary children on CBBC.  There are brand new Bitesize Daily programmes for different age groups – 5-7 year olds, 7-9 year olds and 9-11 year olds – with each episode focussing on one subject every day – either maths, English or wellbeing.
The programmes are designed for teachers to use in the classroom to support students with their learning and wellbeing as they return to school for the final summer half term. The new episodes of Bitesize Daily are followed by two hours of Learning Zone content featuring the best educational programmes from across the BBC.
The programmes are led by well-known CBBC presenters supported by primary school teachers who guide students through each day's lessons. And the new series also features a brand new character called CLOGS, a super smart robot with a keen grasp of the curriculum but a lot to learn about life on planet earth!
And coming later in the year will be a brand new season of Live Lessons from BBC Teach. These Live Lessons can bring primary schools and year groups together for fun and interactive shared learning. There will be a PE themed lesson to kick off the new season in September followed by lessons themed around space, harvest and science. All the Live Lessons are accompanied by teaching resources and practice activities produced by the BBC team, and other well-known educational brands.
Primary teacher and star of Bitesize Daily, Mr Smith said: "My class loved the Live Lessons, not only because they got to see the CBBC host or teacher getting a cream pie to the face, but because they were fully engaged in the learning content too. With the ever-changing situation regarding how children can access their learning, I find it really reassuring to know that I've got something I can turn to to help me provide for my class."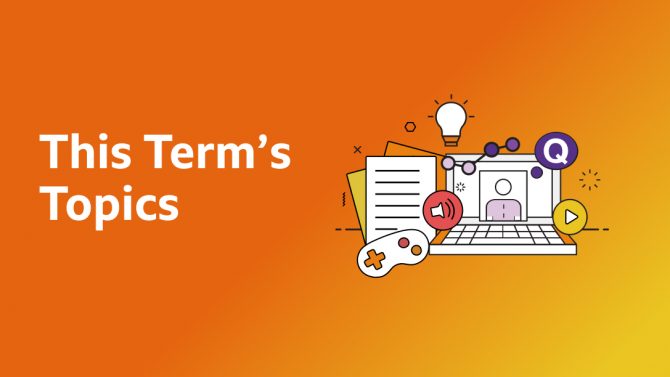 BBC BITESIZE ONLINE
Looking to find some fun, engaging and curriculum rich materials from a source you trust – we've got you!
Online, Bitesize has over 20,000 pages of learning content covering every aspect of the curriculum for Primary and Secondary pupils. Every single resource, activity and video is written and quality-checked by some of the UK's best teaching professionals, so you can just grab and go!
Our content for Primary children is all about making learning fun. There are animations, quizzes and activities as well as hundreds of interactive guides for maths, English, science and more. Everything is curriculum-focussed so you can trust BBC Bitesize to support children's learning.
In Secondary our industry leading, exam board relevant GCSE revision collections are being joined by a revived and refreshed offer for Key Stage 3 learners with new video, animations, games and infographics across seven key subjects including English and science.
Running alongside this great content is the This Term's Topics section created during lockdown last year which offers both catch up learning in areas which kids may have missed or inspiration and activities to structure your summer. It offers simple-to-use content including short films, quizzes, and practice activities for pupils aged 4-14, reflecting all key subjects with new collections in Physical Education, Art, Music and Design Tech just added. They're designed to be quick to grasp and easy to navigate – have a look and be inspired.
For GCSE and Nationals/Highers students, our self-study exam revision guides remain the backbone of our Bitesize offer.  Bitesize functionality allows users to save favourite guides and monitor their own progress, offering an ideal complement to classroom based learning.
The Bitesize website is constantly being updated and improved to provide new and engaging content for learners. Look out for major new collection launches in Primary and Key Stage 3 ready for the new 2021-22 academic year, and refreshed content in GCSE History and Religious Studies coming soon.

PRIMARY GAMES
Grasping for a way to engage your tech-savvy, disengaged learners? We've got you!
BBC Bitesize has a suite of games which can help engage primary children in a range of subjects including English, maths and science. These free, fun games are all tied to the KS1 and KS2 curriculum, help bring these core subjects to life and were a huge lockdown hit with a combined playing time of over two hundred years!
Children are able to track their success and unlock more difficult levels as they progress, meaning children of different abilities can be stretched and challenged at their own pace.
KS2 children can put their maths skills to the test with Guardians of Mathematica; the Karate Cats can help KS1 pupils with spelling and grammar; and in Galaxy Pugs children can use their Science skills to help the pugs explore the Earth's habitats. And look out for a new game featuring CBBC smash hit 'Horrible Histories' landing later in 2021!
AND THERE'S MORE…
Did you know that as well as all the curriculum resources, BBC Bitesize also has a wealth of online content around Careers and a Support section packed with useful articles to help pupils with their wellbeing, and to understand the world around them.
The Bitesize Careers pages have been developed in collaboration with experts, partners and young people. Whether students are deciding what to study, taking exams, planning a career, or just curious, the careers content can support them in making subject choices throughout their education and in taking the first steps into the working world. There's over 300 job profiles to help explain the world of work and tips and advice from people who've found the right path for them.
While the Bitesize Support pages can help whether students are moving to secondary school, jumping into the world of work, starting a new relationship or just feeling a bit stressed. There's articles offering peer to peer and expert advice on a whole host of topics including health and wellbeing, starting school, revision tips and exam stress.
And during lockdown 2020, we launched a Parents' Toolkit offering top tips, useful links and expert advice to support parents with their child's wellbeing and learning. These pages are constantly updated throughout the year. Keep your eyes peeled for a major announcement about how Parents' Toolkit is working with well-known brands and partners to offer some fun, cool activities to keep the kids happy and learning over the Summer holiday.
BBC TEACH
Seeking a fresh way to tackle the hardest classroom topics, from sexual health, to race to the Holocaust – again, we've got you!
The BBC Teach website is home to all teacher facing content and supports teachers by commissioning Class Clips and working with BBC programmes to create curriculum-related content for the classroom.
There's more than three thousand classroom clips available on the BBC Teach website and on YouTube; over 50 Live Lessons covering topics including English, maths and science; and the Teach website is home to year round projects like Super Movers (a campaign to help primary children to get physically active), Young Reporter (a journalism and media project for 11-18 year olds) and the home for collaborations with big BBC titles such as Steve McQueen's Small Axe, Springwatch and Stephen Lawrence: The Murder That Changed A Nation.
Recently published content on BBC Teach includes a new animated series for KS2 maths, a collection of films for KS3/KS4 PSHE exploring experiences and misconceptions around periods and the menstrual cycle; and three short animations for KS1 exploring The Great Fire of London in 1666. And there's lots more to come over the coming months so check back regularly.
SUSTAINABILITY
Sustainability is the theme of a big new campaign coming in Autumn 2021. Called Regenerators, the campaign will provide Green Education resources for Primary children with content for KS3 students to follow in early 2022.
Working in collaboration with BBC factual programmes, the Natural History Unit – home of global smashes like Blue Planet and Planet Earth –  and Radio 1, this new campaign will provide information and inspiration for families and young people about how they can be more sustainable in their day to day lives.
ON SOCIAL MEDIA
You can follow BBC Bitesize on social media for lots of handy tips on everything learning related. If you're a parent or a teacher then check out their Facebook and Twitter accounts which provide updates for teachers about new online content and TV schedules; and there's information for parents on topics such as how best to support children as they return to school.
Teenage students can check out Instagram and TikTok, where they will find explainers, support content and of course lighter relief in the form of memes.
BBC Bitesize has been there for teachers, parents and students over the last 12 months and will continue to do so for the rest of this term into the next school year and beyond to make sure everyone keeps learning and reaching their potential.
Visit www.bbc.co.uk/bitesize for more info or check out Twitter, Facebook, Instagram and Tiktok.