A two-year study carried out by university access charity The Brilliant Club has found that teachers with a PhD are primed to value education research and the importance of research-informed practice.
The study, Transforming PhD graduates into research-engaged teachers, shows that teachers with a PhD on the Researchers in Schools (RIS) programme access and understand research evidence, use research evidence in practice and use research evidence to influence others.
To enquire about having a RIS teacher in your school, email hello@researchersinschools.org
A number of factors contribute to high-quality teaching, and one that is particularly important is a teacher's ability to use academic research to inform their practice. Unfortunately, teachers often have no or very limited exposure to this research during their teacher training.
In recent years, a number of teacher-led movements have been set up in the UK to bridge the gap between academic research and teaching practice, but there is still a long way to go before academic research is fully integrated into teaching practice.
Researchers in Schools (RIS) aims to increase the number of high-quality research-engaged teachers in non-selective schools across England. It does this by recruiting and supporting PhD graduates to become excellent classroom teachers and champions of education research. The programme is specifically designed to utilise the research and subject-matter expertise of PhD graduates, to the benefit of pupils and schools.
For two years in a row (November 2019 and November 2020), all teachers enrolled on the RIS programme were asked to complete a Research Use Survey. The survey was designed by the National Foundation for Educational Research (NFER) to measure teacher research engagement, as part of an Education Endowment Foundation (EEF) study.
The findings of The Brilliant Club's study were compared to the EEF study which was used as a benchmark of the general teaching population and found that RIS teachers are comparatively highly research-engaged.
Key Findings
87% of RIS participants reported that they felt confident analysing information from research, compared to 66% of the general teaching population
In 2020, all final year RIS participants reported that they had used academic research to help them implement new teaching and learning approaches in the classroom
In 2020, 64% of RIS participants in the final year of the programme reported they had used research evidence to influence their colleagues to change their research practice. This was in contrast to 47% of the general teaching population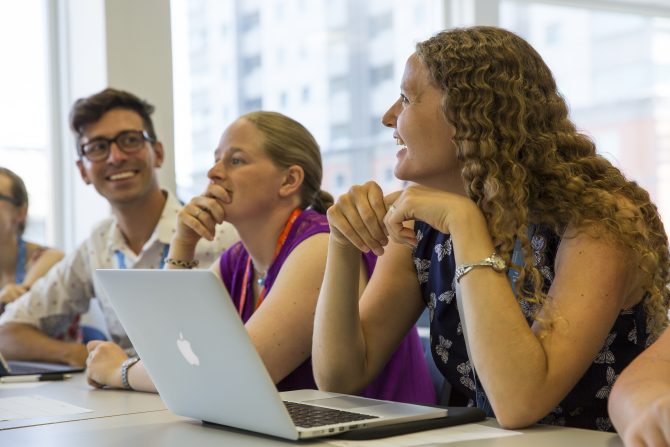 How do RIS participants use research evidence in practice?
Following the introduction to education research RIS participants receive in the first year of the programme, this knowledge is put into practice during their Research and Development Project.
Example research projects undertaken:
'How to efficiently implement retrieval practice of old topics whilst delivering new content'
'Developing trainees' abilities to engage with academic research to improve their practice'
'What impact do targeted memory recall interventions have on successful problem solving for a top set of GCSE maths students?'
How does the RIS programme support trainee teachers to use research evidence to influence others?
The RIS programme not only gives RIS teachers a platform within their schools to influence colleagues, but also a wider network of RIS teachers across the country with whom they can share their research findings. This broadens their knowledge on a wide range of topics including deliberate practice, meta-cognition, curriculum design and assessment practices.
Dr Tom Rae, a Physics teacher at Bohunt School, conducted a Research and Development Project investigating the barriers teachers face to becoming more engaged with education research. He ran a journal club for faculty members and assessed the impact on staff engagement. Since finishing the RIS programme, Dr Rae now works across Bohunt Education Trust as the Research and Evaluation Coordinator, raising staff engagement in education research and supporting teachers to conduct their own research.
What is Researchers in Schools?
RIS is a tailored route into teaching exclusively for PhD graduates. It is specifically designed to utilise their academic expertise to the benefit of pupils, schools and universities. RIS focuses on three main objectives:
To increase and disseminate subject expertise

Participants' in-depth knowledge of their subject, paired with the excellent training they receive from ITE providers and schools, enables them to enhance the subject knowledge of their pupils, the curriculum and their colleagues
Participants are encouraged to use their university and industry connections to ensure pupils are getting excellent subject teaching in the classroom and through extra-curricular activities

To promote education research

Participants carry out in-school education research projects aligned to their schools' needs, and deliver CPD to their colleagues

To champion university access

As academics who have spent expensive periods of time in higher education, RIS participants understand what progressing to university involves and can act as role models for young people
Participants also provide activities which simulate university-style learning
Participants achieve QTS in their first year and then continue on to become NQTs. Participants are placed in non-selective secondary schools, supported to be excellent new teachers and research leaders, and have access to research associate status at a selective university.
During the programme, participants complete the Research Leader in Education (RLE) Award, designed to ensure that participants are well-equipped to deploy their knowledge and skills for the benefit of pupils and schools.
The Brilliant Club
RIS is a programme of the award-winning university access charity The Brilliant Club, which aims to increase the number of pupils from underrepresented backgrounds progressing to highly-selective universities. It does this by mobilising the PhD community to share its academic expertise in state schools. In pursuit of this mission, The Brilliant Club runs three core programmes: The Scholars Programme, The Brilliant Tutoring Programme and Researchers in Schools.
Researchers in Schools was launched in 2014, after the charity had spent three years placing PhD students into state schools to deliver The Scholars Programme to small groups of pupils. RIS was designed as a route to support post-doctoral researchers who wanted to work in school full-time, becoming qualified teachers.
RIS has candidates ready to be placed for 2021/22. To learn more about the programme, or to enquire about having a RIS teacher in your school, visit thebrilliantclub.org/RIS, or email hello@researchersinschools.org