More than one in ten secondary pupils were not in school yesterday, the day attendance for older pupils became mandatory, new data shows.
The latest attendance survey data published by the Department for Education shows 89 per cent of pupils were on-site in state secondary schools yesterday.
The data also shows that tens of thousands of pupils were off school last week for Covid-related reasons, including over 60,000 who were self-isolating due to a potential contact with someone who had the virus.
It comes after Schools Week revealed last week how the government's "nonsensical" policy of not allowing on-site lateral flow tests to be overruled by a confirmatory PCR lab test had resulted in youngsters being needlessly kept off school after being sent home within hours of returning.
Primary schools were told to welcome back all pupils last Monday, with data showing primary attendance started at 96 per cent at the beginning of the week before falling to 94 per cent yesterday.
Secondary schools were given one week to phase the return of pupils to facilitate testing on site. The data shows that secondary attendance rose from 31 per cent last Monday to 89 per cent yesterday. Over the same period, the proportion of secondary pupils not on site because of the phased return fell from 60 per cent to just 2 per cent.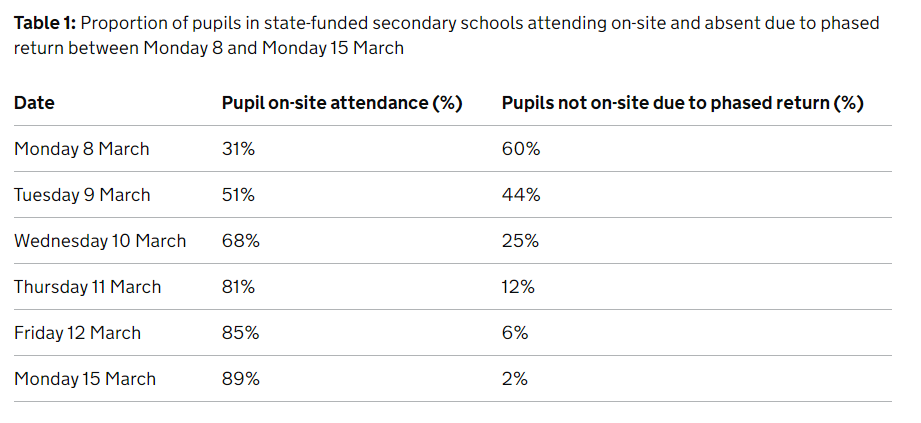 However, this still means 9 per cent of secondary pupils and 6 per cent of primary pupils were not on site for reasons other than a phased return yesterday.
Attendance in state-funded alternative provision was just 57 per cent last Thursday, while state special schools reported attendance of 83 per cent.
1 in 100 pupils off for Covid-related reasons
The government estimates that on March 11, 1 per cent of all pupils did not attend schools for Covid-19 related reasons.
This includes 5,000 with a confirmed case of Covid, 7,000 with a suspected case, 33,000 self-isolating due to a potential contact with a case in school and 31,000 self-isolating due to potential contact outside of school.
There were also staff absences – DfE estimates 1 per cent of teachers, school leaders and 1 per cent of teaching assistants and other staff were absent due to Covid on March 11.
On the same day, around 4 per cent of teachers and leaders and 5 per cent of teaching assistants and other staff were not in because of other reasons, the DfE said.
The data shows that 99.9 per cent of state schools were open on March 11. Of the 0.01 per cent of schools that were closed, "most" were shut due to "non-Covid related reasons", the department said.
On March 11, 2,000 pupils were unable to attend school because their school was closed due to Covic-19 reasons.