The government's key promise to fix the broken SEND system is to make mainstream schools more inclusive. But how big a challenge will this be? Samantha Booth investigates …
The government's long-awaited SEND reforms have promised a more "inclusive education system".
But the Department of Education's own research last year found that while some schools have "legitimate" reasons for saying they can't meet the needs of a pupil with education, health and care plans (EHCPs), a "minority" of schools and trusts used "inappropriate and unlawful practices" to "avoid" admitting these children.
Schools are "subtly" dissuading parents by claiming they could not meet their child's needs, the research says. But it happens "overtly" too, with schools refusing admission.
Schools Week wanted to establish just how inclusive mainstream schools are and the reasons behind any bad practices.
We took a three-pronged approach: trying to interrogate the government's claims over non-inclusive practice in the sector, delving into the data and gathering evidence relating to admissions.
'I don't feel we could meet his needs'
We emailed 68 mainstream schools posing as a parent of a child with moderate special needs, but not a formal diagnosis.
Our email explained we were moving to the area in the next year and wanted to see if the school would be suitable for our child.
We said the child had support from a teaching assistant with reading and behaviour management in their current school, adding they sometimes needed things such as time out and time to talk with a teacher, as well as help to catch up in reading.
The sample of schools was chosen on a range of factors, including parental concerns, low numbers of EHCP pupils and a random selection. It was made up of 49 academies and 19 local authorities.
The only way to get help is to demonstrate your child has failed
Twenty-seven schools did not reply. Another 20 wanted a follow-up meeting or phone call and nine said the school was full. Three sent a link to their website which stated their SEND support.
Just eight provided full responses, although experts say four could have acted as a deterrent.
Schools Week has chosen not to name the schools.
A north west primary academy said: "Unfortunately, we don't have teaching assistants in all our classes, year 4 being one of those without a TA.
"Therefore, I don't feel we could meet his needs effectively at the moment as we just wouldn't have the staff to support his time out and help manage his behaviour."
Schools need 'formal diagnosis'
A grammar in the north west said that without a formal diagnosis or "official report we would be unable to offer support on a day-to-day basis without the funding that an official report may provide.
"They would also not be eligible for any access arrangements for the testing process.
Also, as you can imagine a grammar school is a pressured environment and a challenge for any students, as any secondary school can be."
An East Midlands secondary academy said: "I would advise you that without a formal EHCP he would not receive this support".
An academy in the north east said it did not have TAs in lessons unless an EHCP said they were required.
If the child had SEN support, they would produce a one-page profile on his needs and support strategies for teachers to differentiate classwork for him and make "reasonable adjustments" to the behaviour system.
However it "stressed" that "ultimately the school expectations are the same for all students and if students don't respond to the support offered and continue to not follow school expectations then the behaviour system is applied as appropriate".
In a response to a request for comment, the school's trust said it was "extremely inclusive" with above-average numbers of SEN children on roll. It said that without additional income linked to the EHCP, it was "not financially sustainable" to routinely have TAs in classes.
DfE guidance says mainstream schools are expected to contribute up to the first £6,000 a year towards the costs of SEN provision. Mainstream schools receive a notional SEN budget calculated by councils. Further funding can be provided by councils if a child secures an EHCP.
The other schools did not respond to a request for comment.
'Schools desperately need resources'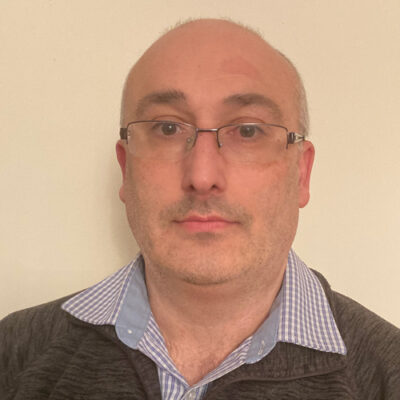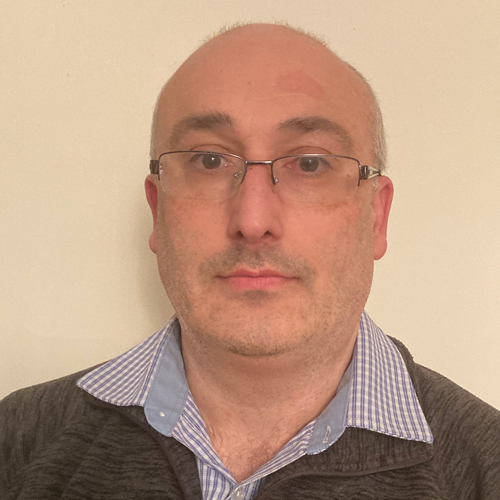 Matt Keer, a SEND specialist at Special Needs Jungle, said the responses "will come as no surprise" to most parents.
Most mainstream schools "aren't like this, but deterrence is easy, and consequence-light".
Margaret Mulholland, a SEND and inclusion specialist at ASCL, said schools often could not offer support because they "desperately require additional resources and training",combined with a lack of space, people and skills.
However Ben Newmark, a teacher and parent of a child with SEND, said families were "primed for hurt", so a school's wording "can be so subtle as to be off-putting".
"When your child doesn't find learning easy the only way to get them help is to demonstrate they've failed. It can make you feel awful – like the whole world thinks there is something wrong with your child and you're an inconvenience.
"For inclusion you have to be enthusiastic, you have to go further to say 'you're all right, we're glad you're here'."
Two responses were positive.
One secondary in the north east said it "would be confident that most mainstream schools, including ourselves, would be able to provide" the support required.
Another London primary maintained school said that while it did not have teaching assistants in the year group, "support time is allocated to any children in the year group who need support over and above that of their peers".
'We always do our best to accept EHCP pupils'
Every child with an EHCP – a legal entitlement to additional support – should be given a named school to attend.
However, that school can challenge the admission on grounds that include that it is unsuitable for the child, or that their attendance would be "incompatible" with the provision of efficient education for others or efficient use of resources.
Despite this, councils can still legally force the school to admit them.
We approached councils that had previously complained about schools challenging EHCP decisions. Just Redcar and Cleveland said it had the data. The council recorded 18 challenges from eight schools in 2021-22, up from eight from five schools in 2019-20.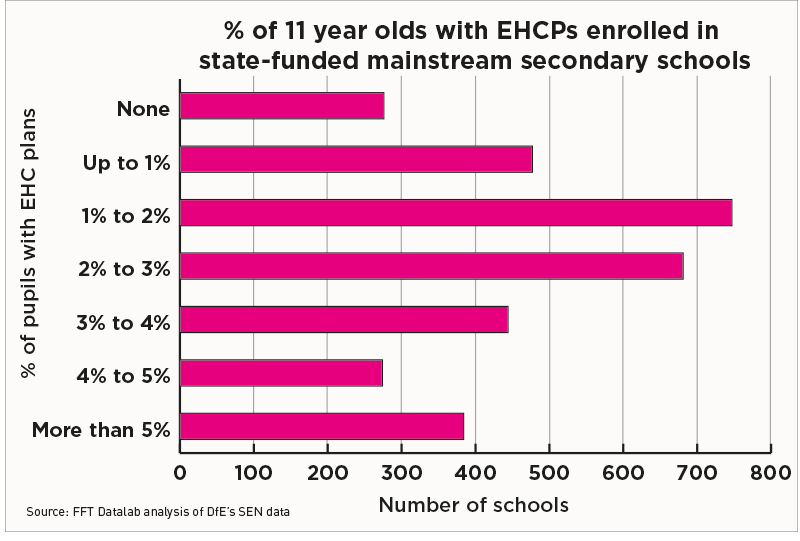 Two Outwood Grange Academies Trust schools, Normanby and Bydales, were named.
The trust said it did its "best to accept" EHCP pupils, but in a "very small number of cases" the specific needs of a child "may be such that the school is not best placed to support".
They said in most cases the council would agree, but if there were no other options they would always take the child as supporting children with SEND was "a guiding principle of the trust".
Alistair Crawford, co-chair of the National Network of Specialist Provision, said schools are facing "a range of multifaceted challenges" such as funding and school building problems.
But there are "brilliant examples" of schools "working hard to meet the needs of an increasingly complex and diverse set of learners.
"We are far less likely to hear schools say that they are unable to meet the need than we were a few years back."
Can data provide any answers?
This month's SEN data revealed a 9.5 per cent rise in the number of pupils with EHCPs, rising from 355,566 to 389,171.
The number of children given SEN support – without an EHCP – now sits at 13 per cent, more than 1.1 million children.
Jo Hutchinson, director for SEND at the Education Policy Institute (EPI), said trying to understand which schools "admit their fair share of pupils with SEND" from data was "often complex".
Deterrence is easy, and consequence-light
A 2021 EPI report found a "lottery" in identification of SEND at school level, something that new national standards seek to rectify.
Ministers shelved plans to include contextual information in league tables showing inclusivity of mainstream schools after "mixed feedback" suggested it would "risk generating perverse incentives".
Hutchinson said while there were NHS assessment services for some types of SEND, others had no common assessment criteria so it was down to a school's decision.
Basic data on how many EHCP pupils a school has is also problematic. A low number could mean a school offers effective, early support and a statutory plan isn't needed, or that a need hasn't yet been identified.
To try and get a more accurate picture, Datalab created an hypothetical "catchment" of year 7 pupils with EHCPs for each mainstream secondary, to see how it compared to actual intake last year.
Analysts found there were almost 400 schools with at least 5 per cent of pupils with EHCPs, but 276 schools had none. A third of the latter were grammar schools.
There was little difference between maintained schools or academies, but free schools tended to have slightly more representative intakes of their area.
Limited state resources and funding
However, the study did find differences when looking at individual regions based on their schools' Ofsted ratings, as of August 2021.
The three areas with the largest gaps between the expected and actual number of EHCP pupils were 'inadequate' schools in London, 'requires improvement' schools in the south east and 'outstanding' north east schools.
London's 17 'inadequate' schools and the south east's 61 'RI' schools had, on average, nearly four times fewer EHCP pupils on roll compared with their local catchments.
The reality? Schools do not have the resources
Of those London schools, Gaynes School in Havering had the lowest EHCP rate (0.44 per cent of pupils on roll in 2022). It did not respond to a request for comment.
In the south-east schools, 0.48 per cent of 1,400 pupils had an EHCP at Ark Alexandra Academy in East Sussex.
However, the trust's regional director, Lorraine Clarke, said it had "robust procedures in place to identify students with additional needs".
"Sadly, state resources and funding are limited and not all our applications [to councils for EHCPs] are successful."
Nationally, councils rejected one in five requests in 2022.
Better assessment of SEND needs required
The 24 'outstanding' schools in the north east had, on average, three times fewer EHCP pupils on roll compared with their local catchment area.
The Academy at Shotton Hall, in Durham, had the lowest with 0.26 per cent.
The largest trusts – those with 10 or more secondaries – had slightly below average numbers of EHCP pupils.
Two of these had way fewer pupils with EHCPs that expected, but Datalab did not name the trusts.
One with 11 secondaries had a 2.3 per cent intake of EHCP pupils, compared with a 6.7 per cent estimated catchment. Another had 2.2 per cent compared with a 5.7 per cent expectation.
Researchers also said some of the difference could be down to some schools being closer to special schools or other mainstream schools with dedicated SEN units.
Hutchinson said the system would benefit from better assessment of SEND needs, "which would feed through to more consistent and useful data system.
"This would be a substantial undertaking as it involves a combination of greater capacity in NHS assessment and educational psychologist services and better training for teachers and school staff."
Rise in 'resisting admission' reports
Councils must also submit annual reports to the Office of the Schools Adjudicator (OSA), flagging any major themes relating to school admissions.
In her latest annual report published in April, the chief school adjudicator, Shan Scott, said it was "most concerning" that councils kept reporting some schools "resist the admission" of children with EHCPs.
Schools Week's analysis of council's own reports to the OSA, obtained under the Freedom of Information Act, found that nearly 50 out of 152 submitted raised issues with admission of SEN children in some way.
For usual admission points, such as reception and year 7, Bracknell Forest told the OSA that "many schools are not open to receiving children with EHCPs".
It added: "I have been told by SENCOs that there is a tension between wanting to be inclusive and feeling the pressure of knowing that the school will be judged on attainment."
Suffolk said it was "not uncommon to receive a response to formal consultations" from mainstream schools stating that they would not be "a suitable school".
"Whilst the [council] challenges where appropriate to do so, in some cases where discussions have taken place between the school and a family, the family has lost confidence in the school's ability to meet their child's needs."
Families then go on to request a place in an already stretched special school.
Darlington told the OSA it was challenging "unlawful" responses from schools that declined year 7s with EHCPs.
Bath and North East Somerset said recruitment difficulties had led "to higher numbers of schools raising objections to the placement".
Inclusion drive 'exacerbating' issues
Bromley council in south-east London said some schools cited issues around support at transition between lessons, a lack of breakout space and the length of lessons being 100 minutes with no adaptation.
Liverpool said schools could be "reluctant" to admit a child with an EHCP amid a "lack of understanding" that the SEND code "trumps" the admissions code.
The council's "drive" to "place more EHCP children in mainstream education was exacerbating" the issue. Schools often cited "resource issues", the council added.
Merton in south London said placements of SEN pupils "continue to be unevenly distributed" amid "anecdotal evidence that some schools will use informal means to discourage parents of SEN pupils to apply for them".
Meanwhile, Cambridgeshire and Peterborough said "many schools always cite the high level of current SEN need – a tiring argument and one that is challenged but causes delays".
In her report, Scott said councils' approaches to admissions of these children "diverge – with one group content that many schools give a high priority to children with additional social or medical needs, and another group encouraging schools to have no regard to such matters but simply to act inclusively in making admissions".
Council reports 'resistence and delay'
Lambeth in south London said there was "resistance and delay" in admitting SEN children without an EHCP. A spokesperson said many felt they could not "meet the needs of the child", especially in academies and foundation schools.
Merton called for a "national reminder of the need for inclusive practice in all schools regardless of their admission authority status".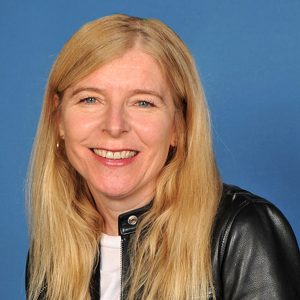 They added: "The needs of the child, rather than the financial position of the school and their approach to admissions, needs to be the driving force behind the admissions process."
The councils who responded to our request did not want to name schools they had complained about.
The government's SEND review will push for early intervention in mainstream schools, mostly through the national standards – which could be three years away.
But there are calls for further funding to instigate change.
Mulholland added: "The SEND Green Paper promised a plan to achieve the right support at the right time and in the right place, but the current daily reality for schools is that they do not have the resources to meet the needs of the pupils they are being asked to support."
The DfE was approached for comment.