The attainment gap between disadvantaged primary school pupils and their better-off peers has stopped growing, but remains far above pre-pandemic levels.
The Department for Education has published updated key stage 2 results data by pupil characteristic.
It shows the "disadvantage gap" narrowed slightly from 3.23 in 2022 to 3.20 this year.
However, the data excludes some looked-after children, and once they are added to the data, the DfE expects the gap to widen again by around 0.02 points.
This is far wider than the gap of 2.91 reported in pre-pandemic 2019. Last year's gap was the widest in 10 years, and reflected disruption to education during the pandemic.
Paul Whiteman, general secretary of school leaders' union NAHT, said it was "recognised at the time" that Covid would impact on the disadvantage gap, "which is why an ambitious educational recovery plan was proposed, which the government refused to fund".
"In a few years' time these same students will be sitting their GCSEs – only through proper investment in education can we expect to see an improved picture then."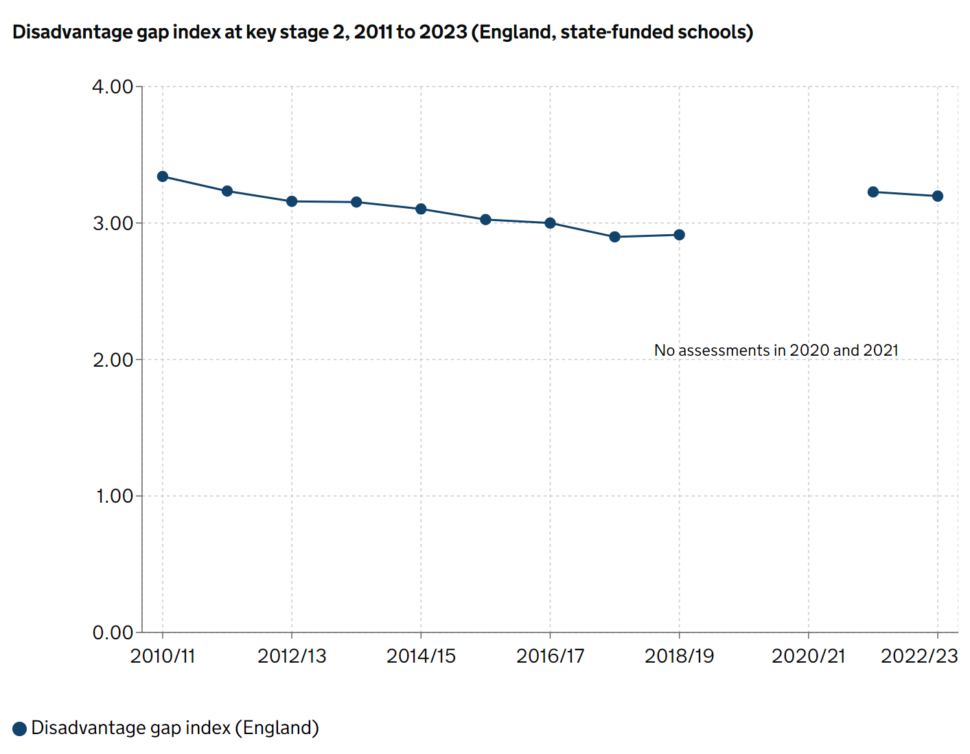 Children who did SATs this year were in year three when the first lockdown was ordered.
As reported last term, the proportion of pupils meeting the government's "expected standard" in reading, writing and maths SATs remained unchanged this year, after dropping six percentage points in 2022 following the Covid pandemic.
Today's data shows a slight improvement in the proportion of disadvantaged pupils meeting the expected standard, but again, some looked-after children have not yet been factored-in.
Pupils with special educational needs and disabilities also saw their performance improve slightly on last year, but it still remains below 2019.
Gender gap narrows
The gender gap has also narrowed. This year, 63 per cent of girls and 56 per cent of boys met the expected standard in reading, writing and maths, a gap of 7 percentage points. The gap was 9 percentage points last year.
The government said the "slight narrowing" was down to boys' results improving and girls' falling slightly.
Girls continue to outperform boys in every discipline bar maths.
Although looking just at pupils reaching the higher standard, the gender gap in reading fell from 10 percentage points last year to five this year. This was due to boys' attainment increasing by four percentage points and girls' falling by two.
The proportion of pupils with a first language other than English who met the expected standard fell slightly between 2022 and 2023.
Data by ethnicity shows Indian pupils performed the best, while Gypsy and Roma pupils and Travellers of Irish heritage continue to have the lowest results.
Pupils born in September and October were most likely to achieve the expected standard, while those born in July and August were least likely.
Children were more likely to reach the expected standard in reading, writing and maths if they attended a free school (64 per cent) or converter academy (62 per cent) than if they attended a local authority-maintained school (60 per cent) or sponsored academy (55 per cent).
Huge variation between areas
The proportion meeting the standard ranged from 57 per cent in the south west and East of England to 65 per cent in London.
But data at local authority level shows even greater variation, with London boroughs making up the 10 best-performing areas, and cities and towns outside London and some rural counties faring far worse.
Portsmouth had the lowest results, with less than half of pupils meeting the expected standard. Manchester, Bedford, Central Bedfordshire and Norfolk were also among the worst-performing, as are the Isle of Wight, Derby, Peterborough, Dorset and Somerset.