England has risen to fourth in the PIRLS international reading league tables as schools weathered the Covid attainment hit better than other countries.
Schools minister Nick Gibb said the rise in rankings – from joint eighth out of 50 countries in 2016 – was down to primary school teachers' "commitment to reading, their commitment to phonics and embracing of the phonics approach introduced by the government".
The tables this year included 43 countries as the study was severely disrupted Covid, with some nations previously ahead of England not featuring. Here's everything you need to know …
1. England rises to best in west …
Literacy test and questionnaires were collected from 4,150 year 5 pupils across 162 schools in England.
The country achieved an average reading score of 558, one point below the score when the tests were last held in 2016.
Despite this, the country moved from joint eighth to four this year.
Only Russia, Hong Kong and Singapore had higher average scores.
England outperformed countries including Finland, Poland, Sweden, Bulgaria and Norway who previously either achieved similar or better scores.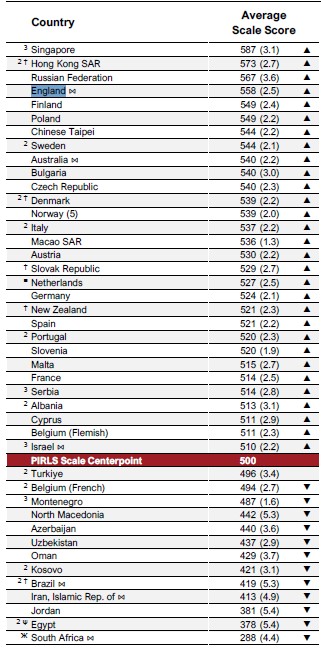 It has already been well reported that reading in England held up during the pandemic, with a report from the Education Policy Institute last week finding that outcomes "appear to have recovered for most year groups".
But the EPI study found primary school children were struggling to catch up on maths, with those aged between four and 11 around five weeks behind expectations prior to the outbreak.
2. … as other countries have bigger Covid hit
The rankings rise is mostly down to "significant drops" in attainment among pupils in other countries as the pandemic posed huge global challenges to education in the years between the studies.
Of the 32 countries with data in both 2016 and 2021, 21 countries had lower average reading attainment in the most recent year, eight had little or no change and only three had higher average achievement.
Twenty-six countries saw their scores fall by more points than in England in the same timeframe.
It meant England's score of 558 was statistically significantly higher than the international median score of 520.
It is also six points higher than England's score in 2011, and five points higher than in 2001, when the PIRLS first started.
3. Caution over pandemic impact on study
While most countries collected data from fourth grade (year 5) pupils in the autumn term of 2020 and spring term of 2021, England was among a handful to collect data in 2022 due to Covid delays.
However because it still assessed pupils at the end of the same school year, the IEA – which conducts PIRLS – said "no discernible achievement differences had been identified".
Gibb said "what matters is the age of the pupils more than the distance from the pandemic."
But the National Report for England, carried out by the Government Social Research team, cautioned that drops in attainment "may reflect the fact that many systems collected data for PIRLS during the COVID-19 pandemic".
Ireland and Northern Ireland, which had higher average reading achievement scores than England, were also left out of the league table because they assessed pupils at the start of their fifth year due to Covid disruption.
Both countries finished higher than England last time round too.
4. Findings 'point to phonics success' …
Similar to 2016, a moderate correlation of 0.46 was found between pupils' performance in their year 1 phonic check and their performance in PIRLS 2021.
It means that, generally, pupils who performed well in their year 1 phonics check also performed well in PIRLS 2021. This was the strongest predictor of PIRLS performance, followed by the number of books at home a child has.
"All this points to the fact that the approach the government has taken, in the face of quite a lot of opposition from the vested interests, has been successful in seeing children's reading improving in this country," said Gibb.
5. … but fewer pupils now enjoy reading
But, interestingly, just 29 per cent of English children agreed with the statement they "very much like" reading, compared to 42 per cent internationally. Another 48 per cent said they "somewhat like reading". Boys are less likely to enjoy reading.
Changes in questions mean direct comparisons aren't possible. But looking at individual statements that contributed towards the score show fewer children are enjoying reading.
In 2021, 54 per cent of girls said they 'agree a lot' that they enjoy reading, down from 62 per cent in 2016. For boys, this dropped from 50 per cent to 44 per cent.
Meanwhile, confidence in reading has also fallen. In 2016, more than half (53 per cent) of English pupils said they felt very confident in reading. This fell to 45 per cent in 2021.
Almost half (49 per cent) of children in England reported spending less than 30 minutes a day reading outside of school. The international median was 44 per cent.
6. Gender gap narrows as girls' scores drop
English girls outperformed boys by 10 points on average in PIRLS 2021, compared to 15 points in 2016 and 23 points in 2011.
Girls had higher average achievement than boys in almost all countries, with an average advantage of 16 points.
But the gender reading gap in England closed because girls' reading scores fell from 566 in 2016 to 562 in 2021.
Boys' average reading scores actually increased from 551 to 553 in the same timeframe.
Gibb argued that the decline for girls had been "very minimal" at a time when "Covid was a challenge to schools across the country".
7. Teachers less experienced and satisfied
In England, teachers who took part in the study reported having an average of 11 years of experience, lower than the international median of 18 years.
England was among just five participating education systems where the average number of years of teaching experience was less than 12 years. The other countries were the United Arab Emirates, Qatar, Jordan and Bahrain.
Of the English teachers who participated in the study, 22 per cent had less than five years' experience and 30 per cent had between five and nine years' experience.
Nearly a third (31 per cent) had 10 to 19 years' teaching experience and 17 per cent had 20 years or more.
In Singapore and Hong Kong, which scored higher in the league table than England, 35 per cent and 42 per cent of participating teachers had 20 years or more teaching experience.
Internationally, a higher proportion (56 per cent) of teachers reported being very satisfied in their careers than in England (44 per cent).
But the study did not find a clear relationship between teaching experience or career satisfaction and pupils' PIRLS performance.
"What matters is the overall results – there's been no significant reduction," Gibb told reporters on Monday.
8. Students now better at fact than fiction
In the last assessment in 2016, English pupils performed better in "literary" reading than in "informational" reading, with average scores of 563 and 556 respectively.
But the tables have flipped in the latest assessment, with pupils now fairing better at informational reading (559), versus literary reading (558).
Passages classed as literary are more fictional, with questions involving theme, plot, events, characters, and settings, while informational passages contain facts for pupils to identify.
As was the case in 2016, however, English pupils were still better at "interpreting, integrating and evaluating" the texts they were given, scoring 561 points on average for these skills, while their aptitude for "retrieving" information or "straightforward inferencing", scored an average of 554 points.
9. 1 in 3 pupils experience monthly bullying
Around a third (35 per cent) of English pupils who took part in the study reported experiencing bullying at school monthly.
Just over half – 54 per cent – said they 'never or almost never' experienced bullying. This was lower than the international median of 62 per cent.
Pupils who experienced bullying monthly had lower average achievement in PIRLS (555), while those who almost never experienced it had the highest (568).
Most pupils were found to attend schools where teachers and leaders reported high levels of emphasis on academic success, a safe and orderly school environment and "hardly any" problems with school discipline.