The new pay scales for teachers and school leaders for 2023-24 have been confirmed by the Department for Education.
It follows the announcement earlier this year of at least 6.5 per cent increase for all teachers and leaders, though in real-terms this still represents a pay cut.
While local authority-maintained schools are required to follow these pay scales, academies and free schools are allowed to set their own scales.
Here are the new pay rates, effective from September 1, 2023.
Pay scales for classroom teachers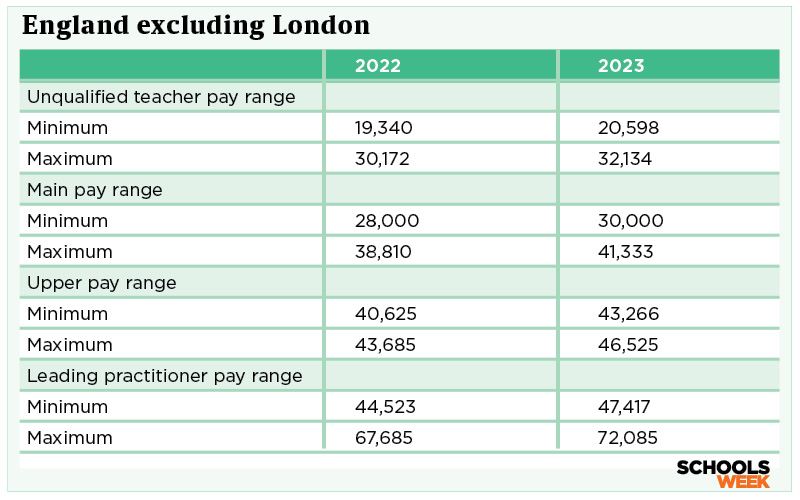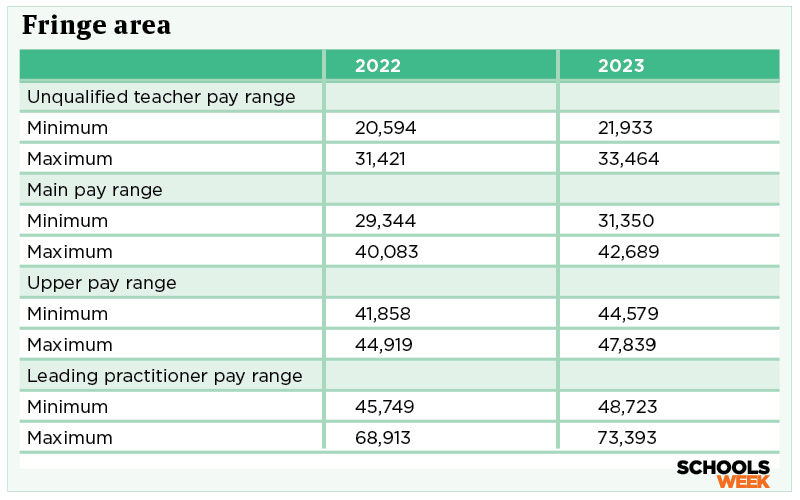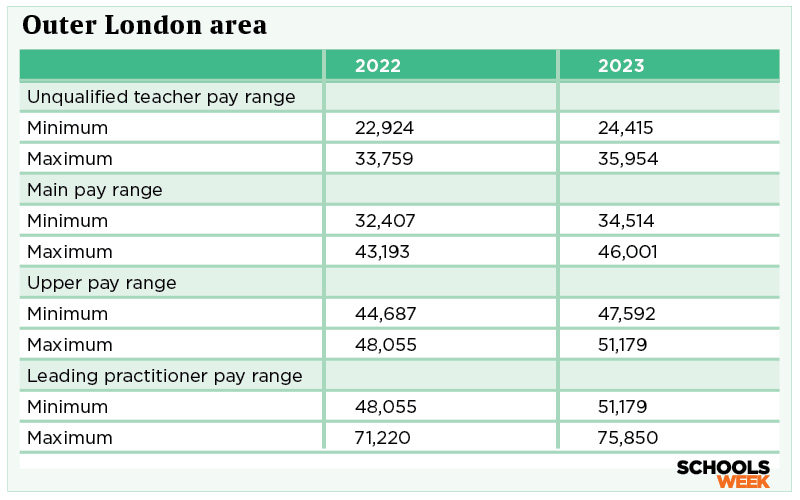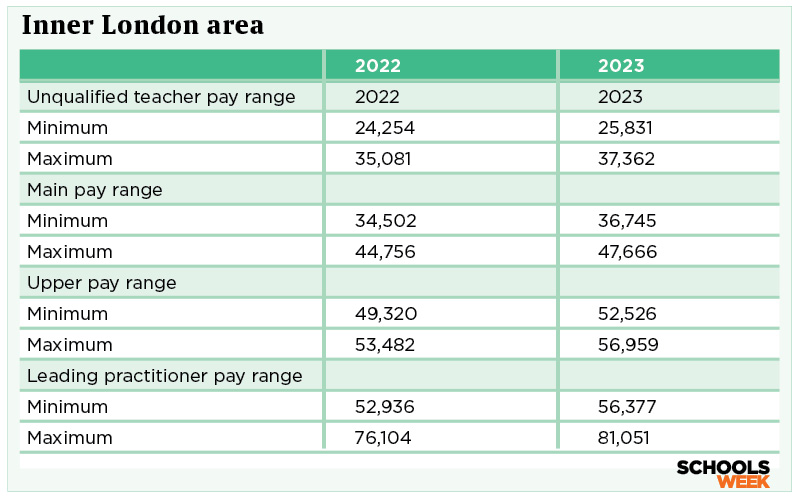 Pay scales for school leaders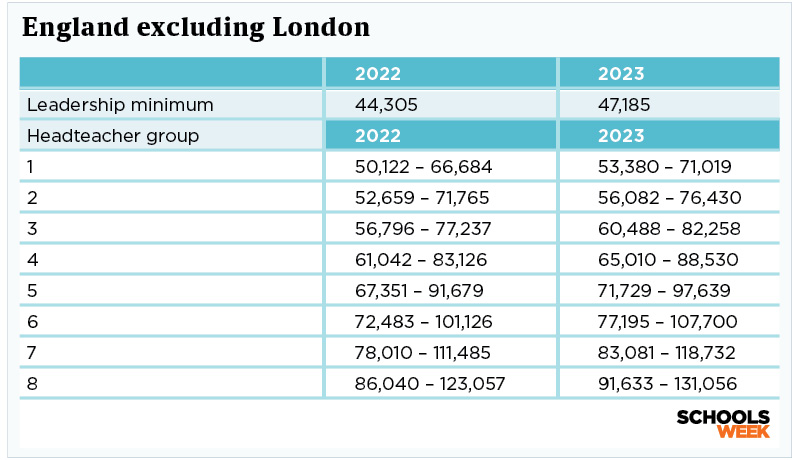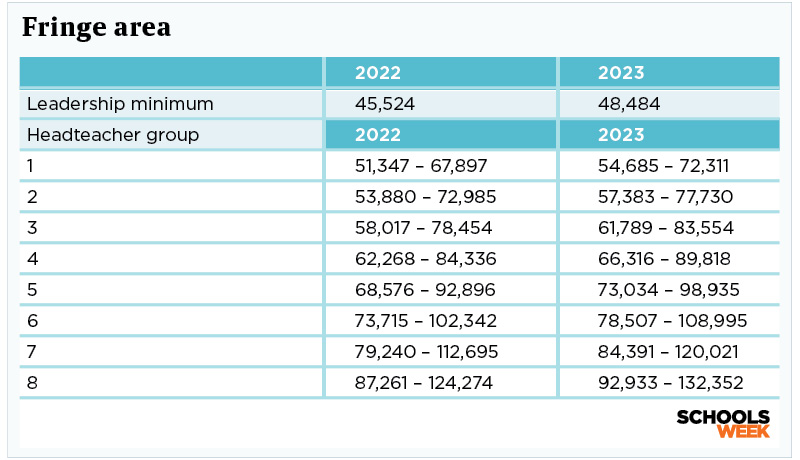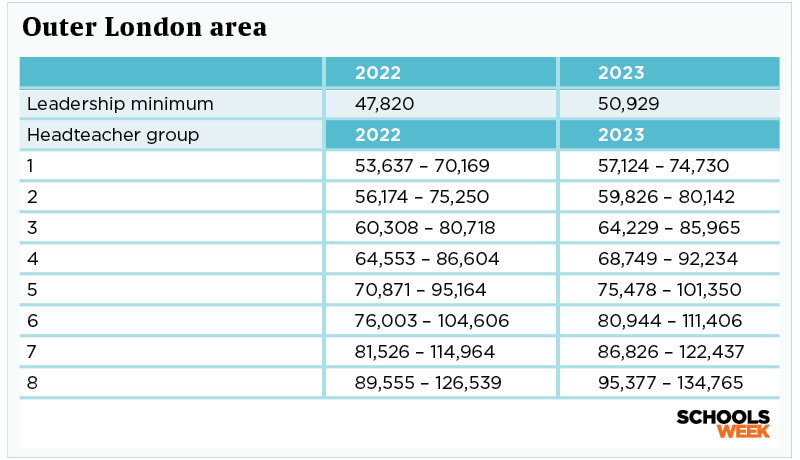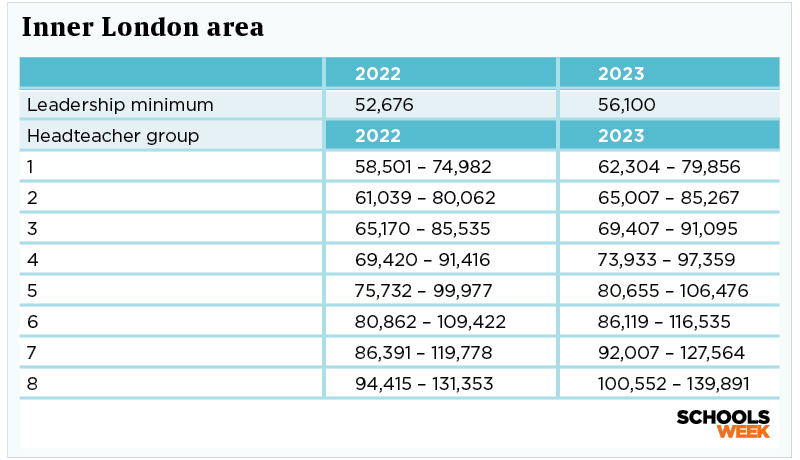 Here is the plain text version
Classroom teachers
| | | |
| --- | --- | --- |
| England excluding London | | |
| | | |
| Unqualified teacher pay range | 2022 | 2023 |
| Minimum | 19,340 | 20,598 |
| Maximum | 30,172 | 32,134 |
| Main pay range | | |
| Minimum | 28,000 | 30,000 |
| Maximum | 38,810 | 41,333 |
| Upper pay range | | |
| Minimum | 40,625 | 43,266 |
| Maximum | 43,685 | 46,525 |
| Leading practitioner pay range | | |
| Minimum | 44,523 | 47,417 |
| Maximum | 67,685 | 72,085 |
| | | |
| Fringe area | | |
| | | |
| Unqualified teacher pay range | 2022 | 2023 |
| Minimum | 20,594 | 21,933 |
| Maximum | 31,421 | 33,464 |
| Main pay range | | |
| Minimum | 29,344 | 31,350 |
| Maximum | 40,083 | 42,689 |
| Upper pay range | | |
| Minimum | 41,858 | 44,579 |
| Maximum | 44,919 | 47,839 |
| Leading practitioner pay range | | |
| Minimum | 45,749 | 48,723 |
| Maximum | 68,913 | 73,393 |
| | | |
| Outer London area | | |
| | | |
| Unqualified teacher pay range | 2022 | 2023 |
| Minimum | 22,924 | 24,415 |
| Maximum | 33,759 | 35,954 |
| Main pay range | | |
| Minimum | 32,407 | 34,514 |
| Maximum | 43,193 | 46,001 |
| Upper pay range | | |
| Minimum | 44,687 | 47,592 |
| Maximum | 48,055 | 51,179 |
| Leading practitioner pay range | | |
| Minimum | 48,055 | 51,179 |
| Maximum | 71,220 | 75,850 |
| | | |
| Inner London area | | |
| | | |
| Unqualified teacher pay range | 2022 | 2023 |
| Minimum | 24,254 | 25,831 |
| Maximum | 35,081 | 37,362 |
| Main pay range | | |
| Minimum | 34,502 | 36,745 |
| Maximum | 44,756 | 47,666 |
| Upper pay range | | |
| Minimum | 49,320 | 52,526 |
| Maximum | 53,482 | 56,959 |
| Leading practitioner pay range | | |
| Minimum | 52,936 | 56,377 |
| Maximum | 76,104 | 81,051 |
School leaders
| | | |
| --- | --- | --- |
| England excluding London | | |
| | | |
| | 2022 | 2023 |
| Leadership minimum | 44,305 | 47,185 |
| Headteacher group | 2022 | 2023 |
| 1 | 50,122 – 66,684 | 53,380 – 71,019 |
| 2 | 52,659 – 71,765 | 56,082 – 76,430 |
| 3 | 56,796 – 77,237 | 60,488 – 82,258 |
| 4 | 61,042 – 83,126 | 65,010 – 88,530 |
| 5 | 67,351 – 91,679 | 71,729 – 97,639 |
| 6 | 72,483 – 101,126 | 77,195 – 107,700 |
| 7 | 78,010 – 111,485 | 83,081 – 118,732 |
| 8 | 86,040 – 123,057 | 91,633 – 131,056 |
| | | |
| Fringe area | | |
| | | |
| | 2022 | 2023 |
| Leadership minimum | 45,524 | 48,484 |
| Headteacher group | 2022 | 2023 |
| 1 | 51,347 – 67,897 | 54,685 – 72,311 |
| 2 | 53,880 – 72,985 | 57,383 – 77,730 |
| 3 | 58,017 – 78,454 | 61,789 – 83,554 |
| 4 | 62,268 – 84,336 | 66,316 – 89,818 |
| 5 | 68,576 – 92,896 | 73,034 – 98,935 |
| 6 | 73,715 – 102,342 | 78,507 – 108,995 |
| 7 | 79,240 – 112,695 | 84,391 – 120,021 |
| 8 | 87,261 – 124,274 | 92,933 – 132,352 |
| | | |
| Outer London area | | |
| | | |
| | 2022 | 2023 |
| Leadership minimum | 47,820 | 50,929 |
| Headteacher group | 2022 | 2023 |
| 1 | 53,637 – 70,169 | 57,124 – 74,730 |
| 2 | 56,174 – 75,250 | 59,826 – 80,142 |
| 3 | 60,308 – 80,718 | 64,229 – 85,965 |
| 4 | 64,553 – 86,604 | 68,749 – 92,234 |
| 5 | 70,871 – 95,164 | 75,478 – 101,350 |
| 6 | 76,003 – 104,606 | 80,944 – 111,406 |
| 7 | 81,526 – 114,964 | 86,826 – 122,437 |
| 8 | 89,555 – 126,539 | 95,377 – 134,765 |
| | | |
| Inner London area | | |
| | | |
| | 2022 | 2023 |
| Leadership minimum | 52,676 | 56,100 |
| Headteacher group | 2022 | 2023 |
| 1 | 58,501 – 74,982 | 62,304 – 79,856 |
| 2 | 61,039 – 80,062 | 65,007 – 85,267 |
| 3 | 65,170 – 85,535 | 69,407 – 91,095 |
| 4 | 69,420 – 91,416 | 73,933 – 97,359 |
| 5 | 75,732 – 99,977 | 80,655 – 106,476 |
| 6 | 80,862 – 109,422 | 86,119 – 116,535 |
| 7 | 86,391 – 119,778 | 92,007 – 127,564 |
| 8 | 94,415 – 131,353 | 100,552 – 139,891 |