Ofsted plans to "broaden the scope" of its area SEND inspections to look at support for all pupils in alternative provision, amid warnings that the pandemic has exacerbated issues for some of the most vulnerable children.
Chief inspector Amanda Spielman said the "intertwined" nature of commissioning and response strategies for SEND and AP provision meant beefed up inspections could support local areas to "think strategically about how these two important parts of the education system can work together effectively".
It comes as the watchdog published research warning that children and young people with SEND have been disproportionately affected by the Covid-19 crisis.
The report described parents quitting their jobs to care for their children as existing weaknesses in the SEND system were exacerbated by the pandemic.
In commentary accompanying the report, Spielman said children with SEND were "now even further behind their peers" as a result of Covid-19.
Others are "at risk of being wrongly labelled as having SEND simply because they are struggling following extended periods away from their education setting". But there is also a "greater risk" that some children "may have new or different needs that have not been identified because they have not been 'in sight' of education, health and care professionals".
SEND area inspections are carried out jointly by Ofsted and the Care Quality Commission (CQC). The inspections assess provision across local authority areas, but currently only look at AP for pupils with SEND.
'New framework for a new era'
During the pandemic, Ofsted and the CQC have been designing a new framework for the inspections to "drive improvement at this critical moment".
While full proposals will be set out in a formal consultation ahead of the framework's launch, Spielman today revealed the most significant changes planned.
These include broadening inspections to include all children in AP rather than just those with SEND, as well as driving improvement through new inspections, and to "focus more sharply" on the impact of SEND arrangement on children.
Spielman said that as a high proportion of children in AP have SEND, areas' "response and commissioning strategies for AP and SEND are also likely to be intertwined".
Ofsted's research found that leaders of both special schools and AP were concerned about pupils becoming "more involved in criminal exploitation, including gang violence, and child sexual exploitation".
In some special and AP settings, pupils were "unable to return to school because their transport – taxi or minibus – was not in place.
Plans for 'continuous cycle of inspections'
The chief inspector said designing inspections and judgments which drive improvement was a "priority".
Ofsted plans to "establish a continuous cycle of inspections" which complement's existing probes of local children's services.
She added these plans would allow a "proportionate approach to inspection". The "next step" for the watchdog is to "design and test how we will gather evidence about the impact of leadership and practice".
"Our main aim will be to evaluate and judge local areas based on whether they make sustained and significant improvement for children, young people and their families."
Ofsted's first SEND framework was designed to support reforms brought in in 2014. But Spielman said that now the reforms had been implemented, "we want our inspections to help local areas make the greatest possible difference for children and their families".
The new framework will focus on three specific features: strategic leadership, quality of practice and sustained improvement.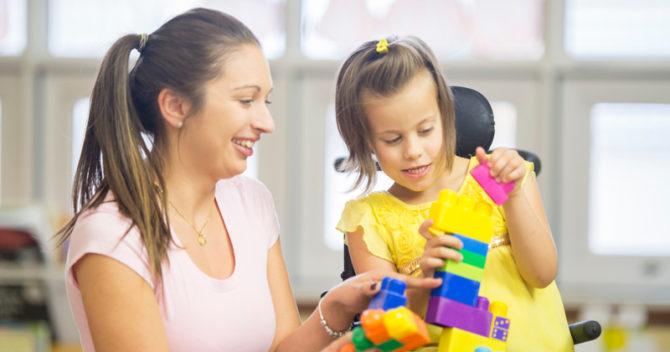 Findings and recommendations from Ofsted research
Ofsted's research report is based on area SEND inspections conducted last autumn and this spring.
The latter visits found families were "exhausted, even despairing" as they were still unable to access essential services for their children.
The watchdog found that during the autumn term, important healthcare such as physiotherapy ceased, leaving some children immobile and in pain. Respite provision for families had also been unavailable.
A survey of nearly 1,500 parents found 55 per cent of SEND children weren't receiving any therapies – compared with just 42 per cent who were.
Furthermore 40 percent of parents said their child was unable to engage with remote learning during the pandemic.
By the third lockdown, "life had become more difficult over time" for many, as problems identified in the autumn such as a lack of health and care provision, inconsistent provision from schools and long waiting times for assessments continued.
Ofsted also identified a lack of clarity between organisations about "who is responsible and accountable within local area SEND systems", a lack of joint working across education and health care, as well as "significant inconsistencies in how SEND is identified".
The report recommended more accessible universal services, more accurate identification of when children need targeted support and "a greater sense of joint responsibility between partners in a local area".
Pattern of problems is well-known
The problems identified in the research have been raised before by the inspectorate.
In May, updated statistics found the poorest areas of England were "most likely" to have "significant weaknesses" in their SEND provision. More than half of inspections found "significant concerns about how effectively the local area was meeting its duties" .
A 'Supporting SEND' report followed the same month which warned some SEND pupil were not receiving "enough help" in mainstream schools, even with specialist support.