The poorest areas of England are "most likely" to have "significant weaknesses" in their special educational needs and disabilities provision, Ofsted has warned.
The watchdog has published updated data on its local area SEND inspections, conducted jointly with the Care Quality Commission, which look at SEND provision across local authority areas.
Following inspection, two thirds of areas in the "most deprived quintile" were required to produce and submit a written statement of action (WSoA), described by Ofsted as "indication of significant weaknesses", compared to half of areas in the "least deprived quintile".
Since 2016, joint area inspections have been conducted in 116 of 151 local authority areas across England.
The latest statistics also show that overall, more than half of local areas inspected have been required to produce and submit a WSoA to chief inspector Amanda Spielman after the visit.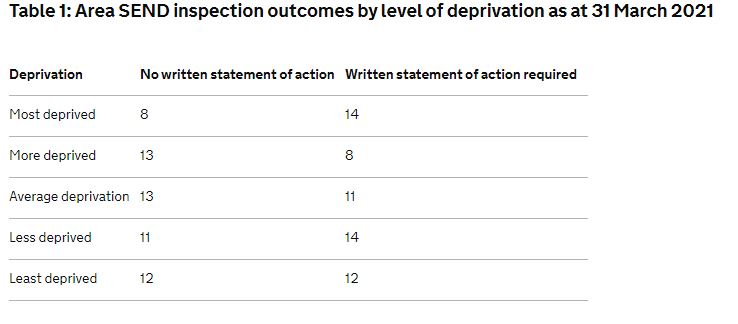 When a WSoA is required, local leaders must set out how they will tackle areas of significant weakness within 70 days of receiving the pre-publication inspection letter.
Ofsted had already warned last year that half of areas inspected had demonstrated "serious weaknesses", and the latest figures continue that trend.
The inspections look at SEND provision across a local area, including the local authority, clinical commissioning groups, public health, NHS England, schools and further education providers.
As a result of the suspension of inspections in March 2020 because of Covid-19, 34 local areas are yet to be inspected as part of the five-year programme.
Ofsted inspection outcomes
In 51 per cent of area inspections completed, inspectors had "significant concerns about how effectively the local area was meeting its duties or securing better outcomes for children and young people who have SEND".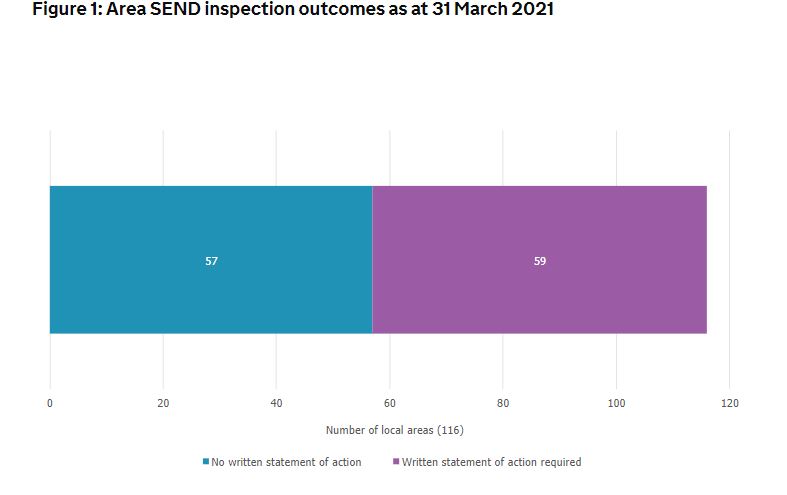 Twenty-one of these areas have since received a re-visit, but inspectors determined just nine local areas – 43 per cent – were "making sufficient progress in addressing all the significant weaknesses identified during their initial inspection".
Schools Week revealed last year that education secretary Gavin Williamson was prepared to use legal powers that allow him to directly order councils to make certain changes if progress is not demonstrated.
Between 2017 and 2020, the proportion of areas not required to send a WSoA has remained broadly similar – at 45, 36 and 44 per cent respectively. However, this represents a substantial drop from 2016-17, when 72 per cent were found to be effective.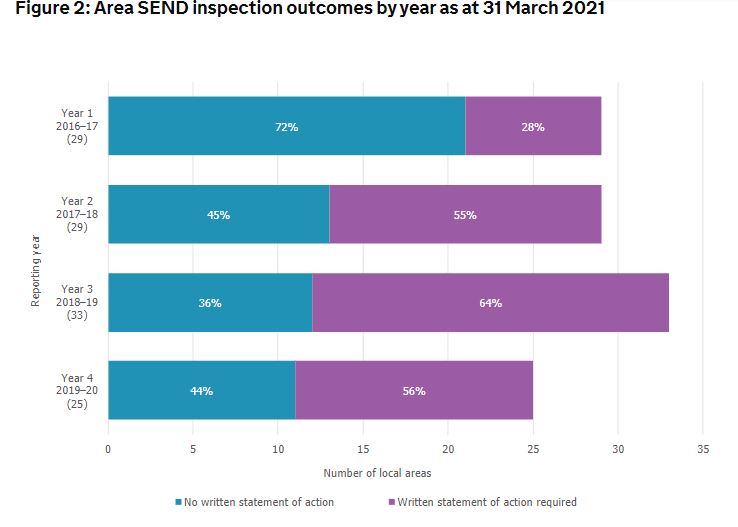 Regional disparity
Ofsted revealed the proportion of local areas required to produce a WSoA varied across the country, from one in four in London, to more than four in five in the east of England.
Of the eight Ofsted's regions, only three have a greater proportion of local areas without a WSoA than with a WSoA. These are London, the East Midlands and the south east.