Interest in a scheme to boost the number of maths teachers by skilling-up non-specialists plunged after it was taken on by the government's flagship hub for the subject.
In the past academic year, just 369 secondary teachers took part in specialist knowledge for teaching mathematics (SKTM) training provided by the National Centre for Excellence in the Teaching of Mathematics (NCETM).
Alongside 31 recruits during its pilot in 2020-21, it means NCETM met just 57 per cent of its target of 700 across the two years.
The scheme's predecessor, teacher subject specialism training (TSST), run by the Department for Education, also missed its target in 2019-20 – its final year – but by just 15 per cent.
Julie McCulloch, the director of policy at the leaders' union ASCL, said this "reflects the worsening depths of the teacher recruitment and retention crisis".
"Converting non-specialists to become maths teachers is one approach to trying to fill the gaps, but the targets are also being missed here by what is now a country mile."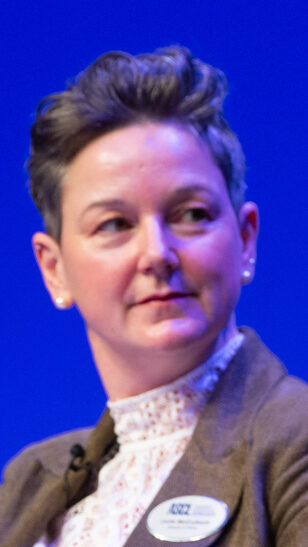 A report from the National Foundation for Educational Research last year found that 45 per cent of state secondary schools had used non-specialists to teach at least some maths lessons in the past two academic years.
"What will it take for the government to accept that teacher shortages are at such a critical point that tinkering around the edges cannot possibly work?" McCulloch said.
Original scheme also failed to attract enough maths teachers
Figures on the skilling-up schemes were obtained through a freedom of information (FOI) request to the DfE.
In the 2019-20 academic year, TSST attracted 1,595 teachers to secondary maths training. However, these figures cover an extended period as the scheme ran until March 2021 because of Covid disruption.
The government's target was for 3,000 participants in specialist STEM training that year – which included secondary maths, core maths and physics. But 2,560 teachers were recruited, 15 per cent below target.
The TSST scheme missed its target each year between 2015 and when it closed.
The £67 million initiative was launched in 2014 by David Cameron who promised to upskill 15,000 teachers in maths and science to "pull our country up in the world".
Between 2016 and 2021, the training was delivered to just 9,165 participants.
The scheme morphed into the SKTM and is now a fully funded course designed for teachers in state schools and colleges currently teaching maths who did not undertake initial teacher training (ITT) in the subject.
It takes place over six days, with recruits supported to develop "the blend of subject knowledge and pedagogical knowledge" for teaching maths.
DfE should tackle 'the big issues' in recruitment
The NCETM would not comment on the under-recruitment last year.
Up to January 5, it had recruited 364 non-specialist secondary teachers to its SKTM training for the current academic year.
However, the target this year has changed to 3,548, which includes primary and early years.
Figures for the subject knowledge for physics teaching (SKPT) programme, which also succeeded the TSST, show that it exceeded its target for last year by 60 per cent.
A total of 319 courses were delivered to teachers in 2021-22, versus a target of 200. However that target has more than doubled this year to 565.
STEM Learning, which runs the Stimulating Physics Network in charge of SKPT, did not respond to a request for comment.
Josh Hillman, education director at the Nuffield Foundation, said the government needed to do more to attract people and to improve retention "by tackling the big issues, including pay and workload".
The DfE was contacted for comment.