In his final interview as Ofsted's national director of education, Sean Harford talks to Schools Week about the future of inspections, his proudest moments and plans for the future.
After 18 years, six chief inspectors and countless hours of commuting, Sean Harford has retired from Ofsted.
He had intended to remain in post as national director of education for all of Amanda Spielman's tenure.
But, following the chief inspector's two-year extension and, he admits, perhaps a change in perspective during the pandemic, he opted to take early retirement at the end of last month, just before the start of the new academic year.
He has been replaced by Chris Russell, Ofsted's regional director for the south east.
Current Ofsted inspections 'at the limit'
This term full, graded Ofsted inspections will return for the first time since March last year.
Under normal section 8 inspections of 'good' and 'outstanding' schools, two inspectors visit for two days. But, given the impact of Covid on schools and their pupils, Harford believes two days might not be enough.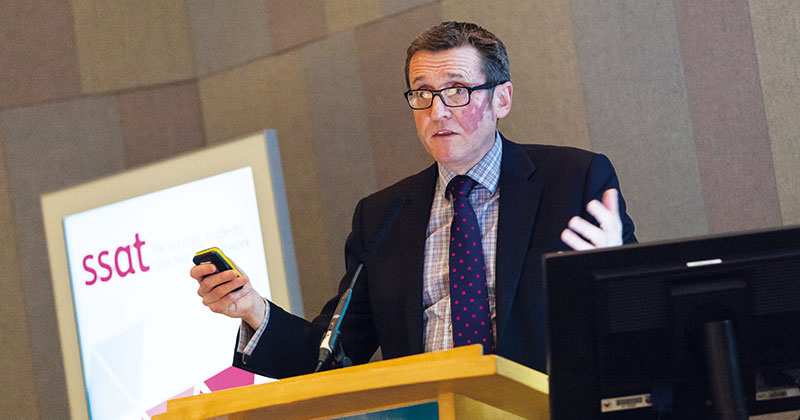 "Not because we think it [a school's grading] may have gone down, but is it more difficult to gather the evidence in that short time, given all the things that have happened?"
His own view is that Ofsted is already "at the limit of what you can take in terms of assurance from the model we have".
The watchdog will, for the time being, have no access to evidence such as exam results before visits. In their absence "you've got to do a lot more gathering when you're on site".
He says the solutions are either more time for inspectors in schools, or more section 5 follow-ups . Harford suggests a "middle ground" between the current and previous systems – when 15 inspectors would visit for five days – allowing Ofsted to get a "clearer picture".
"It would be better all round . . . I think the time has come to really think about that extra resource being needed."
While schools may be anxious about extended inspection, Harford claims, "ironically it would actually reduce the anxiety" and "probably reduce the workload" as more time would be available to discuss evidence on site.
'No regrets' over NEU spat
Harford made headlines in 2018 when he tweeted that the National Education Union was "impossible" to work with because of its constant calls to abolish Ofsted. He later left the social media platform. Three years on, he has no regrets "because it's true".
It is "common sense" that if you "have a stance to abolish an organisation then it makes it harder to engage."
While other top Ofsted officials continue to have informal discussions with the union, Harford admits he didn't experience the same "fleet of foot dynamic" with the union since its reorganisation.
Direct impact of early roles
His proudest moment is how Ofsted introduced the new education inspection framework (EIF), and the months of preparation behind it, gathering views from more than 20,000 educators.
"I don't think we had done as much discussion [in previous projects] as we did with the EIF . . . it made me feel really good that we'd actually done something with the sector to bring it in.
"One of the most valuable things we can do is talk directly to teachers."
Harford also highlighted his first few years with the watchdog monitoring and helping schools in special measures as "very rewarding".
"I think to be honest, in a direct way, that's probably the most impact I've had in this job."
Charity work in the pipeline
Having completed a masters in early modern history earlier this year, he is hoping to use his time to conduct further historical research and work with a charity that helps adults learn to read.
The former assistant head joined Ofsted in 2003 as an inspector before moving into management. In 2015 he was appointed national director of education, a move from his previous post as national director of schools.
And what Ofsted grade would he give himself for his time with the inspectorate? "I'm happy to be thought of as 'good'".