School leaders are vowing to champion smaller trusts and challenge the status quo as they vie for election to increasingly contested academy sector adviser posts.
Polls opened this week to elect 32 leaders to join the eight boards which advise and challenge England's regional schools commissioners.
A total of 164 candidates are standing, up from 135 at the last election in 2017.
Alice Gregson, chief operating officer at MAT support firm Forum Strategy, welcomed the higher number running, "especially at such challenging times".
Four-fifths are multi-academy trust chief executives. Rules on candidates having headship experience were relaxed this year, with the groups renamed from "headteacher boards" to "advisory boards".
The West Midlands is most contested, with 29 candidates for the four available spots. Lancashire and West Yorkshire is least competitive, with 15 applicants.
All change for advisers
Fresh faces are guaranteed on almost every board, with 20 of 27 current advisors stepping down.
Caroline Derbyshire, a soon-to-depart adviser who leads Saffron Academy Trust, said it was wrong to "hog that opportunity".
The exception is the West Midlands, where all four serving advisors are running, including "superhead" Dame Maureen Brennan.
One school leadership expert voiced "concern" about Brennan's candidature, as she faced disciplinary action for failing to keep accurate attendance registers as a head in the 2000s. But regulators spared the now-chief executive of Matrix Academy Trust a ban because of her remorse and "exceptional achievements".
Brennan told Schools Week re-election would be a "privilege" after 45 years serving education locally.
Another candidate who similarly overcame controversy is David Coaché, executive head of the two-school Bengeworth Trust. The trust's chair called him a "stronger, wiser, more empathetic and respected leader" after a 2019 drink-driving conviction.
Coaché said it was an "enormously regrettable" mistake in an exemplary career. He said boards should reflect the "broad church" of school leaders rather than the "same faces", limiting the risk that successful, prominent trusts get "all the decisions in their favour".
Eight candidates mention their OBEs or other honours.
Applicants include a former regional schools commissioner, Tim Coulson.
CEOs seize opportunity
Analysis by Schools Week suggests 84 per cent of candidates are chief executives or hold equivalent roles leading multi-academy trusts.
Only seven per cent are heads or lead standalone trusts, which make up 12 per cent of academies.
The remaining nine per cent are heads or executive heads within multi-academy trusts who are not also CEOs, though several hold additional trust roles.
Geoff Barton, general secretary of school leaders' union ASCL, warned the reforms could risk the boards becoming "increasingly distant" from "boots-on-the-ground" knowledge.
But newly eligible candidate Josh Coleman, boss of East Midlands Academy Trust, said trust CEOs' roles can give them "broader context" for decision-making.
Big trusts duck out
Strikingly absent from candidate lists were leaders or heads from any of the ten largest trusts. None responded to requests for comment. Sector figures said their absence could reflect influence elsewhere already and a wish to avoid conflict of interest.
But many big trusts outside the top ten are fielding candidates – and several others are explicitly running to counteract larger trusts' influence.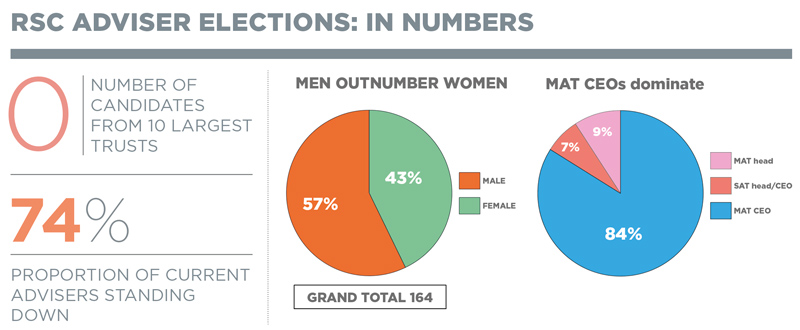 Jonny Uttley, chief executive six-school The Education Alliance, said he would "always talk about small trusts and maintained schools" if elected.
Stewart Biddles, chief executive of Riviera Education Trust, said he would represent small MATs when "the message we seem to be hearing is 'bigger is better'".
Mark Thomas, head of standalone Woodland View Primary, said he would bring "the voice of the little guy".
Inclusion and change promised
An analysis of applicant statements also shows others vowed to "champion diverse voices", including Astrea Academy Trust chief executive Rowena Hackwood, citing female MAT leaders in particular.
Anita Johnson said representing ethnic minorities as a "female BAME CEO and headteacher" of the Loxford School Trust was a "driving force" for application.
But boards appear set to become more male. Currently 59 per cent of elected advisors are female, yet only 43 per cent of candidates are.
Gregory said recent Forum research found around 40-46 per cent of CEOs are female, a better proportion than in other industries, but "there is still progress to be made".
Candidates in several regions pledged to represent vulnerable, disadvantaged or SEND pupils, as well as alternative provision and special schools.
Sean Kelly, Raleigh Learning Trust chief executive, called himself an "unapologetic advocate of children with complex needs".
Some promised to hold RSCs to account. "I'm not afraid to stand up for what I feel is right," said Jeremy Rowe, CEO of the Waveney Valley Academy Trust.
Other candidates even promised to push for change. Coulson said the board should "set an ambition for trust growth over the next three years".
Hackwood and Uttley vowed to challenge MAT competition. Dr Alan Lee, Bedfordshire Schools Trust CEO, said schools needed "more control".
Yet Leora Cruddas, chief executive of the Confederation of School Trusts, which represents MATs, noted "the regulator makes the decisions", with boards advising.
Experience most cited
Many candidates' statements were dominated by career histories. Schools Week analysis shows "experience" was mentioned 171 times – the third most common word used after "school" and "education".
"Years" was mentioned 144 times, "support" 127 times and "outstanding" 60 times.
The most eye-catching applications included Johnson's, which quoted Winnie the Pooh: "A day without a friend is like a pot without a single drop of honey."
Thomas said dressing up as Hagrid and other characters for school events made him prouder than his 'outstanding' rating.
The DfE had refused to share candidates' statements with anyone but academies themselves, but quickly u-turned, publishing them after Schools Week queried this and began emailing candidates themselves.
Stuart Lock welcomed the move, with the Advantage Schools Trust leader being one of several CEOs promising more transparency.
Voting is open for another two weeks. There is one vote per academy, but only the academy head or the trust leader may cast the vote. The process potentially advantages large, geographically concentrated trusts.
Several heads said they did had not received ballots on Monday. Officials urged affected schools to contact them.
Many leaders will not vote. One single-academy head said he was unconvinced advisers could protect standalone and maintained schools from the MAT drive. "It's a fait accompli."