The government has told secondary schools to test pupils for Covid on-site when they return after the Christmas holidays in January.
The Department for Education wrote to schools today to ask them to prepare for on-site testing in the new year.
According to guidance also updated today, secondary pupils should take one test on-site as they return to school, followed by another at home three to four days later.
To allow for the testing, Ofsted will not inspect schools in the first week back "unless there are urgent concerns".
The government will provide tests, PPE and funding, but schools have been given less than three working days to order test kits. The government said schools would need to order "sufficient" kits by next Tuesday, November 30.
Leaders warned this week that it was "not reasonable" to impose the task on schools with "minimal support".
In the email to headteachers, the department acknowledged that bringing back on-site testing was a "significant additional ask", but said testing continued to "play a vital role in keeping Covid-19 out of schools".
Testing all pupils in school "boosts testing participation and will help reduce transmission after a period of social mixing over the school holidays", the department said
Testing demand 'not reasonable', say heads
Julie McCulloch, director of policy at the ASCL leadership union, said: "We recognise the importance of Covid testing to reduce the risk of transmission of the virus, but it is not reasonable for the government to once again impose this considerable public health task on schools with minimal support.
"The role of schools should be limited to providing a space for test centres and communicating with students. But the government expects them also to handle the logistics of staffing and setting up testing stations."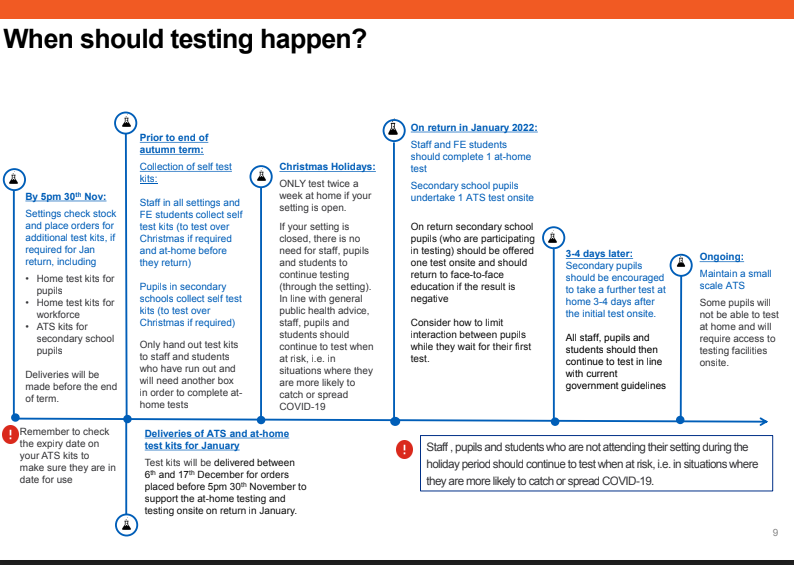 She also questioned the timing of the request, coming on a Friday afternoon, and the "incredibly short timeframe" for ordering test kits.
Schools have been urged to check their test kit stock levels and make an order "so that both staff and students are able to test over the holiday period if required, and for the first week of January, using home test kits".
The DfE said schools "will also need to order ATS kits and sufficient home test kits to ensure secondary pupils can continue to test in line with government guidelines".
A stock-take form is provided so schools can "ensure your stock is up to date", and settings have been asked to specify when they close for the holidays when placing orders.
While settings are closed over Christmas, "all staff and students should test over the holidays in line with national guidance", the DfE said.
"This means that they should test if they will be in a high-risk situation that day, and before visiting people who are at higher risk of severe illness if they get Covid-19."
Further and higher education students, and staff in all education settings, should take one self-test at home "either the evening or morning before they return in January", before continuing to test in line with government guidelines.