Ministers have slammed "abhorrent" anti-vax protests after demonstrators live-streamed themselves outside school gates claiming the covid jab causes cancer, infertility and death.
Police have upped their presence at schools that have been repeatedly targeted, although others say the protests have had "no impact at all".
One council is demanding extra powers to deal with protesters directly, claiming current legislation "simply isn't fit for purpose".
Headteachers say the protests are "pathetic" and demand they be left to do their jobs as unions warn the intimidation of pupils is "unforgivable".
Schools are now being told to contact the Department for Education directly if they come under attack.
Schools Week investigates…
Police put on 'reassurance patrols' amid anti-vax protests
A school-based vaccination programme to inoculate 12 to 15-year-olds started on Wednesday. The government approved the roll-out last week after the UK's four chief medical officers said it would reduce further disruption to education.
Angry anti-vaxxers are now turning their rage towards schools – which have no legal responsibility and little involvement outside of hosting the programme. It is carried out by the NHS.
Leicester City Council confirmed one school in its area had received a death threat over the vaccine.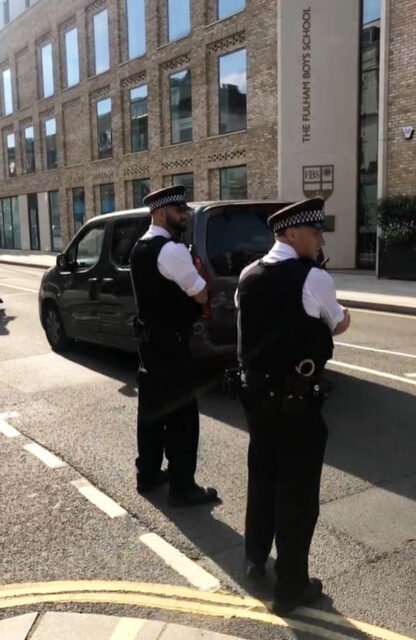 Madeley Academy, in Telford, was targeted three times last week. Protesters held yellow placards bearing the slogans "the media is the virus" and "please don't jab our kids".
West Mercia Police has increased its presence at the school with "reassurance patrols".
Shaun Davies, the leader of Telford and Wrekin Council, said similar protests had been held throughout the borough, although the behaviour of the protesters varied.
"But when we are talking about children as young as 11, their presence clearly causes some distress and can be disruptive to education."
Davies has written to West Mercia's police and crime commissioner requesting "more powers to move people on" from some targeted schools or where protesters are causing "significant distress" to pupils.
"The police are relying on public order legislation, which simply isn't fit for purpose in this set of circumstances."
Councils fear families will be put off
The Local Government Association said it was "concerned the activities . . . will put parents and their children off being vaccinated and leave them at greater risk of Covid-19 as a result".
The right to peaceful protest is protected under the European Convention of Human Rights, but the police can place restrictions or prohibit protests that threaten to cause disruption.
In a letter to local headteachers, Kent Police tell them not to contact police unless there is an obstruction to the highway, serious disruption is likely or someone is in immediate danger.
But guidance from the Department for Education says schools should alert the vaccine team, council and police to "discuss the best way to manage the situation" in the event of a protest or planned disruption.
The National Police Chiefs Council said forces were "working closely" with local authorities and schools, and officers would "work to ensure that lawful and peaceful protests take place". Protesters, however, could be removed from private property.
Anti-vaxxers tell pupils 'jab can make you infertile'
Piers Corbyn, the conspiracy-theorist brother of the former Labour leader Jeremy Corbyn, protested outside several London schools this week, with some live-streamed online.
On Monday he appeared alongside supporters outside Twickenham School in the west of the capital.
In a video posted to his Facebook page, Corbyn can be seen yelling at pupils: "If they try to jab you – beware. The jab is dangerous, it can cause illness and kill you and means when you grow up you'll be infertile."
The group attempted to distribute "warning notices" to staff and leaflets to pupils.
Schools Week revealed earlier this month schools were being threatened with legal action by campaign groups opposing on-site jabs and told they could face fines of up to £20 million or "life imprisonment".
The same group, minus Corbyn, appeared outside The Fulham Boys School, also in west London, the following day. They claimed their presence had resulted in pupils being kept in class for more than two hours after the end of the school day.
But Alun Ebenezer, the school's head, said protests had "no impact at all on our day" and the school always finished at 5pm, except on Friday.
He said the police told the school about the protest in the morning. Staff on duty were informed and pupils were told not to take leaflets or engage with protesters.
'Do your job and let us get on with ours'
Ebenezer said it was "a bit of a pathetic protest" that was wrongly directed at schools.
In a message to protesters, he said: "Just go to work, do your job and let us get on with ours. We've all had a hard 18 months. If you don't agree with it [vaccinations], make that point to whoever you need to … but don't turn up berating schoolchildren and inconveniencing everyone else."
Corbyn also protested outside Westminster City School and the DfE headquarters this week.
The Met said there has been no requirement for police intervention in London. But it would "respond accordingly" if any behaviour "goes beyond the parameters of reasonable exercise of protest rights".
Another headteacher, who wished to remain anonymous, said protesters at their school had told pupils the jab caused cancer.
On Monday, Simon Langton Girls' Grammar in Kent was targeted for a second time.
And the police were called to the nearby The Abbey School earlier this month after a woman was assaulted at an anti-vax protest.
Elsewhere, schools in Leeds, Bradford and Dorset have faced protests.
Geoff Barton, the general secretary of the Association of School and College Leaders, said it did not seem school protests were widespread, but demonstrations were "hugely unhelpful".
Death threats and intimidation 'abhorrent'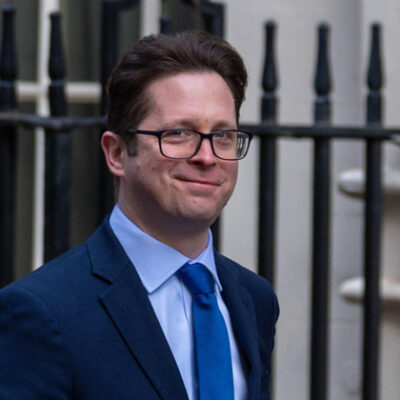 Alex Burghart, the skills minister, told the Commons on Thursday the protests were "abhorrent".
He advised any school facing intimidation to contact the DfE so it could "follow-up".
Earlier this week Maggie Throup, the vaccines minister, said schools should "not be afraid to speak to the police" if they faced intimidation.
Burghart added: "It's totally unacceptable that any teacher or headteacher is being placed under pressure in this way.
"The lies that have been told by certain groups are outrageous. They have unquestionably made life uncomfortable for some people working in schools."