Union bosses say the education secretary is "on notice" to "change her stance" and start proper pay negotiations or face millions of pupils missing school again through further teacher strikes.
The National Education Union claimed around 300,000 teachers went on strike yesterday.
Over half of schools closed partially or fully. Around four in ten pupils missed school, attendance data from Arbor Education's 3,300 schools showed. If extrapolated – this would mean 3.2 million pupils across England missed school because of strikes.
Use of the Oak National Academy was double last year's Omicron peak.
Gillian Keegan has accused the union of putting forward an "economically incoherent" argument. NEU wants a fully-funded, inflation-related rise.
Keegan said on Wednesday the government "can't bake in inflation which is what will happen if we start to get wages spiralling out of control".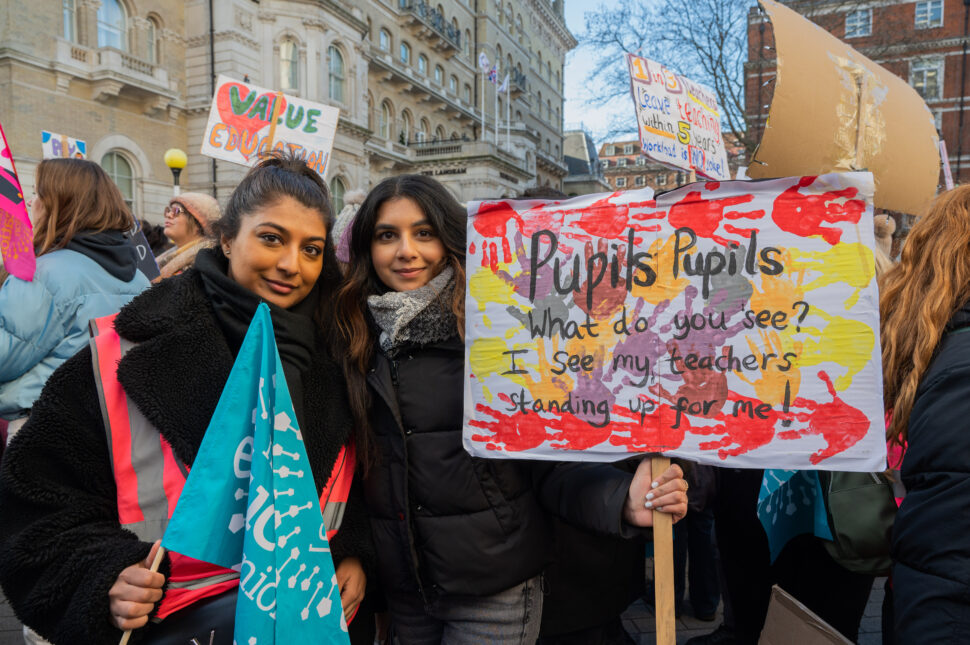 'If it's ministers V teachers – we'll win'
Further talks between ministers and union leaders are expected in the coming weeks. But NEU general secretaries Dr Mary Bousted and Kevin Courtney warned teachers would walk out again this month unless Keegan came up with "concrete and meaningful proposals".
"Today, we put the education secretary on notice. She has until our next strike day for England, February 28, to change her stance."
Speaking to Schools Week at a picket in south London, Bousted said the government acted in "cynical disregard", but said she "regretted" disruption to parents.
"I think that [ministers] believed that we wouldn't make the threshold for action. I think if it comes to ministers against teachers, teachers will win."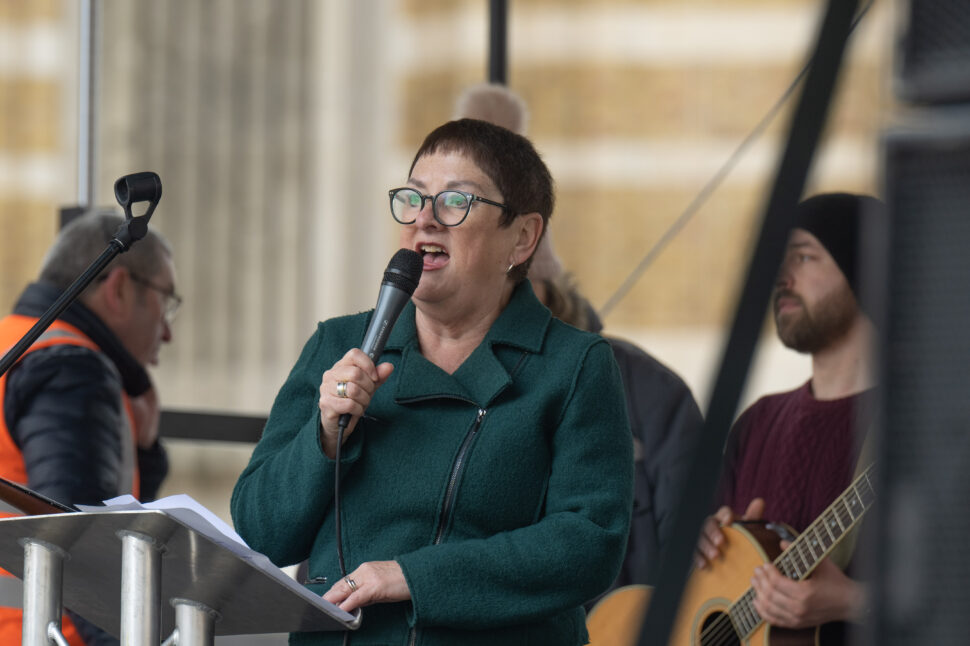 Teachers joined other public sector workers on picket lines and attended marches and rallies across England on Wednesday.
In London, an estimated 40,000 people marched on Downing Street. The colourful, noisy protest saw countless chants, placards and banners demanding more funding for schools and highlighting teacher burnout and retention woes.
"Please sir can I have some more", read one. Another said: "I would have finished this sign but I ran out of funds."
'I feel an immense pride'
Miranda, a teacher at Isleworth Town Primary School in south-west London, had made a cardboard bar of gold for her banner. "Worth my weight in gold", it read.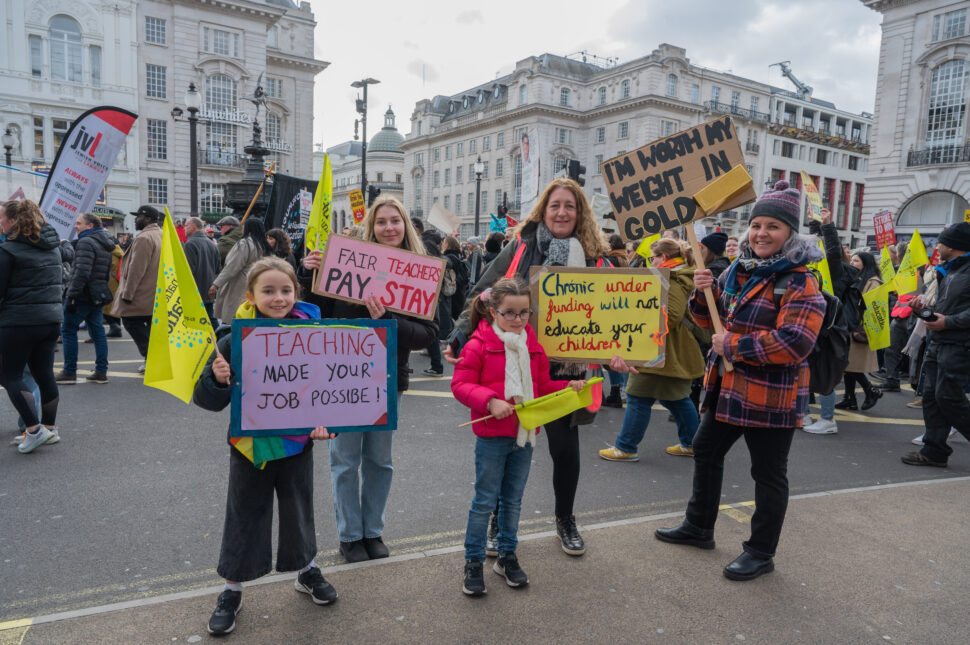 "I feel an immense pride just seeing all these people together, fighting for what we believe in," she said.
According to the NEU, over 60 rallies took place across England.
In Bristol, NEU members were among an estimated 3,500 who turned out to march.
Armed with colourful placards, a group of teachers from Air Balloon Primary School warned underfunding and pay erosion was resulting in "less opportunities for children, less resources, and potentially it's going to impact on staffing".
The resounding message from teachers on picket lines was that strikes were about much more than just pay.
'Parents understand why we're doing this'
In Carlisle, NEU president Louise Atkinson said parents had been "very supportive of our actions and even turned up the cake for us, which was a lovely. They understand what we're doing this for."
Recent polling by Public First found 46 per cent of people felt teachers would not be justified in going on strike, compared to 43 per cent who said they would be justified.
However, parents of school-age children were more supportive, with 47 per cent saying strikes would be justified, compared to 40 per cent who said they would not.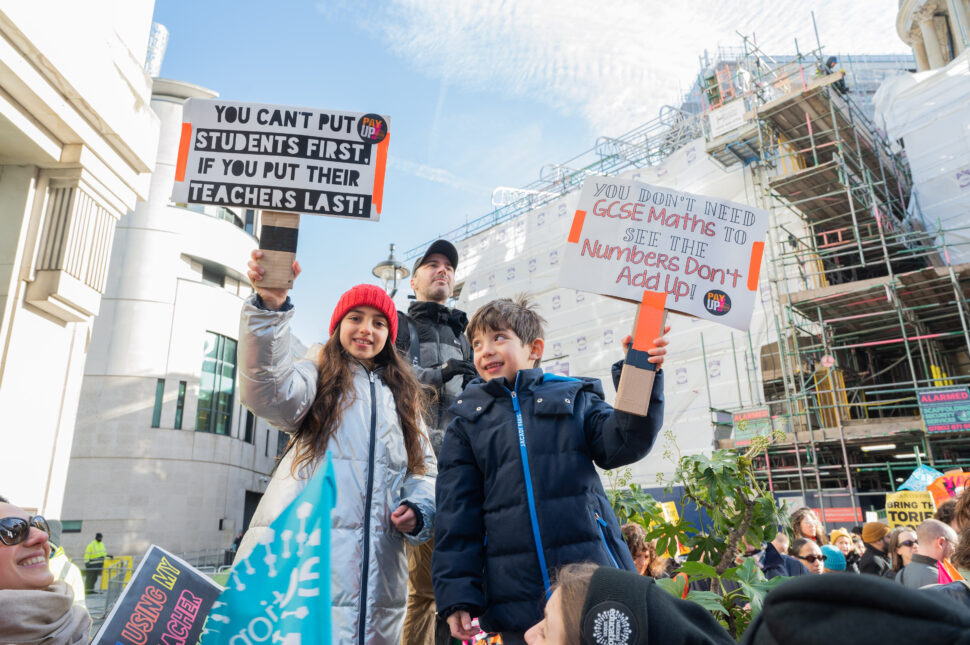 Past president Daniel Kebede, who visited picket lines in Newcastle, said: "Often there is a bit of cautiousness around picketing in our profession, and that just didn't seem the case today. It was just tremendous."
In Keegan's own constituency of Chichester, hundreds of public sector workers marched through the city chanting "where's Gill?".
Keegan 'should be concerned' over parent support
NEU organiser Dave Jones said Keegan "should be concerned that so many of her constituents seem to be supporting the trade union and their strike rather than her departments approach to teacher's pay".
Phil Walker, a drama teacher at Chichester High School, said he was "amazed how many people were honking and giving us a thumbs up".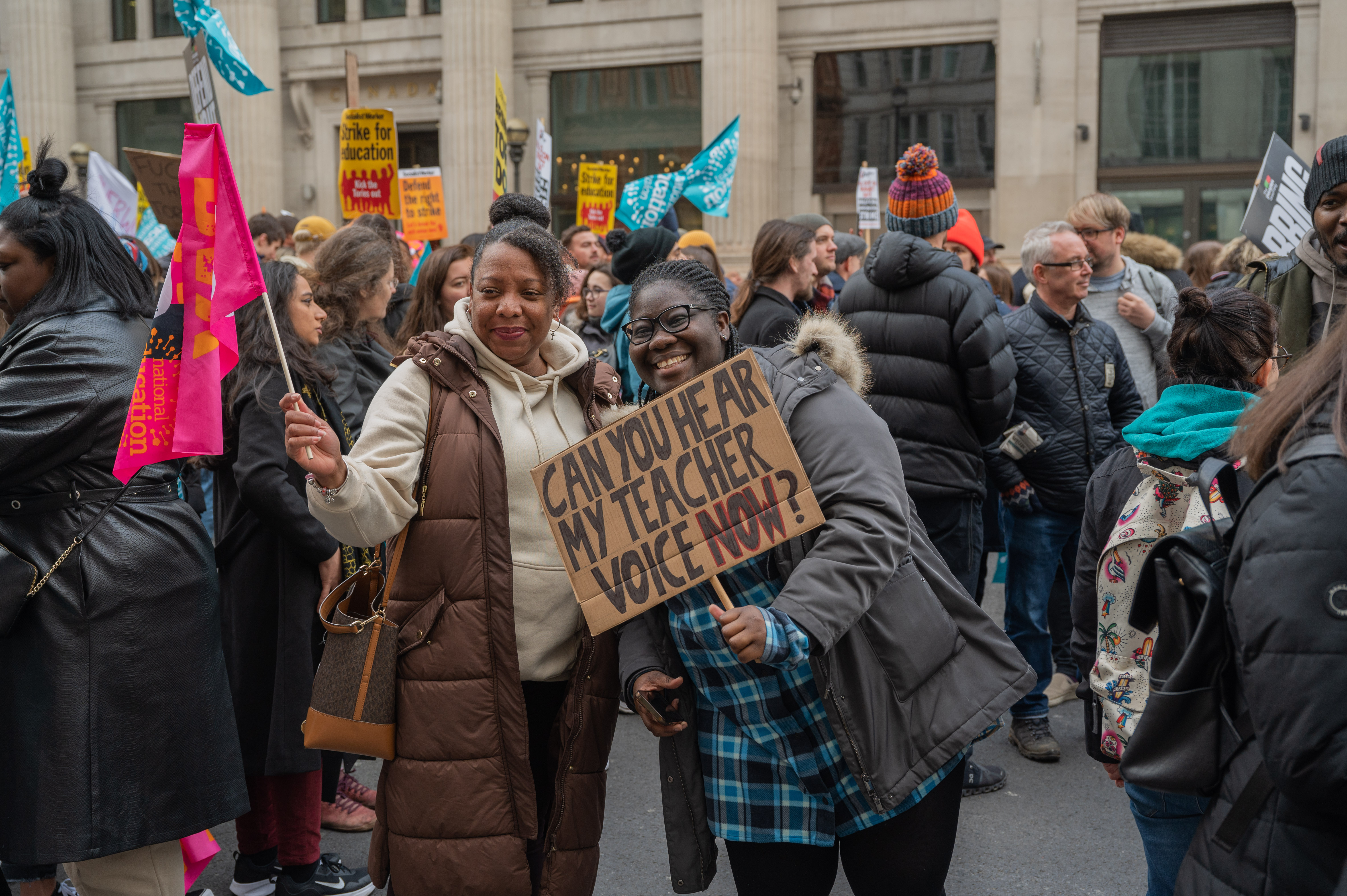 "I've been a rep for a long time, I've been a teacher for 30 years. I've never known anything like it, I've never known people just at the end of their tethers, crying in the staff room, and just not knowing which way to turn."
Also marching were teachers from neighbouring Bognor Regis and Littlehampton, the constituency of schools minister Nick Gibb. He has said strikes are "not a way to conduct negotiations".
But Susan Buckland, a teacher at Felpham Community College, said the government was "not willing to have sensible conversations with our union leaders over pay".
"What is their suggestion for how we manage this?"
'Unreasonable workload is poor leadership'
Mark Lehain, a former DfE special adviser, said things like "unreasonable workloads, over-emphasis on marking and poor classroom behaviour" were the "result of poor leadership — not a lack of money. Strikes won't address any of these longstanding problems."
Keegan added "one school closure is too many", adding she was "very grateful" to headteachers "for all their work to keep our schools open and to minimise the impact" of strikes.
She said ministers were now looking at workload and flexible working options, as well as future pay.
She said they missed Friday's deadline to provide evidence for next year's pay review process "to keep open to those discussions about future pay."
There are also reports government is now looking at changing the law so teachers must tell schools if they plan to strike.
Additional reporting by Tom Belger, Amy Walker and Samantha Booth.