Almost 10 per cent of schools are in areas where blanket Covid restrictions have been reintroduced as infection rates rise, new analysis shows.
Schools Week has found 11 councils are advising all schools in their areas to reintroduce Covid classroom measures, such as face coverings, bubbles and a ban on assemblies. The measures affect more than 1,700 schools – 9 per cent of all primary and secondary schools – and about 600,000 pupils.
Five unions this week jointly demanded Nadhim Zahawi, the new education secretary, reintroduce Covid safety measures nationally.
The Office for National Statistics (ONS) estimates that about one in 15 secondary school pupils tested positive for Covid in the week up to October 2.
Current government guidance sets out thresholds for introducing stricter measures in individual schools.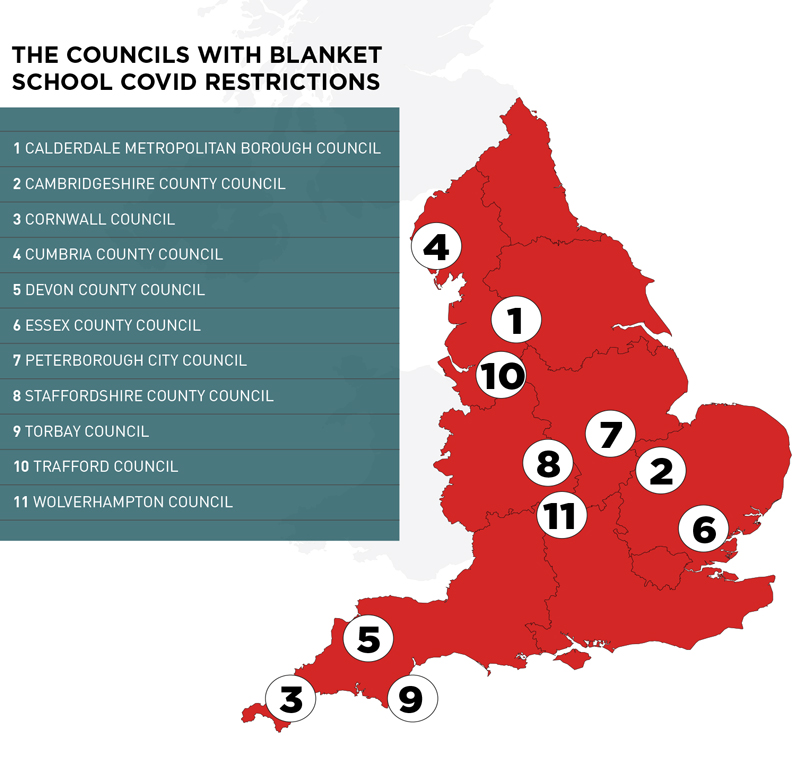 A National Association of Head Teachers' survey previously revealed more than one in four schools had already exceeded these thresholds by the end of September.
Department for Education guidance states measures to address "more widespread issues across an area" are made by ministers on an "area-by-area basis".
Just three of the councils advising blanket measures are among the top ten areas hit hardest by Covid (see table below).
Meanwhile Essex – also advising measures across all its schools – has 321 cases per 100,000, placing it in the bottom third of case rates across the UK.
Trafford has highest infection rates
Trafford has the highest infection rates, according to data from the UK Health Security Agency (UKHSA), with 832.6 people per 100,000 testing positive as of October 7.
There have been outbreaks at about a third of its schools, and since Monday the council has requested secondary school pupils and staff wear masks.
Parents are also being asked to wear masks when dropping off and picking up children.
Under current guidance children are not required to self-isolate if they live in the same household as someone with Covid, or are a close contact of someone with Covid.
But Trafford staff and pupils in this situation are asked to take daily lateral flow tests (LFT) before attending school.
Calderdale, Cumbria and Peterborough have also been hit hard.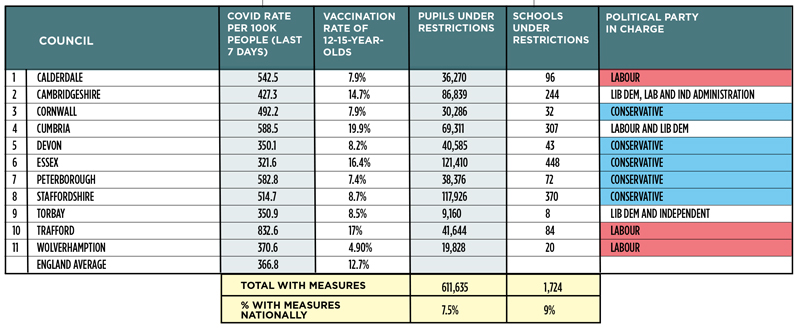 Calderdale council is advising secondary schools to implement face coverings and asking all schools to limit mixing of groups.
Pupils who live in a household where someone has Covid are asked to stay off school for up to five days and get a PCR test.
Meanwhile, Cumbria say pupils in this situation must either conduct daily LFT tests or have a negative PCR to return to school.
Schools advised to reintroduce face coverings
In Peterborough, and its combined authority of Cambridgeshire, secondary schools are advised to reintroduce face coverings in communal spaces. Primary staff may consider the same arrangement, guidance states.
Staff should socially distance within school buildings and are advised to move all non-essential visits with parents to virtual meetings.
Jyoti Atri, the director of Public Health for Cambridgeshire and Peterborough, said they were "sensible precautionary measures" and recommended that schools follow the advice.
Councils and public health directors can only advise measures, they cannot force schools to follow them.
Cases have dropped in Cornwall and Torbay where the local councils introduced enhanced measures in August.
Both were given five weeks of extra government support, including temporary use of masks in communal areas in secondary schools.
In Cornwall, rates fell from 829 per 100,000 on August 22, to 242 on September 15. But cases have slowly been creeping up since the measures ended on October 1.
It's a similar picture in Torbay where cases dropped to 284 mid-September, but rose to 367 last week.
Last week The Daily Telegraph reported schools had reintroduced face coverings at the urging of "militant lefty" council groups. But five of the eleven councils with blanket measures are Tory-led.
On Saturday, five unions – GMB, NASUWT, NEU, UNISON and UNITE – wrote to the education secretary calling for the reintroduction of Covid safety measures such as social distancing, bubbles and face coverings in secondary classrooms.
The letter warned that DfE thresholds were "set too high; meaning that cases can already be spreading across a school before additional measures are considered".
"Without a change of direction, we risk damaging the education of thousands of children at some point before Christmas."