More support staff are needed to prevent teachers from having to spend 380 hours a year on admin, a government-backed study has found.
A new report commissioned by the Department for Education found educators have taken on greater numbers of safeguarding and SEND-related jobs since the pandemic.
It was also reported that teachers are receiving more messages from parents and carers "with unrealistic expectations of response times", as one leader noted they read 250 emails a day.
The study, by CooperGibson research, found teachers working in both primaries and secondaries spent about two hours a day on admin outside of class. This equates to 380 hours across a school year.
'Make support staff role attractive'
The research firm recommended "a curriculum support officer could undertake many tasks" – like photocopying, printing and organising trips – to ease the pressure on teachers.
"Many participants [in our study] reported that roles such as a curriculum support or reprographics officer had been lost.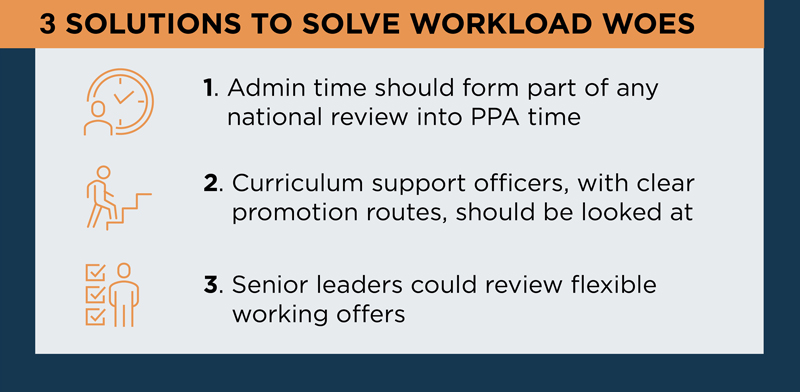 "Apart from funding, an important consideration would be to make this role an attractive one professionally with, for example, a clear career structure. Admin roles in higher education provide clear career progression pathways to very senior roles."
CooperGibson said the officers could be "like a laboratory or DT technician replicated in other subject areas".
Admin tasks deemed "necessary but time consuming" included the reporting of safeguarding concerns. Teachers said the need for the job to be completed on the same day could "be challenging if they have, for example, duties, meetings or extra-curricular events to run".
Leaders spend hours dealing with emails
They also noted there "was still the need for extensive curriculum planning documentation, and some uncertainty about what is required of schools" during Ofsted inspections.
Periods used to complete performance management records were said to "not merit the time spent on them", as staff reported having "two and three meetings and a lesson observation" – which have to be catalogued – across the year.
"As well as the stress of being observed, reported by some of the participants, the contribution of the process to, for example, improving practice or maintaining professional standards were queried."
Senior leaders also stated that admin often included having to read and send scores of emails. One single-academy trust boss revealed "it can take two hours to clear" the 250 messages they receive a day.
Some of those who took part in the 34-school survey also observed "an increase in emails from parents and carers, often with an unrealistic expectation of response times since the pandemic".
Support staff and more prep time needed
The report also said there had been an "increase in tasks associated with the rise in the number of pupils identified with SEND".
"Since the pandemic, interviewees noted there had been a sharp growth in referrals for pupils experiencing poor emotional wellbeing and/or mental health. This in turn, meant an increase, in round-robin requests and meetings with parents and pupils, for example, which require recording."
But those surveyed by CooperGibson struggled "to identify any unnecessary tasks". Teachers felt most of the jobs "either fully, or in some part, needed teacher involvement".
Tasks considered unnecessary for teachers to keep doing included photocopying, printing and classroom displays.
In addition to recruiting more curriculum support officers, CooperGibson recommended that "the time required for admin jobs should form part of any review of planning, preparation and assessment (PPA) time at a national level".
Teachers work '7 unnecessary hours a week'
It also said "senior leaders might seek to review flexible working practices in schools, such as grouping PPA time to allow teachers to work from home on one occasion during the week".
"Although this would not directly address the specific time sensitive challenges of many of the administrative tasks described in this report, it might contribute to reducing the overall effect of the workload burden."
This comes after a government report leaked in March laid bare the school workload crisis, with a quarter of teachers considering leaving within a year.
The survey of 11,000 teachers found two-thirds said they spent more than half of their working time on tasks other than teaching, rising to 77 per cent of secondary teachers.
Meanwhile, another government-commissioned study released on Thursday stated leaders and teachers estimated that, on average, they worked more than seven "unnecessary hours" a week. This was down from 8.75 hours five years ago.
Despite this, "persistent problems with workload" often related to "Ofsted inspections, teachers being required to play multiple roles and waiting times for health and social care referrals" were reported.