Please click here to give the gift of outdoor play to a child in primary school this Christmas.
This Christmas, the charity Learning through Landscapes is asking for your help.
Learning through Landscapes has launched a fundraising campaign in partnership with Outdoor Classroom Day, and supported by Muddy Puddles,  that aims to give children in primary school equal access to enriching play experiences by raising money to provide schools in areas of deprivation with high-quality outdoor clothing. With over 4.2 million children living in poverty in the UK, that's 9 children in a class of 30, and with stretched school budgets it is no surprise that many teachers report that they have to keep children indoors if the weather isn't perfect due to lack of warm and dry clothing.
Weather in the UK is inconsistent and increasingly hard to predict. We all know that perfect weather comes around rarely in the UK, with days of cold, grey, wet weather more likely than beautiful sunshine.
Carley Sefton, CEO of Learning through Landscapes comments that:
"The only consistent thing about the British weather is its inconsistency. We are luckier than many when it comes to our climate – it's pretty much safe to go outdoors all year round if we have the right clothing. But in our work with schools, we hear time and again that high quality wet weather clothing is out of reach for many parents."
When it comes to schools, Carley knows what she is talking about. Learning through Landscapes has designed and delivered ground-breaking school grounds projects since 1990. The outdoor learning and play charity encourage children to connect with nature, become more active and learn outdoors. Its transformation of school grounds and teacher training, alongside an unrivalled knowledge and expertise gained through practical action and research, has led to its reputation as the UK's leading school grounds educational charity.
Carley goes on to explain:
"At Learning through Landscapes, we passionately believe that access to outdoor learning and play for all children is not only essential to a child's development and wellbeing but is also a matter of social justice. More and more we see that the misconceptions about the benefits of outdoor learning and play in mainstream education has created a gap between disadvantaged pupils and their more advantaged counterparts. This fundraising campaign aims to close this gap."
The importance of providing rich play experiences for children is highlighted by Dr Helen Dodd, Professor in Child Psychology at Reading University:
"Play is crucially important for children of all ages. Play promotes healthy emotion regulation, social skill development, a sense of identity and it brings feelings of social joy. Without the opportunity to play closely with peers, children can feel lonely and socially isolated, which is linked to short- and long-term mental health problems." 
Working with researchers like Dr Helen Dodd, as well as educators across the UK, the charity knows that an important factor when considering the quality of outdoor play is a child's emotional and physical comfort stemming from a lack of access to high-quality warm and waterproof clothing.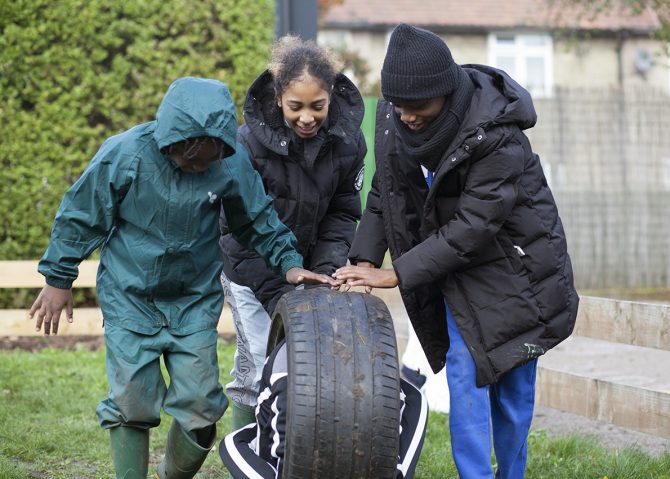 The importance of overcoming this obstacle has also been emphasised in a study of primary school aged children by researchers Brockman, Jago & Fox (2011) for the journal BMC public health, where one of the major barriers reported to affect children's participation in active play was the weather. The researchers found that rain in particular hindered children, with one child reporting, "When it's raining, you like can't go out you just have to stay in and, like wait for the rain to go off or, just do nothing." The researchers highlight the importance of implementing interventions to increase children's outdoor physical activity in response to the challenges brought about by adverse weather conditions. Through their own work, Learning through Landscapes has found strong parental support for children to be allowed to play and learn outside during bad weather, providing children have access to appropriate clothing.
The charity strongly advocates that schools should have access to the resources to provide high-quality outdoor clothing and encourage pupils to play outdoors whatever the weather.  They believe that this simple low-cost intervention will benefit children from disadvantaged backgrounds the most by ensuring that clothing poverty does not prevent outdoor play and enables equal access to the experiences that are fundamental to a child's development.
Charlotte Willoughby, Deputy Headteacher at Wood Street Infant School understands the importance of having wet weather clothing available for all staff and pupils:
"We're passionate about outdoor play and learning at our school and proudly make wet weather gear a part of our school uniform. We go outdoors in all weathers, embracing rain and jumping in puddles. We know just how important it is that children are able to get outdoors every day even in winter. I think it's crucial that we find a way to make sure all children can experience the benefits of being outdoors, whatever the weather."
Fundamentally poor weather is not, and should not be, a barrier to the benefits that a child can receive from getting outdoors. Time outdoors is critical to children's physical and mental health and when teachers take classes outdoors, they report some powerful impacts: children are naturally more active, their mood improves, and they are excited to learn. When adults think back to their own happiest memories of childhood, they frequently recall the joy of playing outdoors. Play is not only central to children's enjoyment of childhood, but teaches critical life skills such as problem-solving, creativity and resilience.
All of these benefits make outdoor learning and play an important tool to counteract the impact of COVID-19 restrictions currently in force across the UK.
The ongoing coronavirus crisis has had a major impact on children's mental health and wellbeing, with Natural England's People and Nature survey reporting that half (48%) of the children they interviewed saying that being worried about catching or spreading coronavirus had stopped them from spending more time outside. The survey demonstrates the positive role of nature in supporting children's wellbeing, with eight in ten (83%) children interviewed agreeing that being in nature made them very happy. Children who reported spending more time outside, and more time noticing nature, were more likely to report that "being in nature makes me very happy" (91% and 94% respectively, compared to 79% of those who had spent less time).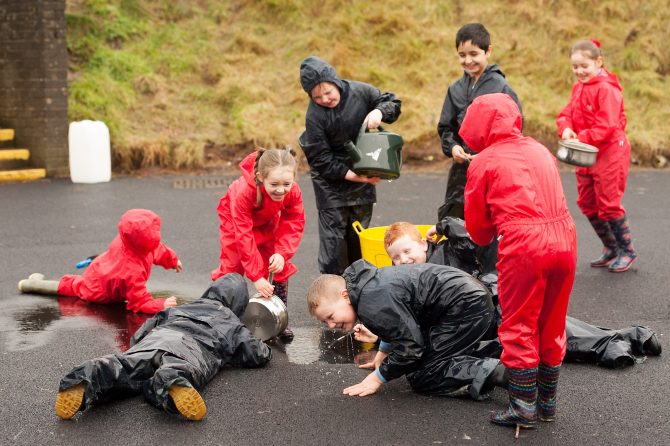 With the short days of winter and the pandemic restrictions continuing, the school day can often be the only time for children to get outside and experience the multitude of benefits that spending time outdoors brings.  But due to poor weather, many children are spending the majority of their school day indoors with major negative impacts on their physical and mental health.
Carley Sefton, CEO of Learning through Landscapes comments that:
"Every child has the right to play and should be able to enjoy playing outdoors whatever the weather. But with pandemic restrictions on movement, child poverty soaring across the UK and increasingly tight school budgets, we hear time and again that wet weather gear is out of reach for many children. Many children simply cannot get outdoors to play."
Learning through Landscapes runs the Outdoor Classroom Day movement in the UK and Ireland. Outdoor Classroom Day is a global movement, led by Semble, to inspire and celebrate outdoor play and learning, at home and at school. On Outdoor Classroom Day itself, which has two dates each year, teachers celebrate with a special day outdoors for their class.
To help more children get outdoors every day Learning through Landscapes launched a fundraising campaign on this year's Outdoor Classroom Day in November. The campaign will provide sets of waterproof coats, trousers and wellies to the schools who need them the most.
The charity has partnered with Muddy Puddles who is very generously offering a 50% discount on all clothing. Muddy Puddles is a brand with a conscience. Every piece they create is designed to last and be passed from sisters to brothers – so 1,000 outfits could be used for as many as 5,000 children over five years. Carley explains:
"When we launched this campaign, we knew how important it was to provide long-lasting and high-quality clothing to schools. Environmental sustainability is one of our core values and is one area we will not compromise on. We don't want the clothing to end up in landfill a year from now. We want it to be used as a key resource by schools year after year. We are passionate about working with Muddy Puddles because they are committed to developing eco-friendly collections made from recycled fabrics, with sustainability as a key focus of their growing business."
Learning through Landscapes is dedicated to ensuring that this clothing gets to the children and schools that need it most, applications will open in the new year and be limited to those schools that are in areas of high deprivation.
Carley Sefton concludes:
"We've launched this fundraising campaign to get sets of wet weather gear into primary schools across the UK and to start the wider conversation about how we make high quality clothing accessible to all children. I would encourage everyone to consider donating the cost of a pair of wellies or a waterproof coat to benefit primary school children in the UK for years to come."
Please click here to donate now.