Two schools are trialling a four-day teaching week to boost ailing recruitment and retention, with one head saying "yoga or free biscuits" just aren't enough anymore.
Court Moor School, a secondary in Hampshire, will launch a £300,000 two-year trial from September for all teachers to teach four days, but continue to receive full-time pay
St Philip Howard Catholic Primary in Hertfordshire launched a similar scheme earlier this week, allowing staff one day a week off timetable for planning, preparation and assessment (PPA) and subject leader tasks.
Paul Jenkins, head of Court Moor School, said it had tried everything from an extra paid day off a year to free yoga classes and health checks.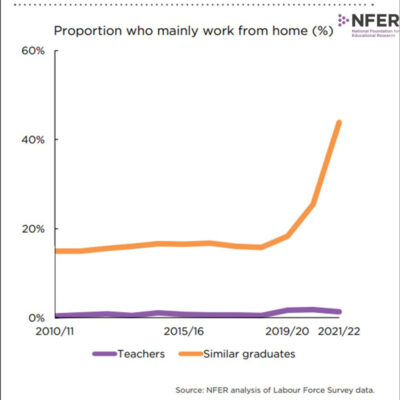 The schemes come as recruitment numbers plunge, with teachers left behind in the rise of flexible working since Covid (see graph).
An extra five teachers have been recruited, including a maths and a geography teacher attracted by the new flexibility.
The school will cut the number of classes per week for teachers from about 26 each to 20.
"But they don't address the fundamental issue. When you've got great staff, you need to make it somewhere they want to stay. It's not about yoga or free biscuits – it's about having less time in the classroom."
But the amount of work teachers already do outside school hours means staff will not get a full day off.
The government's recent survey found the average working week for teachers was 48.7 hours.
Jenkins said staff could use their non-teaching day for admin tasks or complete them on the other four evenings.
Extra teachers recruited for scheme
St Philip Howard has also employed an extra full-time and part-time teacher for its scheme, which will run until the end of the next academic year.
Staff must be in school on their "admin day", however. Mairéad Waugh, its head, said the scheme aimed to "build up flexibility… We're working towards [them being able to] drop the children off at school or get that elusive dentist or doctor's appointment."
The schemes will cost Court Moor about £150,000 and St Philip Howard £60,124 a year.
Jenkins said Court Moor had been "prudent" and had reduced capital spending. The extra £2.3 billion, announced in the autumn statement, had made the move a "possibility".
Waugh said St Philip Howard had raised additional funds through regularly renting out its building.
Suzanne Beckley, the National Education Union's policy specialist, said unfunded pay rises, record inflation and soaring energy costs would be "the main barrier" to such schemes in many schools.
Schools spend about £26.8 billion on teaching staff each year, so cover to allow all teachers in England to teach for four days a week would cost about £5.36 billion extra.
It would also put more pressure on recruitment as more staff would be needed.
"The question isn't really whether it's had an effect or not, it's whether it's financially sustainable," Jenkins said.
DfE wants improved flexible working
Improving flexible working in schools is a key part of the DfE's teacher recruitment and retention strategy, launched in 2019.
Earlier this year, it awarded outsourcing company Capita a £768,000 contract to run a national programme promoting flexibility across schools and multi-academy trusts.
The government's working lives survey shows that, as of last year, fewer than half of teachers had some kind of flexible working – with working part-time being the most popular.
Data from the Labour Force Survey shows that the pandemic did not substantively affect the prevalence of home-working for teachers.
But the proportion of similar graduates who reported mainly working from home increased rapidly from about 15 per cent in 2018-19 to 44 per cent in 2021-22.
Teach First has called for a funded 20 per cent reduction in teacher classroom timetables in schools serving the most disadvantaged areas in a bid to make them more "competitive employers".
Jack Kellam, a researcher at thinktank Autonomy – which has previously touted shortened weeks for schools – said it was important to have "more ambitious policies in place in education" or be left behind.
Teacher Tapp data shows that in January 2018, 42 per cent of teachers said they would choose the profession again if given the option.
When asked the same question this month, just 23 per cent said they would.
"Flexible working allows for a life and the more it becomes a standard in industry, the more Victorian education looks in comparison," Kellam said.
The DfE was contacted for comment.