Schools with the lowest Ofsted grades were more likely to be upgraded after inspections this term than pre-pandemic visits, new data from the watchdog suggests.
Ofsted chief inspector Amanda Spielman said the figures show "schools are improving and being recognised for doing so".
However around half of the previously 'outstanding' schools inspected this term – after routine visits for top-rated schools were reintroduced in September – have lost their status.
More than than one in 10 'outstanding' schools saw a drop of two grades or more.
Ofsted published analysis of inspection outcomes since their September return alongside the usual monthly update this morning.
The watchdog found 72 per cent of previously 'requires improvement' schools have been rated 'good' so far this term.
This is up from the 56 per cent of 'requires improvement' schools which were upgraded between September 2019 and March 2020, when inspections were suspended due to Covid.
For previously 'inadequate' schools there was a rise from 40 per cent being upgraded last year to 52 per cent so far this term.
Improvements are 'reassurance to parents and schools'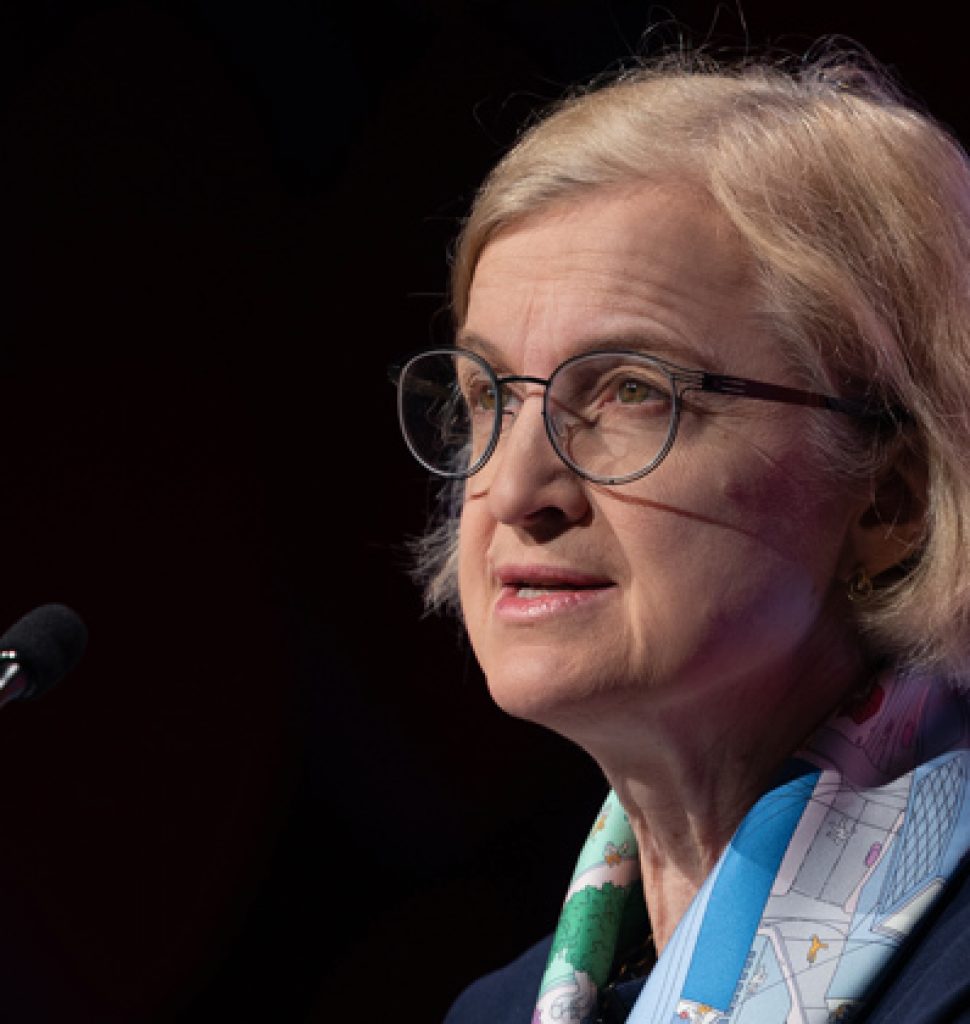 Ofsted's analysis shows that 83 per cent of the schools inspected this term were rated either 'outstanding' or good' – up from 77 per cent in 2019-20.
However this will be skewed by the return of routine inspections for 'outstanding' schools after a decade-long exemption.
Ofsted also said itself in the analysis that "no two years of inspection outcomes are ever completely alike, because the mix of schools inspected varies each year".
The new analysis was based on grades from 544 section 5 inspections this term – around a fifth of the 2,919 inspections included in the 2019-20 analysis.
But the watchdog said "grouping schools by their previous inspection grade makes the data more comparable" (see image below).
Spielman added she was "pleased to report that schools are improving and being recognised for doing so.
"In fact, inspection results this term are very much in line with what we saw before the pandemic began, if not slightly improved.
"That will be a reassurance to parents and to schools as well."
Ofsted did not provide further comment when asked if any other factors may have impacted the change in outcomes. For instance, Ofsted had run "lighter touch", non-graded inspections in the summer term which targeted schools with lower grades.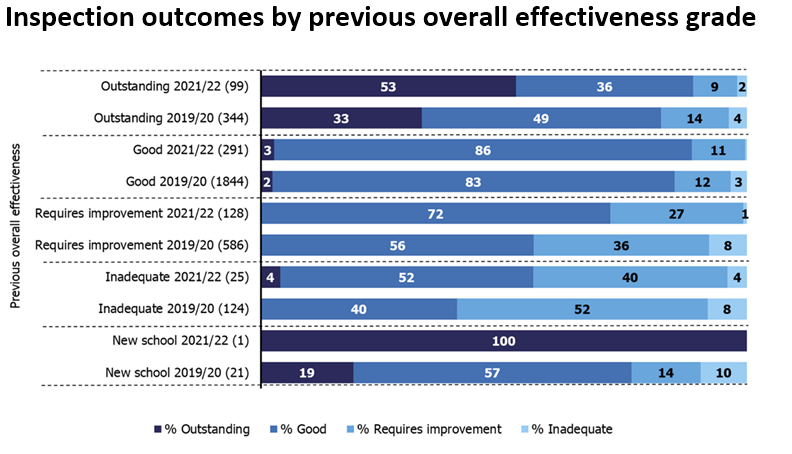 Unions welcomed the positive findings, but called on inspections to either remain suspended until later in the new year or for all deferral requests to be automatically accepted.
Geoff Barton, general secretary of the Association of Schools and College Leaders (ASCL), also added downgraded schools "may well feel very hard done by".
"Ofsted says that it takes into account the impact of Covid but as that impact varies to such a great extent this seems to us to be extremely difficult to do in a way that is fair."
Around half of 'outstanding' school lose status
Of the 99 previously 'outstanding' schools inspected this term, 53 per cent retained the top grade while 36 per cent dropped to 'good'.
Nine per cent were rated 'requires improvement' while two per cent (two schools) were rated 'inadequate'.
At the start of the year, around one in five schools in England were rated as 'outstanding'.
The latest data aligns with predictions made by Spielman that having just one in 10 schools rated 'outstanding' was "more realistic".
Overall, 87 per cent of all schools in England are now rated either 'good' or 'outstanding' – slightly higher than the 86 per cent recorded in August 2019, prior to the introduction of the new education inspection framework (EIF).
The proportion of 'requires improvement' schools has remained consistent at 10 per cent, while the number of 'inadequate' schools has dropped one percentage point to three.
Inspection survey backs up Spielman claims (but only 40% respond)
Spielman claimed last week "well over 90 per cent" of schools reported inspections this term would help improvement.
But Ofsted came under fire for 'cherry-picking' data after it refused to release the figures.
The watchdog has this morning released a summary of responses from its post-inspection surveys this term.
It found that 91 per cent of schools said they thought the inspection would help them improve. Of those surveyed, 88 per cent were also satisfied with the overall process of the inspection.
However, 12 per cent of schools did not believe inspection activities enabled inspectors to understand the quality of education or that the judgements made were based on evidence collected.
Previous post-inspection survey data also shows that schools given higher grades are far more likely to respond to the poll.
In 2019-20, just 54 per cent of inspected schools responded to the survey – with schools handed the top two grades twice as likely to respond.
Since September, 1,365 schools have been visited for either graded of ungraded inspections. As of last week, just 40 per cent (542) have so far responded to the survey. Ofsted say more are expected to take part before the end of term.