The rate of teachers leaving the state sector for reasons other than retirement grew to a record high last year, with nearly 40,000 departures.
New school workforce data, published today, shows that 39,930 teachers (8.8 per cent of the sector) left state schools in the 2021-22 academic year, up 7,800 on the previous year when 6.9 per cent left.
This is the highest since data for the recent records from the 2010-11 census began.
When you include those who retired or died, the overall number of leavers was 43,997 – meaning 9.7 per cent of the teaching workforce left last year.
However the number of retirees fell to 3,929 (0.9 per cent) last year, down from 5,237 (1.2 per cent) in 2021-22 and a high of 14,387 (3.4 per cent) in 2010-11.
It means the overall leaver rate for this year is the highest since 2017-18.
Jack Worth, school workforce lead at the National Foundation for Educational Research (NFER), described the figures as "hugely concerning".
"The overall picture is that teacher leaving rates rose in 2022 to just above the pre-pandemic level amid a competitive wider labour market," he added.
"Addressing teacher retention should be at the heart of dealing with the teacher supply challenge, with further policy action needed to reduce teacher workload and increase the competitiveness of teacher pay."
Heads quit at highest ever rate
A total of 2,341 heads left the state sector last year through either retirement or quitting (10.6 per cent) – the highest rate since 2016-17, which was also 10.6 per cent.
But of these, 1,694 left for reasons other than retirement (7.7 per cent) – up from 1,151 (5.2 per cent) the year before and the highest on record.
This year was only the third time since 2010 more than 1,000 heads have quit for reasons other than retirement.
More than double the number of heads quit last year compared to 2015-16.
Geoff Barton, general secretary of leaders' union ASCL, said: "We cannot go on like this. Leaders, teachers, children and parents all deserve better from the government than complacency and neglect."
DfE celebrates record number of teachers
The data shows a record high number of teachers in England's schools- 468,371 – in 2022-23, an increase of 2,800 compared to last year.
This is also over 27,000 more teachers than in 2010, a rise of 6 per cent. However there has been an 11 per cent rise in pupil numbers during this time.
The government has actually missed its secondary teacher recruitment targets for nine of the past ten years.
New research published yesterday showed leaders describing a "weak or absent field" of candidates at interviews and of teachers reporting temporary or unqualified cover in classrooms.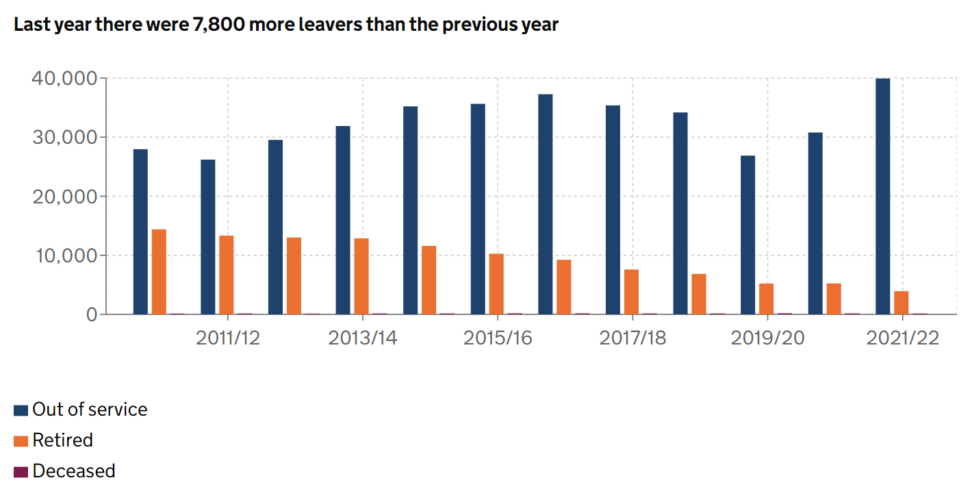 Today's figures also present a worsening picture on retention.
Among newly-qualified teachers, 12.8 per cent are now leaving a year after qualifying, compared to 12.5 per cent the year before.
The percentage leaving after two years grew from 17.3 to 19.9 per cent.
Vacancies for both full and part-time roles doubled in the two years to November 2022, the DfE data shows.
The rate also increased, from two in 1,000 teachers to five in 1,000, meaning that the number of empty roles was only partially offset by an increase in the overall school workforce.
The number of supply teachers in post also rose, from 1,800 in November 2020 to 3,000 in November 2022.
This is a rate of eight posts per 1,000, compared with five posts per 1,000 two years before.
Education secretary Gillian Keegan said: "In today's competitive job market, it is fantastic to see so many people choosing a rewarding teaching career, with a record number of teachers now working in our schools.
"We know there is more to do, which is why we have generous bursaries to attract new trainees to teach priority subjects and focusing on supporting new teachers from the very start of their journey with free, high-quality, ongoing professional development."