The education secretary has raised the prospect of paying teachers in shortage subjects more during crunch talks over pay and strikes, a union leader has said.
National Education Union joint general secretary Dr Mary Bousted told Schools Week that Keegan "said that she'd be keen to discuss pay differentials by subject" in today's meeting.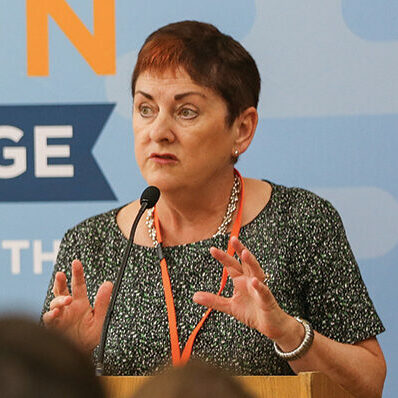 But Bousted warned paying staff differently depending on their subject would "make the situation even worse", as she called for "serious negotiations" to avoid strikes.
The NEU has announced seven days of strike action by teachers across England in February and March, after winning a ballot over pay.
But union leaders reported once again that no progress was made during today's talks, the same outcome as during a meeting last Monday.
Bousted said Keegan wanted to discuss workload and teacher recruitment and retention, and "she came up with the idea of pay differentials for different subjects".
"I countered with, well, you've nearly missed all your subject specialists targets in secondary. And if your answer is pay differentials, then we're in an even worse hole than we were in before."
'We want serious negotiations'
She said she did not receive "clear answers" to questions about larger pay rises and more funding for this year, or what the government's recommendation to the pay review body for next year would be.
"The secretary of state said she couldn't wave a magic wand. I don't want her to wave a magic wand. I want her to get into serious negotiations," Bousted said.
On pay differentials by subject, Bousted pointed to government data showing recruitment targets were only met in four secondary subjects for this year.
"Frankly, paying physics teachers a bit more is not going to solve the recruitment crisis for physics, because those graduates can go earn double, triple what they would get as teachers.
"All that teachers will hear is that I'm doing all this work, holding up society, because all the support services around me have gone. And I'm now being told that somebody else with a different subject will get more than me, that's a terrible narrative for where the profession is now."
Study supports shortage subject pay hikes
But a 2017 study by Dr Sam Sims, from UCL's centre for education policy and equalising opportunities, found a five per cent salary supplement for shortage subjects could resolve shortfalls.
He applied findings from US studies, which employed such pay top-ups, to the English teacher market from 2010 to 2015.
Giving science and maths teachers five per cent pay hikes in the first five years of their career would have eliminated shortages in both subjects, the study suggested, with 423 more science and 372 more maths teachers in the profession.
Sir John Holman, an adviser to the Gatsby Foundation which published the study, said the policy also did so "at a lower cost to government than increasing the recruitment of new teachers, assuming that was even possible".
The scheme would have cost just £37 million per year if fully rolled out.
'No progress' on pay, says ASCL boss
With no agreement reached in today's crunch talks, strikes by NEU members are still due to go ahead.
The NASUWT and NAHT unions, which did not meet the legal turnout thresholds for strike action in recent votes, have also said they may re-ballot members. School leaders' union ASCL is also contemplating its own formal ballot.
NAHT general secretary Paul Whiteman told Schools Week "no tangible progress has been made, but I'm pleased to say that talks will continue". Union leaders will meet with DfE officials on Friday.
Geoff Barton, ASCL's general secretary, also confirmed "no progress was made at this meeting and we are no nearer a solution".
He said the "inadequacy" of this year's pay award, anticipated constraints on next year's deal, and the "unsustainable" workload of teachers and leaders remained unresolved.
"Nobody wants to see industrial action, but it is not surprising that members of the NEU have voted in favour of strike action in these circumstances.
"Teacher shortages are a critical issue for virtually every school and college in the country and are causing educational damage on a daily basis. The government must do better for teachers, leaders and pupils."
A DfE spokesperson said talks had been "constructive" and seen Keegan listen to union leaders' concerns "around a broad range of issues".
"She reiterated that strike action would be highly damaging to children's education, particularly following the disruption experienced over the past two years."
They added that discussions would continue this week.