Disadvantaged primary school pupils are seven months behind their peers, according to the initial findings of a new study which warns the learning gap due to Covid is "wider than earlier estimates".
Year 2 pupils overall are also two months behind in reading and maths compared with previous cohorts, an Education Endowment Foundation report has revealed, in one of the first comprehensive studies into the Covid learning loss.
There is  a "large and concerning attainment gap" of seven months between disadvantaged and non-disadvantaged pupils in reading and maths, said the report – although it urged "caution" over the findings.
The calculated seven-month learning gap for disadvantaged pupils must be treated carefully due to the unreliability of conversion methods and the "inherent uncertainty" in reading and maths ages, it warned.
But the study's authors admitted the disadvantage gap is "wider than earlier estimates", and "will likely be further exacerbated" because of school closures in 2021.
Overall, the performance of six- and seven-year-olds in the autumn 2020 term was two months behind the 2017 cohort from the same period, according to the analysis of 5,900 pupils in 168 primary schools.
Maths learning gap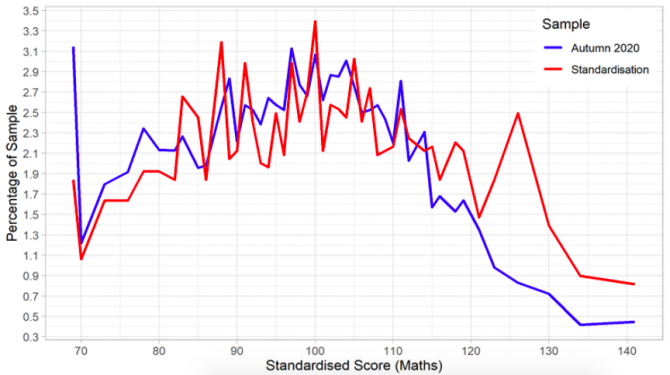 Reading learning gap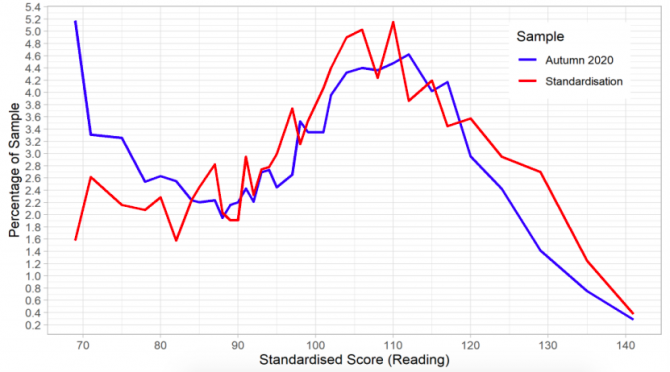 The report, based on data collected by the National Foundation for Educational Research relating to the first lockdown, follows the government awarding a contract to help measure the full extent of lockdown learning losses in September.
An analysis in July showed the attainment gap between primary pupils had widened by 52 per cent. That study suggests younger pupils have been the worst hit by school closures.
Meanwhile another study from October said new year 7 pupils were 22 months behind where they should be.
However, while year 7 pupils are targeted in the government's laptop roll-out scheme, year 1 and year 2 pupils have not been allocated any devices, with schools only able place orders for disadvantaged pupils from years 3 to 11.
At the same time, government guidance states schools should provide key stage 1 pupils with a minimum of three hours of remote education every day, including live or recorded lessons.
The EEF study also unearthed the concerning finding that "a very large number of pupils were unable to engage effectively with the tests".
In maths, this meant that a higher than expected proportion of pupils (3.1 per cent, or 187 pupils) scored fewer than five marks on the test.
And in reading, it meant that a higher than expected proportion of pupils (5.2 per cent, or 307 pupils) scored fewer than two marks.
Professor Becky Francis, chief executive of the Education Endowment Foundation, said the new research "offers compelling evidence of what we have feared since schools were closed […] that there will be a large negative impact on learning, with disadvantaged pupils suffering the most.
"Despite the inspiring and tireless work of schools across the country, this will only be compounded by the current partial school closures."
Sir Peter Lampl, chairman of the Education Endowment Foundation, added: "The repercussions of these months of lost learning are devastating and will be felt for a lifetime, especially by those from low-income backgrounds."
Meanwhile Geoff Barton, general secretary of the Association of School and College Leaders, said in response to the report that the union "would urge the government to ensure that all extra funding goes directly to schools and colleges rather than money being channelled through the convoluted mechanism of a subsidised tutoring scheme".