Ofsted should have inspected a special school where severely disabled children were left to go hungry three months earlier than it did, a damning safeguarding investigation has suggested.
Health staff sounded the alarm 20 times about concerning practice at Harlow Academy, including inappropriate use of restraint and failure to provide mobility equipment, Nottinghamshire's safeguarding review revealed.
But Ofsted did not inspect the school until three months later. The review also criticised the response of other authorities who were "waiting" for the inspectorate to act, meaning multiple opportunities to intervene were missed.
The review also found the academy commissioning process to appoint the Evolve Trust to run the school was "flawed".
A Schools Week investigation revealed parents first blowed the whistle about safeguarding failures at the school in September 2021.
Unpublished documents we obtained revealed that, when inspectors eventually visited in January 2022, they found "disturbing" neglect with children left to go hungry and contained in classrooms.
The school, attended by some of the most vulnerable pupils in England, also had chronic understaffing – despite the Evolve Trust sitting on reserves of £6 million.
After our investigation and the safeguarding review, government is now revising how it matches special schools with academy sponsors. Meanwhile Ofsted is reviewing how it and other agencies identify concerns about pupil's safety in schools.
'Sufficient information for October inspection'
An independent review by Colin Green, commissioned by Nottinghamshire Safeguarding Children Partnership, said the evidence presented a "shocking picture of decline of the quality of care" at Harlow.
While there was no legal duty for the NSCP to undertake a review, they felt it was "the right thing to do".
His review found there was "sufficient information" for Ofsted to undertake a no notice inspection in early October 2021 and it is "unclear why they waited".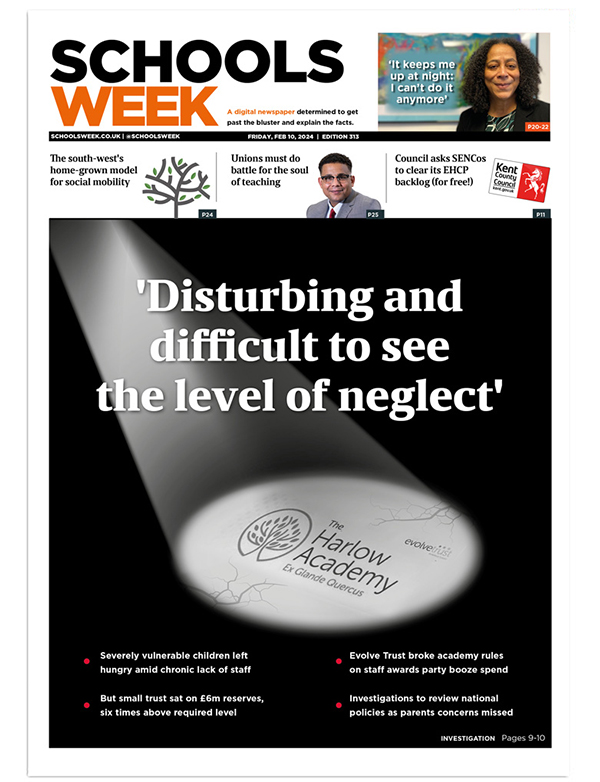 During autumn, Nottinghamshire Healthcare Foundation Trust (NHFT) staff reported 20 incidents of concern including inappropriate use of restraint and failure to provide mobility equipment during autumn 2021.
But discussions between Nottinghamshire Council, Ofsted and the regional schools commissioner (RSC) on a no-notice inspection "did not lead to any action" in September 2021.
Agencies were 'waiting for Ofsted'
During October, there were more incidents but there was "no response" from Ofsted "other than to acknowledge the concerns" and "say they were dealing with them".
Healthcare staff even reported incidents in November to the NSPCC – which was "not an appropriate action" but showed how "increasingly distressed" they were getting.
The health team left the school in late autumn in a "significant" move showing "the complete breakdown of relationships" with the school.
The council's decision to undertake a safeguarding review of the school "influenced" Ofsted's move to not inspect, the report states.
But the council review was abandoned when they realised the review focused on policy and not practice at the school.
There was "a sense that other agencies were waiting for Ofsted to inspect and did not initiate their own programme of action to address the multiple areas of concern about the care of children", the review states.
It added that "very few of those working in the system fully understood how systems of accountability worked and who was ultimately responsible for what".
The NSCP has suggested Ofsted should look at whether they need to overhaul how they respond to concerns about a school outside of the normal inspection cycle.
Ofsted is now "looking carefully" at the way they "in conjunction with other agencies, identify concerns around children's safety and care in schools".
A spokesperson added: "Our inspections are one way of highlighting problems where it is for other agencies with statutory responsibilities for safeguarding to take action. And this review highlights the importance of those agencies acting quickly when concerns are raised."
'Flawed' academy matching process
The "process and decision" to select Evolve Trust as Harlow's sponsor "was flawed", the review found.
Most of the discussions were around "financial and property matters" and there was a "possibly arrogant view" Evolve "had the skills and capacity to provide a high standard of care and education" at Harlow.
The report found that neither the ESFA nor the regional schools commissioner had "a clear mechanism to gather disparate intelligence" about care and education at Harlow.
An academy handbook given to parents in 2021 said medical appointments would be treated as unauthorised absences, which the review deemed as "inappropriate for the children it serves".
A number of parents said they were "lied to" by senior members of the Harlow Academy management, the review adds.
"The response to the carers whose child was restrained by their coat being attached to their chair was that nothing of concern had happened."
Parents rallied together in November to push for change, but they "had to be secretive" as they felt trust leaders did not want them to meet each other.
Critical comments about the school were met with suggestions of moving their child to another school or home education, which "felt almost like a threat", the report states.
Ministers 'recognise process needs to strengthened'
The school was temporarily closed when Ofsted inspected in January last year, before Greenwood Academy Trust and Nexus Multi Academy Trust were sent in to improve the school.
DfE told the review they "recognised they need to strengthen their process" for matching special schools to sponsors. This includes "seeking views from SEND advisers in the case of special schools".
The department's own review found an external safeguarding review may be needed for schools converting to academies after being rated inadequate due to safeguarding issues.
A spokesperson said its new commissioning high quality trust guidance sets out how they take decisions about academy trusts.
It is also introducing a revised data sharing agreement with Ofsted to support better safeguarding and complaint information sharing.
The council said they will "work closely" with other agencies to implement relevant recommendations, such as how intelligence could be "routinely gathered and analysed".