Headteachers in "Delta" Covid variant hotspots are "praying" the virus does not rip through their schools again in the coming weeks, with one having to send seven in ten pupils home last half term.
Mask rules remain in place in many north-west schools, while some have resumed in-school testing and have hosted temporary vaccine centres.
Analysis of government attendance data shows Covid-related absences increased by as much as 6,200 per cent in some areas over the course of last half-term.
In Bolton, 31.5 per cent of secondary pupils and 21.3 per cent of primary pupils were absent because of the virus on May 27. This is up from just 0.5 per cent and 1.6 per cent respectively on April 22.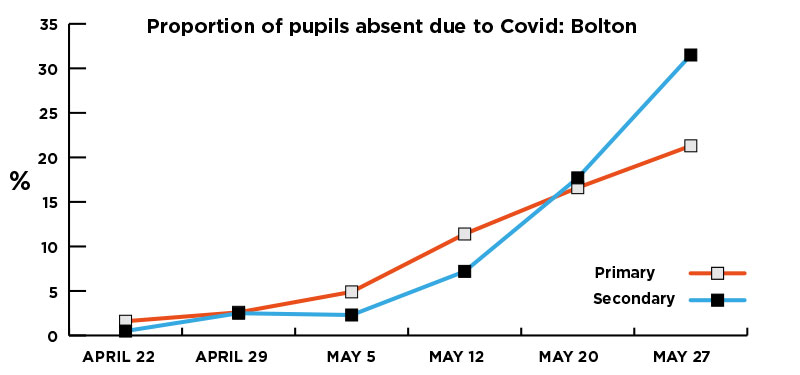 But headline figures mask even higher absence rates in some individual schools. In the penultimate week of last term, Essa Academy in Bolton had more than 700 of its 1,036 students self-isolating.
Headteacher Martin Knowles said the school started detecting "a significant amount of cases" after bringing lateral flow testing back on site, "and then of course the variant of concern emerged in Bolton".
The school also volunteered to host a mobile vaccine centre on its site. Knowles said it delivered 14,500 shots, including to families of pupils.
In Blackburn, secondary absence rates rose from 0.8 to 13 per cent, while primary absences increased from 0.7 to 15.1 per cent.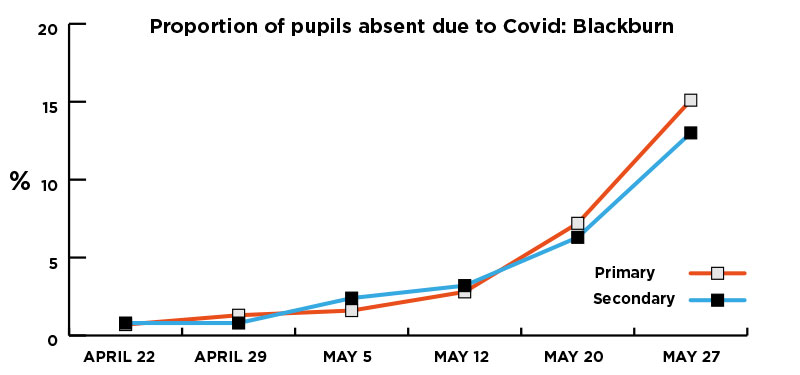 Haslingden High School in neighbouring Rossendale, Lancashire, was forced to close four days early for half-term after case numbers rocketed.
Head Mark Jackson said the school had seen "nothing for a couple of months really, and then it just went 'bang'."
By the morning of the last Monday of term, the school had over 60 cases, and the test and trace operation became "unmanageable".
"Last term it spread pretty quickly, and we're just praying it won't again."
Westhoughton High School in Bolton is part of a government testing trial. Under the scheme, close contacts of positive cases don't self-isolate if they agree to daily tests.
Principal Patrick Ottley-O'Connor said it meant the school avoided sending hundreds of pupils home in the last week of term.
"Five bubbles had burst. That would've been massive. That would've been 500 children. But we had about 120 sent home, because the rest could do testing in school."
All three schools still have mask rules in place, following advice from local public health officials.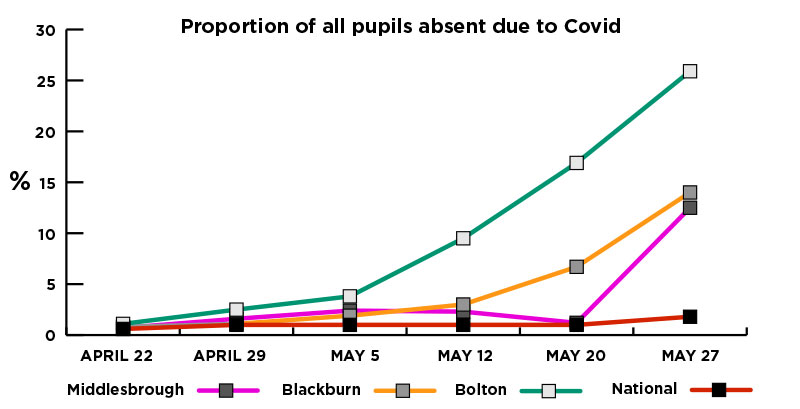 Unions are now demanding the reintroduction of mask rules in all secondary schools.
They also called for the rollout of vaccinations for older pupils once these are approved for use in teenagers. Ministers have said they are waiting for approval from the Joint Committee on Vaccination and Immunisation before proceeding.
According to the Office for National Statistics data, secondary-age pupils currently have the highest rates of Covid infection.
Public Health England data shows Covid outbreaks in schools have reached their highest level since December last month. There was also a rise in the number of outbreaks relating to the Delta variant.
But health secretary Matt Hancock insisted the vaccination programme was "breaking the link between infections, hospitalisations and deaths".