The government wants all primary schools to provide "wraparound childcare" to pupils between the hours of 8am and 6pm from 2026.
But only £289 million of "start-up" funding has been allocated, with no detail on how provision will be funded in the long term.
Chancellor Jeremy Hunt announced the new "ambition" in his budget today, warning parents of school-age children "often face barriers to working because of the limited availability of wraparound care".
However, it is not clear if this would be compulsory for schools.
Hunt said government would fund schools and local authorities "to increase the supply" of wraparound care so parents can leave their children at school between the hours 8am and 6pm.
The "ambition" is that all primary schools will start to offer "a full wraparound offer", either on their own or in partnership with other schools, by September 2026.
Most primaries already offer wraparound care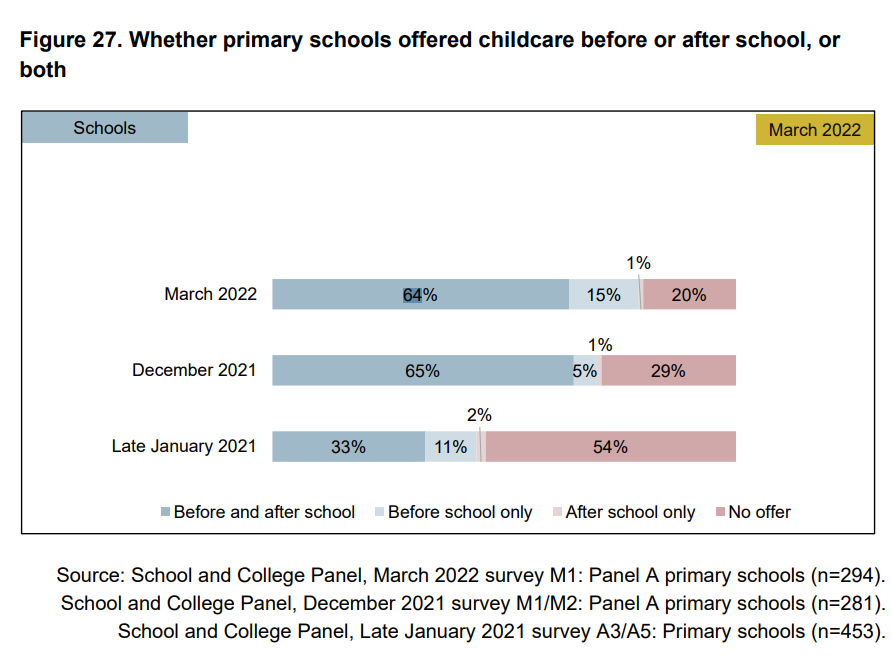 £289 million in "start-up funding" will be allocated over the next three financial years for schools and councils to "test options to increase the availability of wraparound childcare in the longer term".
This works out as just over £17,000 per state primary school in England.
Budget documents add that national roll out will happen over academic years 2024-25 and 2025-26.
However, there is no mention in the documents of longer-term funding for schools to provide this childcare offer.
A March 2022 survey of nearly 300 primary schools found that 64 per cent offered childcare before and after school.
A further 15 per cent offered it only before school, one per cent after school with 20 per cent saying they had no offer.
The government said it would also set up a "national pathfinder scheme for wraparound childcare in England".
This will aim to "stimulate supply in the wraparound market and support the ambition that all children should be able to access 8am to 6pm childcare provision in their local area".
'£11bn for defence, nothing to resolve strikes'
The government has also been criticised for its failure to provide more funding for schools, beyond the childcare pledge.
Geoff Barton, general secretary of the ASCL school leaders' union, said: "Today we heard the chancellor announce £11 billion for defence and not a penny to address the teacher recruitment and retention crisis affecting our schools and colleges, or resolve the associated industrial action that is taking place as the chancellor was speaking.
"The government appears to be inhabiting a parallel universe in which it seems utterly complacent about the pressure on schools, colleges and many other public services."
He said he welcomed the "additional investment in childcare" and would "look closely at the detail".
Emma Knights, chief executive of the National Governance Association, said she was "extremely disappointed the chancellor has failed today to invest further in England's schools".
"While investment in childcare is long overdue and very welcome, it does not tackle the pressures on schools, being felt by their leaders and their governing boards."
No extra energy bills help for schools
Ministers have also been criticised for failing to include new measures to help schools with energy bills after current help runs out next month, despite extending support for households for three months.
Leora Cruddas, chief executive of the Confederation of School Trusts, said schools "continue to face rapidly rising costs".
"The chancellor has today extended support for energy costs at home but in two weeks will cut support for school's energy bills, making it even harder for school trusts to balance the books.
"This is a missed opportunity to support public sector services to manage energy-related cost pressures."
But she added she was "pleased to note the announcement about wraparound childcare, which may have a positive impact on the education workforce".