The proportion of top A-level grades handed out this year has increased to more than 44 per cent following the cancellation of exams and switch to teacher assessed grades.
The record-breaking results saw 37 per cent of all A-level students in England get three As or better – more than double the 17.9 per cent in 2019, the last year exams were held.
And 6.9 per cent of students, more than 12,000, got three A*s, up from 4.3 per cent last year and 1.9 per cent in 2019.
Meanwhile the gender gap has widened, with girls pulling ahead of boys.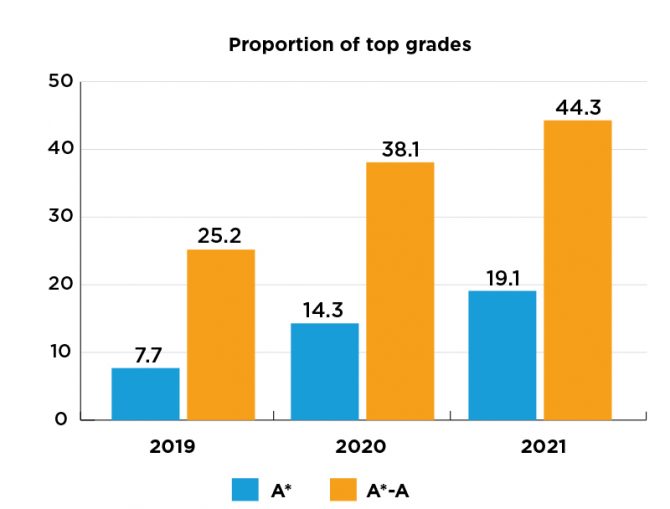 Private schools again saw larger rises in top grades.
Formal exams were cancelled this year for the second year running following the decision to close schools again in January because of Covid.
This year, grades were set by teachers and then quality-assured by exam boards via an evidence-checking process. However fewer than one per cent of grades were amended.
Ofqual: teachers gave students 'benefit of doubt'
Data released this morning by Ofqual and the Joint Council for Qualifications shows 44.3 per cent of grades awarded in England were an A or above, compared with 38.1 per cent in 2020 and 25.2 per cent in 2019.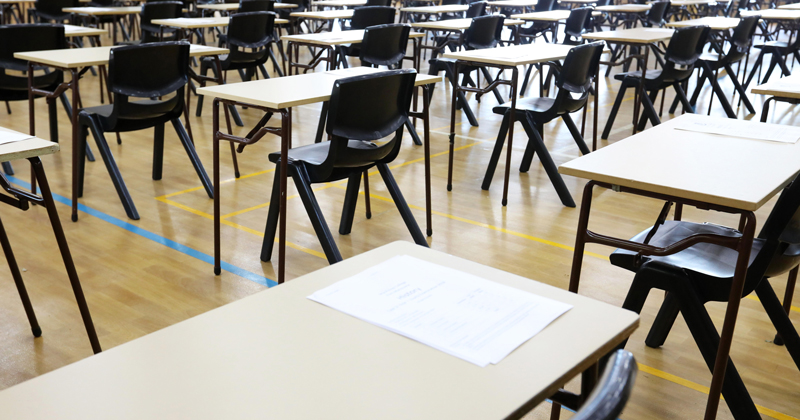 Tom Richmond, a former government adviser and director of the EDSK think tank, said the rise in top grades could "undermine the credibility" of A-levels.
"Even if awarding such high grades feels fair to some students, it may harm their long-term prospects when they apply for jobs in future," Richmond added.
"There is now a serious risk that this year's grades are simply meaningless in the eyes of employers and universities."
Ofqual said teachers "may have given students some benefit of the doubt across the multiple opportunities many students had to show what they had learned – quite different from end of course exams".
As well as a boost to the highest grades, results were also higher at grade B and above (69.8 per cent in 2021, up from 65.4 in 2020 and 51.1 per cent in 2019), whereas Ofqual said results were "relatively stable" at lower grades.
But Geoff Barton, general secretary of the ASCL school leaders' union, said it was "invidious to make direct comparisons with other years and vital that we celebrate the achievements of this year's cohort who have had to endure so much over the past 18 months".
Girls pull ahead in gender gap
However the rise in results has not been equal. While boys used to outperform girls in terms of top grades, that position reversed between 2019 and 2021, with girls now receiving higher grades on average. The gap between the genders also got wider this year. The average change was a fifth of a grade, the regulator said.
Ofqual said it found "general stability" in the differences in outcomes for students with different protected characteristics, and increases in outcomes for "many groups". Again, the regulator said this suggested the changes to assessment had "lessened the unevenness in outcomes we may otherwise have seen".
But while Ofqual's model suggested that students with special educational needs and disabilities received slightly higher grades than non-SEND students in 2019, this reversed in 2021, with a change of a tenth of a grade.
Variation between schools 'lower' than 2019
Ofqual said variation in outcomes between schools this year was "generally lower" than it was in 2019 and "only slightly greater" than in 2020.
This suggests that teacher grades "lessened the impact of the pandemic on centres' results – otherwise we would expect to see much greater variability in centres' results this year", Ofqual said.
Meanwhile, the Universities and Colleges Admissions Service has reported a record 395,770 students had confirmed places on their first-choice of undergraduate course as of this morning, up 8 per cent on 2020.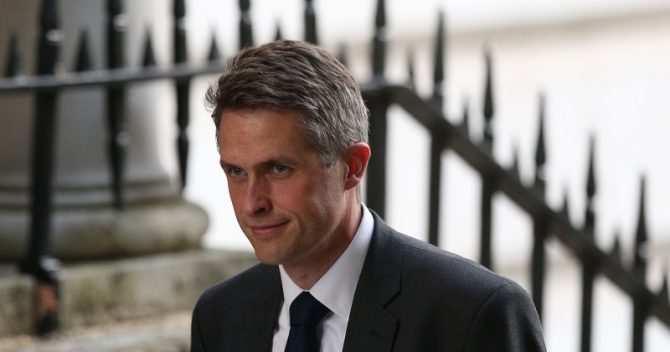 Education secretary Gavin Williamson (pictured) said every student "should feel incredibly proud of their achievements. We should all celebrate their resilience and ability to overcome adversity.
"Teachers and staff have ensured that, despite the disruption caused by the pandemic, all students are able to get grades this year and so can take their next steps and make their choices about further study or entering the workplace," he added.
Read the rest of our A-level coverage
Top grades rise to 44% in record-breaking year
6 key trends in England's data
What's behind the north-south divide?
Less than 1% of teacher grades changed
Private schools see bigger jump in top grades
Attainment gap widens for black and poorer pupils
The 4 things to watch out for this week