This year's record-breaking A-level results has seen the proportion of top grades issued to pupils increase to more than 44 per cent.
However, the rise in top grades has not been uniform across all subjects – with some subjects seeing triple the proportion of extra pupils earning top marks.
Overall the proportion of A* and A grades rose to 44.3 per cent this year. This represents a 6.2 percentage point increase from last year when 38.1 per cent of grades were A or above.
It also marks a huge 19.1 percentage point increase from 25.2 per cent in  2019 – the last year of normal exams prior to the Covid-19 pandemic.
Music saw the biggest increase of A* and A grades with a 13.1 percentage point rise as the proportion of top grades leapt from 41.4 per cent to 54.5 per cent.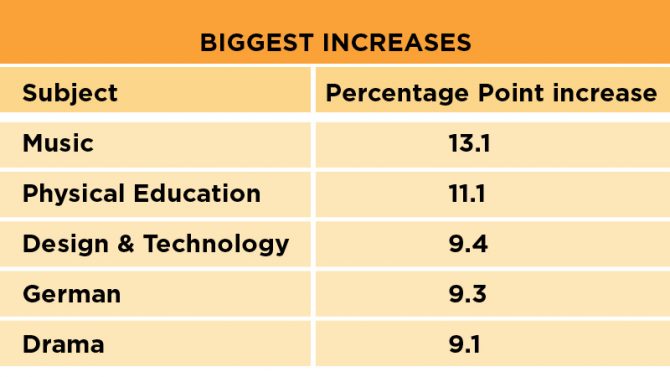 Physical Education followed with a percentage point increase of 11.1, while Design and Technology, German and Drama all saw a boost of more than 9.
At the other end of the spectrum, further mathematics saw a jump of just 4 percentage points as the proportion of top grades rose from 71.1 per cent to 75.1.
However at 75.1 per cent, further mathematics actually had the highest proportion of A* and A grades. It was followed by German at 67.6 per cent and Spanish at 63.3 per cent.
In contrast English language had the smallest proportion of top grades at just 27.5 per cent.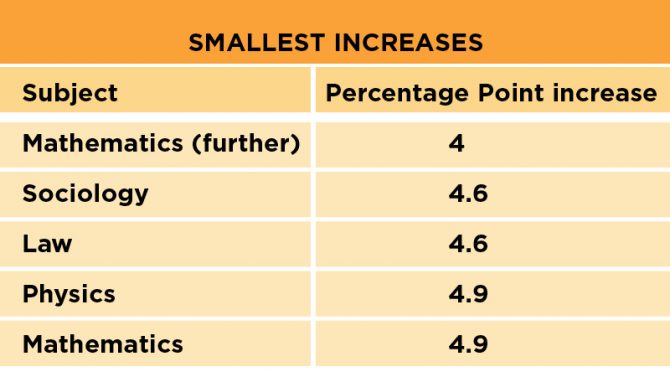 Analysis of most popular A-level subjects
To see how your pupils have done in their A-levels compared to others nationwide, we have compiled the data on subject results.
You can find links to the full data on individual subjects below: