Students wanting to appeal their grades this summer will face a different process than usual, with warnings any reviews will have a "very high" threshold to meet for results to be overturned.
There will also be an autumn exam series for students who want to sit a formal test in their subject, if they are not happy with their teacher assessed grades.
Here's everything you need to know…
What's the 2021 appeals process?
Stage 1: centre review
Students should first ask their school for a "centre review". This is only for procedural or administrative errors, such as inputting the wrong grade.
This allows schools to correct any errors they find. This process must be completed before a student can move escalate their appeal.
Stage 2: exam board appeal
The Joint Council for Qualifications – a membership organisation for exam boards – says students should only lodge an exam board appeal if they "remain concerned with your grade" after stage one.
Students can ask their school to submit an appeal to an exam board on their behalf.
Grounds for the appeal include that a school's grading decision was an "unreasonable exercise of academic judgement", or that the selection of work they used was unreasonable.
Other grounds include asking the exam board to check whether the school made a procedural error and whether the exam board itself made an administrative error.
Stage 3: Ofqual review
The final stage allows students to appeal to the exams regulator Ofqual on the grounds that the exam board has made a procedural error.
But Ofqual has already warned its reviews won't look again at a students' work, and it cannot change a students' grade. You can read more on this here.
What happens if my appeal impacts a university place?
If a student misses their first choices from a university, they can request a "priority appeal".
Is it recommended that requests for centre review are made by August 16 for priority appeals and September 3 in all other cases.
Schools and colleges need to submit priority appeals to the exam board by August 23. A school or college could also have their own deadlines (so they can make sure they meet the exam board timescales), so students should check this.
Students need to tell the university or college as soon as possible, so the institutions can decide how to handle the offer.
For many universities, the conditions of the offer must be met by September 8 – but students should check with their individual institution as dates can differ.
The non-priority appeals deadline is September 17.
Do I have to pay for an appeal?
No, this year the Department for Education will cover the cost of appeals to exam boards for state school pupils and private candidates.
Could my grade go down?
Yes, like a normal exam year, a students' grade could go up, go down or stay the same during the appeals process. JCQ says students should "consider carefully whether you have a strong case for an appeal".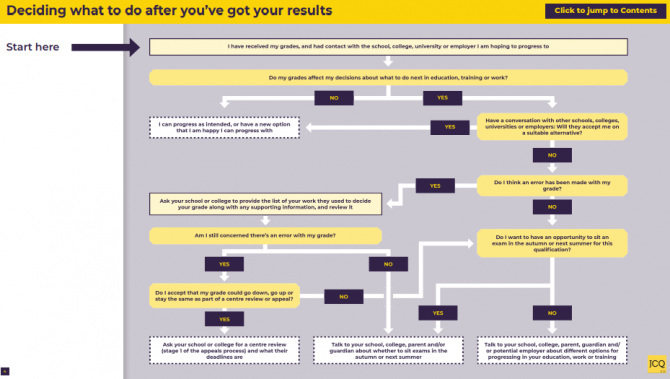 What if I'm still unhappy?
Before an appeal, JCQ says students should first focus on their progression after results day. If they haven't got the grades they need, talk to the school, college, university or employer as soon as possible as they may still accept them.
But an autumn exam series is being held this year again for students who want to sit a formal test.
A-level exams start on October 4 and GCSEs on November 1. JCQ said schools and colleges can provide information on the entry deadlines for these.
Where can I get advice?
JCQ has produced a student guide to appeals here.
There is also an exam results helpline – 0800 100 900 – run by the National Careers Service. It provides free advice and is open Monday to Friday 8am to 8pm and Saturday 10am to 5pm for two weeks.