Pupils in the some of the poorest areas of the country are missing out on schooling the most, according to new analysis.
FFT Education Datalab's work follows research by the Education Policy Institute this week which prompted concerns that pupils in some parts of the country are more likely to be left behind.
Here, we look at some of the key findings from Datalab's analysis.
1. 'Clear' relationship between attendance and disadvantage
Datalab looked at the percentage of pupils in a local authority (LA) eligible for free school meals, and then looked at secondary school attendance in those areas.
In this chart of the north-west, which has seen some of the highest infection rates, they say it is "immediately clear"  there is a "very strong relationship" between attendance and disadvantage, with attendance lower in LAs with high disadvantage.
They say the strong negative relationship is also apparent in the north-east and Yorkshire and the Humber – where there has been high infection rates – and the East Midlands.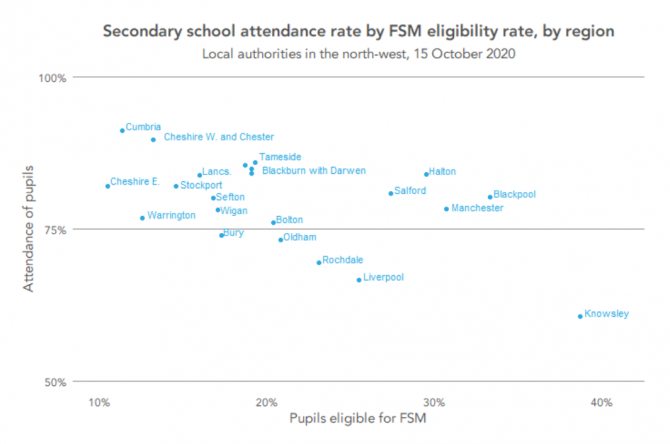 2. …but it's not the case everywhere
As set out by EPI earlier this week, the link between disadvantage and attendance is not apparent everywhere. For example, Datalab's analysis found there was "no real relationship" between attendance and poverty in London or the West Midlands.
The report states there are "many factors" that may contribute to the difference, though it does not speculate.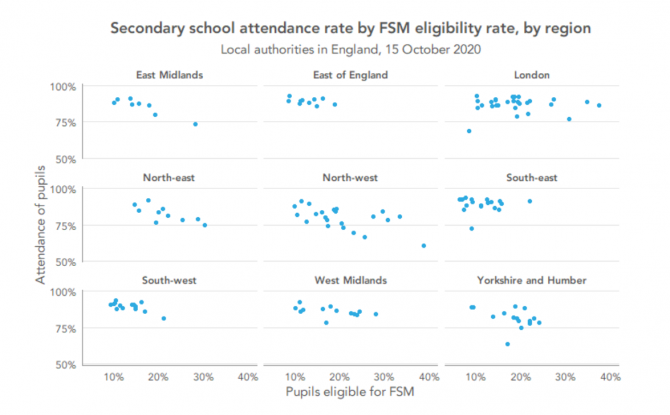 However, it "does possibly give some hope that there may be lessons to be learnt to try to maintain higher school attendance levels in other disadvantaged areas", the report said.
"In short, it seems that local and regional variations in prevalence are influenced by poverty and also affecting attendance. Covid-19 infection rates are higher in poor areas, and high ambient infection rates result in more pupils having to drop out of school to isolate."
3. Considerable variation in attendance
In all regions of England, there are local authority areas where school attendance was above 90 per cent.
But there are big differences at the other end of the scale. As Schools Week has reported, Knowsley in the north-west had the lowest attendance overall with 61 per cent.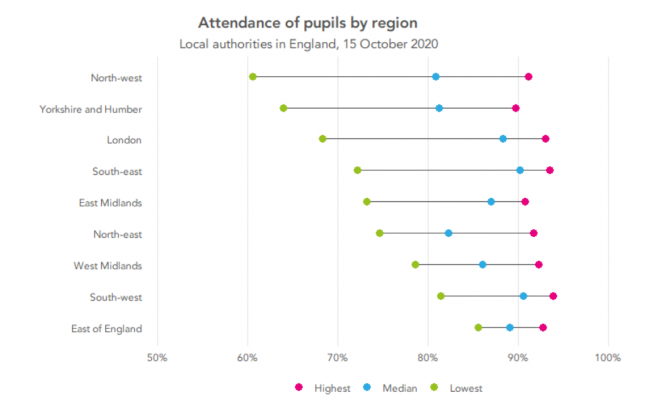 The LAs with the lowest attendance in the north-west, Yorkshire and Humber, and London have less than 70 per cent attending.
The report states that although the pattern "broadly" matches the infection rates, there are "other factors" at work.
4. The variation isn't usually there
In normal circumstances, there is not as much variation between area and attendance, as this graph below shows.
It is based on the whole of the autumn term in 2018.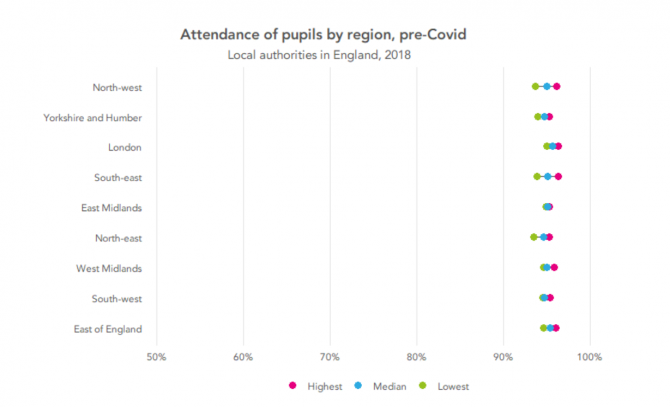 5. Calls for more in-depth data
Researchers at Datalab have added their voices to a call for more detailed data from the government.
The LA data used by the study is just averages, so there will be schools below these figures.
Datalab said that school-level data must exist as this is the level it is collected at.
"It would be very useful if this was published, to help all those working with schools to understand where support is needed most", the report said.
A similar call was made by the EPI this week, with research fellow Luke Sibieta saying that other UK governments should "urgently follow Scotland's lead and publish attendance rates by local authority and for the poorest pupils, so that we can track attendance rates into the winter and identify those pupils in need of extra support".