Primary school leaders have always been skilled at the art of spinning plates, but two years of pandemic related unpredictability, turmoil and disruption have more than added to the load. It's never been so important to have easy access to the right pupil data which informs those critical decisions involved in running a school.
Schools need to be able to quickly understand and trust what that data is telling them to make real on-going improvements to learning outcomes.
But unless you are an expert in data analysis and information mining, or you have endless time and patience, those vital answers can remain out of reach. What do our attendance rates look like this term? And how can we balance the need to reduce pupil absence to a minimum while keeping everyone safe from Covid?
What are the patterns of behaviour in Year 3? And how can we help the children settle into their learning when their last normal, uninterrupted school year was Reception?
Why does Billy in Year 5 arrive at school half an hour late every morning? Is he having health problems, caring for a family member or are there difficulties at home?
With so much to think about and so many other demands on educators' time, schools need an MIS which works for them, not the other way round. This was why the Deal Education Alliance for Learning Trust (DEALT) chose Juniper Horizons for its schools.
Dave Myatt, CFO of DEALT explains. "We wanted a system which was intuitive and easy to use and didn't rely on people having advanced skills sets. So we rolled Juniper Horizons out to the headteachers, teachers and front office across our MAT."
Built with the teacher in mind
The school MIS was once the preserve of the school administrator or data manager, but these days the MIS is no longer confined to the school office. Being cloud-based and accessible from anywhere at any time, Juniper Horizons is specially designed to be used in the classroom, focussed on pupil outcomes as well as administration.
Suppose a teacher needs to look up information quickly about one of their pupils, it's easy to search for a pupil record and a quick click then takes them to a more detailed profile page where they can see at a glance if that child has any medical needs, welfare priorities or behaviour concerns.
Entering data into an MIS should be straightforward too. When teachers take the register using Juniper Horizons, the screen is automatically populated with the children in the class. Teachers can mark them present or absent so that school administrators are able to access this information in real-time.
Dave Myatt from DEALT talks about how the registration module in Juniper Horizons impacted the schools in his trust. "In the past, our teachers took the register on paper which went to the front office for the admin team to enter onto the MIS. Not only was that slow and involved double handling, it also meant the data wasn't live. If the front office was busy, the registers might not be entered for an hour or two. So if a parent came to collect a child for a dentist appointment, they had to be signed out on a different system. Now we take all registers live on tablets and laptops in class so everyone knows exactly who is in school."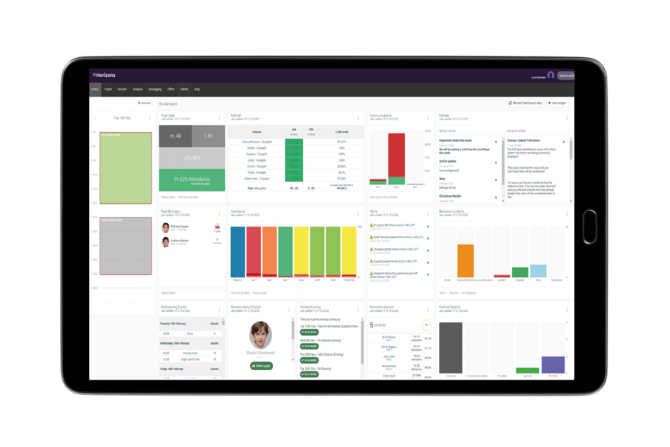 Making life easier across the school
Busy teachers don't have time to navigate through lots of screens to find the information they need when they have a class of 30 Year 4s all needing attention, and that's something the designers of Juniper Horizons completely understand. It is simple to navigate from one dashboard to the next to enter or access information about the whole class, pupil groups or an individual child.
The software is designed logically, and tasks are grouped together so the next step is exactly where a teacher would expect it to be. Teachers can assign meal choices as they take the register, for example.
"The meal selection function has been particularly useful during the pandemic," explains Dave. "Because of the risk of Covid infection, pupils sometimes had to eat in the classroom with their bubble rather than in the dining hall. So we needed to find out in advance who wanted which meal.
Using our old system we would have gathered this information on paper and copied it across to the kitchen. But now when we take the register we can select the meal choice at the same time – taking into account allergies and food intolerances – and send it to the kitchen. It also means we don't need to provide the names of the pupils which enables us to be GDPR compliant."
We have become accustomed to using apps on a smartphone for virtually all aspects of our lives, and Juniper Horizons taps into that familiarity with the system's series of app-like widgets which cover everything about a child from their birthday, medical needs and the clubs and activities the child takes part in. Teachers can also create their own widgets such as a child's favourite colour, the name of their pet or the bus route they take to school.
The developers of Juniper Horizons have even thought about some of the more unexpected events that take place during a teacher's day. For example, the system has a fire alarm button that teachers can click on so they can take the fire register outside on their mobile tablet device.
Created by people who really know education
One of the key differences about Juniper and the team behind Horizons is the people. Our team have years of experience working in schools as teachers and school leaders which gives them a unique depth of understanding of educators' needs.
There is so much information each stakeholder needs but it can be all too easy to get bogged down by data overload. We know that a school leader needs to access clear, up-to-date reports on attendance, behaviour and issues affecting pupil groups such as Pupil Premium children or pupils with special educational needs. What a busy headteacher doesn't want is to have to navigate their way through forests of data to get there.
In addition, it's also crucial that your MIS works with the other software and systems you use. "One of the factors which was important for us was that our MIS could seamlessly interact with other data systems," explains Dave. "We have just started using Sonar Tracker from Juniper Education and we want to be able to use the insight on assessment and progress from the tracking software along with our school management information in Juniper Horizons."
Pain-free administration
Statutory reporting and returns which are required at certain times of year can sometimes be a headache as staff often need to re-educate themselves on the process each time. It's in situations like these that Horizons' intuitive design makes all the difference.
"There was a lot of trepidation among staff about doing our school census on a brand-new system," says Dave. "However, with Juniper Horizons, it was possibly one of the smoothest processes we've encountered. We had finished the census across the trust in just three days, something that wouldn't have been possible with our previous system."
"We also set up a forum group for all our front office staff so they could talk to one another, communicate, discuss potential issues and how to address them. Staff members could share best practice about the census and the new MIS generally and conversations on the forum revealed how responsive the Juniper Horizons customer service team had been to any queries."
Flexibility to work remotely
Once upon a time, an MIS could only be accessed on the school site. But the world has moved on, and now school leaders, teachers and administration staff can enter and access the data they need whenever and wherever they need to.
As a cloud-based system, Juniper Horizons can be used in the classroom, the staffroom or from the kitchen table at home. And users can access the system on their tablet or laptop wherever there is an internet connection.
This meant that when the pandemic hit and schools had to close to most pupils during the lockdowns, school staff could log in and keep the school running remotely. Teachers could take registration for their online classes and school leaders could make sure their vulnerable children were happy, safe and learning.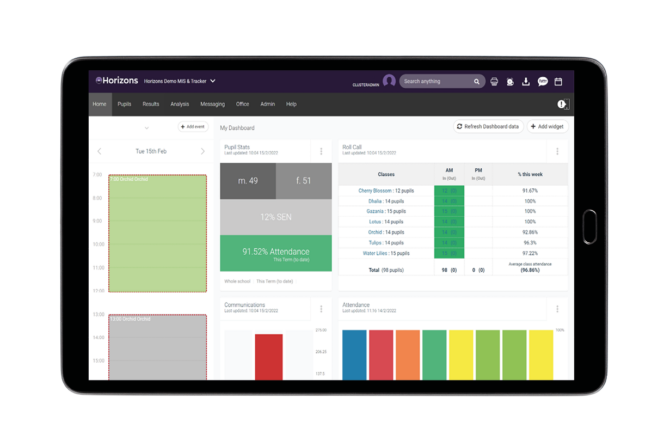 Easy to make the switch
Sometimes the most-challenging thing for school leaders is the decision to leave their current MIS provider. The common questions we hear are 'How long will it take?' 'How much work will I have to do?' and "Will I lose any data?'
However, once the decision is made, the Juniper Horizons team takes full responsibility for making everything as easy as possible.
A Juniper Horizons project manager supervises the move from start to finish, shaping the system for the needs of the school, establishing a timeline everyone is happy with, migrating the data across from the old MIS and training the users on the system.
The training from Juniper helped staff at DEALT get on board with Horizons straight away. "We had been using our previous system for around a decade and at the time we had a number of staff who were approaching retirement and were nervous about learning a new system," says Dave. "But when they went through the training they were blown away by how easy it was to adapt to the new system."
"They took to Juniper Horizons like a duck to water."
Unlike many MIS providers, Juniper takes a transparent approach to pricing. There is one price to pay and that covers everything from the data migration, the actual software and the training. Schools don't need to take out additional support cover either. Support is included and customers can contact the Horizons team with any questions without worrying about the cost.
There are no nasty shocks or hidden fees when the invoice arrives. All the Juniper Horizons modules are included in the subscription so schools can easily manage and consolidate their costs, knowing that they have everything they need from the system without paying for extras.
That's good news for the SLT and school governors who need predictable and transparent costs to ensure they are getting good value for money.
The cost structure of Juniper Horizons has helped Dave Myatt save money at his trust. "Because the system is cloud-based, we have made savings," says Dave. "Our previous system had to be backed up to a cloud-based system or physical drive. Not having to pay third parties to host those systems, and not having to pay extra for product support will save us around £12,000 in the first year, and around £4,000 from year two onwards."
The MIS of choice for primary schools just like yours
The last two years have been extraordinarily challenging for any primary school and the last thing a school leader needs now is data overload, lengthy training on complex software or hidden costs for essential features.
What schools really do need is an MIS which will help them get insight from their data and answer their questions. That could be why over 450 primary schools have chosen us to be their MIS provider, and 50% of our customers have been with us for more than five years. By focusing on pupil outcomes rather than administrative tasks, Juniper Horizons can provide those answers and ultimately give educators more child-time.
For more information about Juniper Horizons, Click here.