A small special school trust has sought to beat recruitment woes with an unusual and entertaining job advert for its next "Curmudgeonly Eccentric Oddball".
The two-school Kingsley Learning Foundation is seeking a part-time CEO to replace retiring boss Tom O Dwyer, but admits it is "not entirely sure" what the role entails.
The first half of the job advert treads familiar ground. It seeks a leader to articulate the trust's "evolving vision", someone who can "empower" its two headteachers and who has a "profound understanding of educational systems".
Then things go a little off-piste. The trust's "Curmudgeonly Eccentric Oddball has decided to focus his diminishing wit, energy and time to tending his garden, in particular to nurturing his Chrysanthemums, Echinacea and Orchids", it states.
"Are you a Cheerful, Extroverted Optimist with a Confident Expansive Outlook? Perhaps a Choreographer of Educational Objectives for a Charismatic and Empathetic Organisation.
"Maybe you're a Collision Evasion Overseer navigating the pitfalls? Or a Clairvoyant of Esoteric Orientation? It could simply be that you're an omelette fan with a taste for Cheese Eggs and Onions!
"By now you are probably realising that we are not entirely sure what CEO stands for and what a CEO does. But we know what we stand for – we stand for families at the front and centre of educational provision."
'Come and define the role with us'
O Dwyer told Schools Week he had become a CEO "by accident" when the school he headed up wanted to open a free school.
"I didn't want to stop being a serving head. I adored the job, loved our families and our team, we were having a ball. But I also didn't want somebody over me telling me what to do."
He continued to head up one of the schools, but then stepped full-time into the CEO role, admitting he initially "didn't know what to do". Supporting two leaders new to headship had been an important part of the job, he added.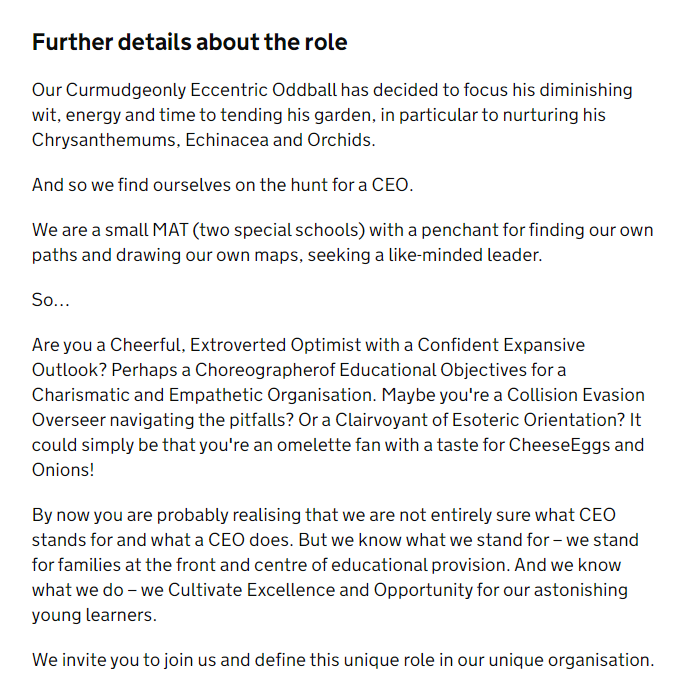 It will be for his successor to decide what the role will entail in the future.
"This is what we're asking in the ad – come and define it with us, because we're not sure what it blooming is. We really genuinely have sat down often enough, looked at the job description and said 'that bears no relation whatsoever to what I do on a day to day basis'."
The current recruitment crisis in schools was part of the reason for the advert's innovative approach.
"Recruitment has been difficult for the past couple of years. Retention has been difficult for the past couple of years. And we are a quirky enough kind of organisation. We're two special schools, a tiny MAT, not in a hurry to grow."
John Howson, chair of teacher vacancy site TeachVac, said quirky job adverts were nothing new, but "in the end what matters most is the balance between supply of candidates and demand".
Last year, The Elliot Foundation Academies Trust earned plaudits for its "refreshing" approach in an advert for a regional director. It sought to discourage applicants, warning leaders were "exhausted, worn down and over-stretched".