A trust that shortlists with job applicants' ethnicity, university and name taken out has won a governance award.
The 18-school STEP Academy Trust, based in south London and East Sussex, has a three-year plan to become an "anti-racist organisation".
The trust said it was part of its "moral duty" to open up a conversation about racism and go further to become "anti-racist", following the murder of George Floyd in Minneapolis last year. His death sparked civil rights protests around the world.
At the biennial National Governance Association (NGA) awards last week, the trust shared an award for "outstanding governance in a multi-academy trust" with Anglian Learning in the east of England.
Judges praise 'evolving' governance
Judges said STEP's story "epitomises how governance in a growing organisation needs to evolve and change".
Jennese Alozie, STEP's director of effectiveness and performance, told Schools Week it had targeted the curriculum and recruitment and retention to work out what could be causing barriers across its 18 academies.
The trust wanted to avoid staff promotions through "who they know" and had moved to "shortlisting blind" where the ethnicity, university and name were taken out of job applications.
To avoid promotions based on who staff knew, or who they got on with, the trust had brought in a new "career pathway". Staff knew what training was available at every stage of their career to make them eligible for a promotion.
"It's to make it really clear that diversity in leadership can't be done by accident," Alozie said. "You need to think through 'could this have been stopping some people from moving through the ranks because they don't know in a sense what the rules are of development?'"
Anti-racism was also woven into lessons, but was not "tokenistic".
"It has to be well thought through because there's no point covering, for example, a few black authors when actually we haven't really understood why it might be necessary for them to be in there.
"More recently, for example in science and technology, these are some of the people – and yes there are people of colour in there – who invented the Gameboy, PS4, who contributed to coding. It becomes more obvious that that 'ah, these are people that have existed within the past ten years and that is possible for me as well'."
The trust's board and executive team did not want to give a "knee-jerk" response to the Black Lives Matter movement last year following Floyd's murder and instead had spent the past year developing the anti-racist plan.
Trust and school praised for 'vision and strategy'
Among the other winners were Learn Academies Trust in Leicestershire, and Riccall Community Primary School in North Yorkshire, who were jointly awarded the "outstanding vision and strategy" gong.
Cleeve School in Gloucestershire was given the outstanding governance in a single school award. Judges praised the governors' "deep dives" into pupil attendance and exclusions, and determination that school trips be accessible to all.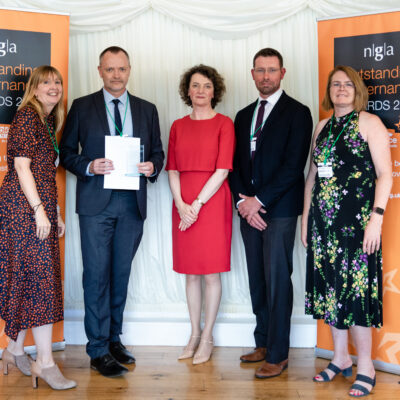 Presenting the awards in the House of Commons, Baroness Berridge said governance had "never been more critical" to children's education.
"Boards need a diversity of perspectives to bring healthy debate, better decision-making and fewer blind spots. A diverse board that represents its community more closely builds the confidence and trust of its pupils, staff and the wider community," she said,
An NGA poll found just 5 per cent of state school governors were from minority ethnic backgrounds, a figure that has remained largely unchanged for 20 years.
Emma Knights, the NGA's chief executive, said: "Stories of excellence … help underline that governance truly contributes to the success and sustainability of our schools and the educational achievement and wellbeing of children and young people."
The winners
Outstanding clerk to a governing board
Sarah Steven, the Galaxy Trust, Kent
Outstanding lead governance professional
Carina Sawyer, Magna Learning Partnership, Wiltshire
Outstanding vision and strategy
Learn Academies Trust, Leicestershire
Riccall Community Primary School, North Yorkshire
Outstanding governance in a single school
Cleeve School, Gloucestershire
Outstanding governance in a multi-academy trust
Anglian Learning, east of England
STEP Academy Trust, south London and East Sussex
Outstanding governance in a federation
Castle Church of England Federation, Hertfordshire